New Yorkers are trading in the glittery, pastel hues of the unicorn food craze for something darker: charcoal foods.
And they're pitch black. The color comes from the — you guessed it — activated charcoal, which is the byproduct of burning coconut shells, wood, or other plant materials, and it's peddled as a great way to detox — that's what the believers say at least. (Spoiler: "Detoxing" isn't really a thing, though charcoal has a legitimate medical purpose we outline later.)
Charcoal is considered "activated" because it has a negative charge that supposedly gives it the capacity to bind to positively charged ions (such as chemicals) and remove them from the body, Real Simple reported.
"Charcoal works by essentially binding the drug or toxic chemical in the stomach before it can be absorbed by the body, providing an effect like stomach pumping without having to pump your stomach," Julie Upton, registered dietician, told Real Simple.
And it does work — hospitals and emergency rooms have used activated charcoal to treat acute poisonings for years. The difference is that the dose you'll find in a food item is going to be considerably less than whatever you would get at the doctor's office.
"I don't see charcoal aiding in the work of our colon or liver," Toby Smithson, R.D.N., certified diabetes educator and a spokesperson for the Academy of Nutrition & Diatetics told Real Simple. "There is not evidence that charcoal can treat hangovers."
Nevertheless, activated charcoal everything is taking over. You'll find it in health food cafes replacing kale and even added into cocktails.
So what's all the fuss about? Metro found a few places to indulge in the activated charcoal foods trend right here in New York City:
Black coconut ash ice cream at Morgenstern's
The Instagram-famous jet-black ice cream cone looks pretty weird and it definitely adds an inky hue to your lips and teeth, but who wouldn't feel like a badass biting into this? The taste, a mild coconut and vanilla flavor, is reportedly very refreshing. Find it at Morgenstern's, 2 Rivington St.
Charcoal-crusted burger at ACME
This burger takes a new approach to "blackened." Chef Brian Loiacono's burger is crusted with "miner's rub," a blend of active dehydrated coal, dark cocoa powder, black garlic and a bunch of other spices. Find it at ACME, 9 Great Jones St.
Activated charcoal lemonade at Pressed Juicery
This pitch-black lemonade still carries the traditional lemony freshness of the classic beverage, with a touch of lavender and honey, only the juicery claims you get the detoxifying benefits of charcoal, too. Find it at Pressed Juicery locations in the city.
Charcoal black lemon soda at The Wild Son
While we're on the topic of charcoal and lemon, we have to mention the dark lemon soda from The Wild Son, another shadowy take on lemonade. Find it at The Wild Son, 53 Little West 12th St.
Moonwalk cocktail with activated charcoal at Mission Chinese Food
Head over to Mission Chinese Food and try one of these cocktails built with mezcal, bee pollen, yuzu kosho (a yuzu-based seasoning), sake and (of course) activated charcoal. Apparently the activated charcoal complements the smokiness of the mescal. Find it at Mission Chinese Food, 171 E Broadway.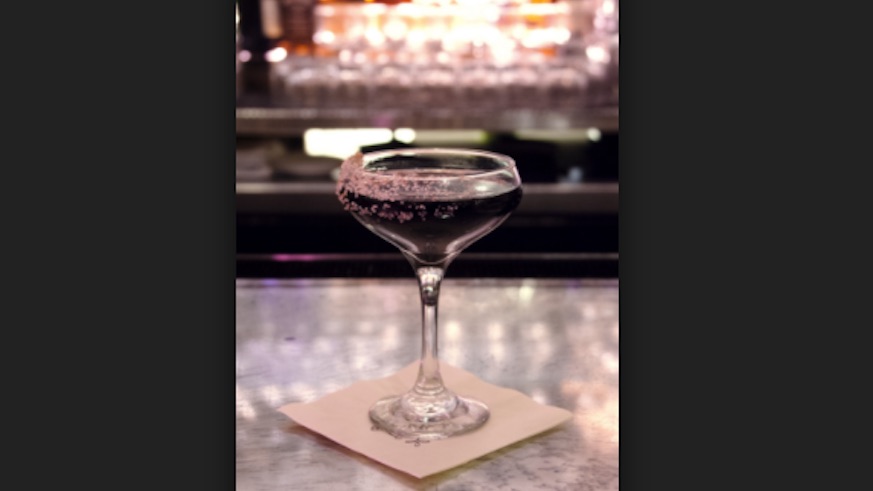 Black tie white noise with charcoal at Beauty & Essex
This drink mixes activated charcoal with Gentleman Jack, Port Charlotte, yellow chartreuse and lemon to make for a smoky, smooth and slightly chalky finish. Find it at Beauty & Essex, 146 Essex St.
Activated charcoal pizza at Olivella
OK so technically this is in New Jersey, but how could you pass up a place with all this activated charcoal food? Olivella has incorporated charcoal into the caprese salad (the mozz is eerily gray), tiramisu, pasta and fried zeppole dough, too. Find it at Olivella,  7709 Bergenline Ave, North Bergen, NJ.