You should treat yourself every day — but seven years ago the Parks and Rec's duo Tom and Donna dubbed October 13 specifically as Treat Yo Self Day.
The idea behind it is simple. Splurge like there's no tomorrow and give yourself as much love and as many self-affirmations as humanly possible. Because, well, you're worth it.
In honor of Treat Yo Self Day 2018, which falls on this upcoming Saturday, Baileys is teaming up with NYC's OddFellows to bring you the ultimate booze-inspired treat: the Baileys Everyday Sundae, featuring a coffee and Irish cream medley of flavors you won't want to miss out on.  
Treat Yo Self Day: Where can I get this Baileys and OddFellows creation?
Starting this Treat Yo Self Day (Saturday, October 13) the Baileys Everyday Sundae will be available for in-store purchase at OddFellows' Coffee & Cream shop, their café-themed Houston Street location that opened back in April.
The Baileys Everyday Sundae will debut this weekend, and you can buy it through the end of November.
What's in the Baileys Everyday Sundae?
Prepare your tastebuds.
The Baileys Everyday Sundae, launching on Treat Yo Self Day, features an OddFellows espresso soft serve swirled with Baileys Original Irish Cream. It's finished with a Baileys-infused caramel drizzle, coffee soil and chocolate wafer pearls.
"Since Baileys Irish Coffee is such a classic beverage that is known and loved by so many, OddFellows espresso soft serve felt like a natural fit to pair [with] the flavor of Baileys Original Irish Cream Liqueur," Baileys tells Metro.
The decadent dessert is non-alcoholic and costs $7.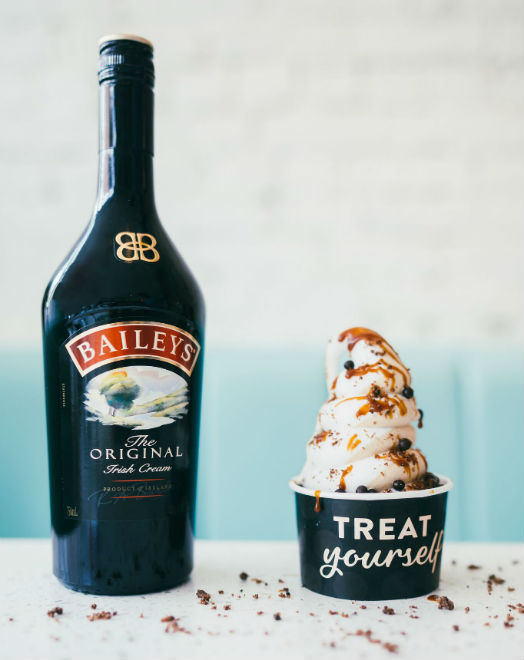 "For ultimate indulgence and flavor experience, we recommend consumers try the Baileys Everyday Sundae with all of the toppings included," Baileys notes. "Should consumers have specific toppings preferences, they can inquire in-store at Coffee & Cream by OddFellows."
An OddFellows spokesperson tells us that guests can enjoy the soft serve without toppings for $6.
Order this sundae on Treat Yo Self Day and every day thereafter — until the trees turn bare and the holidays paint the city with color.
Coffee & Cream by OddFellows is located at 55 E. Houston Street.