For all you jersey fanatics out there, this NHL offseason is going to be a fun one for you as a number of franchises around the league are set to unveil alternate third jerseys for the upcoming 2018-19 campaign. 
Third jerseys took a one-year hiatus after Adidas took over for Reebok as the league's official jersey manufacturer in 2017-18.  Now, we're starting to see some awesome designs trickle through. 
It's been pretty quiet so far as only three teams have unveiled an alternate look (as of Jul. 24). But we here at Metro will try and predict what some other teams around the league might do for a different look: 
NHL third jerseys we already know
The Carolina Hurricanes were the first to unveil a third jersey this offseason, bringing back an all-black alternate that features the hurricane flag as its crest:
Back In Black. #TakeWarning pic.twitter.com/6AIHwjhzSL

— Carolina Hurricanes (@NHLCanes) June 22, 2018
The Arizona Coyotes followed by bringing back their first-ever uniform and logo design after coming down from Winnipeg in the mid-90s. The likes of Jeremy Roenick and Keith Tkachuk made this jersey famous: 
We wanted to create the most beautiful jersey in the world.

Then we realized, the most beautiful jersey in the world was already created.

Introducing our official @adidashockey third jerseys: pic.twitter.com/Ku9RHXLBSH

— Arizona Coyotes (@ArizonaCoyotes) June 22, 2018
But the Anaheim Ducks stole the show this summer by turning back the clock to these beauties in their 25th anniversary season, widely considered one of the best hockey sweaters of all-time. Quack quack: 
Our silver anniversary deserves a proper throwback. Here's our exclusive #Ducks25 third jersey!
MORE INFO: https://t.co/GrO3taRFR4 pic.twitter.com/qpIDk6CtZX

— Anaheim Ducks (@AnaheimDucks) July 21, 2018
The Vancouver Canucks also went the throwback route as the unveiled the black, yellow and red uniforms made popular by Pavel Bure back in the mid-90s. These will be worn during the 2019-20 season:
Back by popular demand. #Canucks50 pic.twitter.com/uvCSMmiBZ8

— Vancouver Canucks (@Canucks) August 13, 2018
In New Jersey, the Devils unveiled a special red, white and green throwback that will be worn that four home games this upcoming season. The Devils wore green instead of black from 1982-1992, a look that many fans have been yearning for:
Our Heritage. ❤️? pic.twitter.com/cXaflAb8X1

— New Jersey Devils (@NJDevils) August 21, 2018
The New York Islanders are receiving mixed reviews from this reportedly leaked version of their third jersey. The team has not officially confirmed the design as of yet, but this is something to keep an eye on in the coming days.
PSA: I interrupt this College Football Saturday with the leaked #Isles third jersey. Anon source says this is the legit design. pic.twitter.com/5LIgrdMK7C

— James Trotz (@TwoTurtleDuffs) September 2, 2018
Predicting the rest
Calgary Flames:
Jersey worn by the great Lanny McDonald while helping the Calgary Flames to the 1989 Stanley Cup title. pic.twitter.com/U9aLTBZDQP

— Hockey Hall of Fame (@HockeyHallFame) September 10, 2016
Colorado Avalanche:
I've gotta have ONE follower who cares about how awesome the Colorado Avalanche's new third jersey is, right? pic.twitter.com/Fou1U5b8kb

— Mike Conklin (@mikeconklin) September 9, 2015
Columbus Blue Jackets:
Columbus Blue Jackets are bringing back the cannon alternate jersey #AroundTheLeague pic.twitter.com/Zd7UaOavrC

— Yeti Sportswear (@YetiSportswear) July 24, 2018
Edmonton Oilers:
Connor McDavid looks to become the first #Oilers player to lead the NHL in points since Wayne Gretzky in 1986-87 (183 points). pic.twitter.com/A551M44pvL

— Sportsnet Stats (@SNstats) April 6, 2017
Philadelphia Flyers:
In case you missed it the #Flyers will wear their 2017 stadium series jerseys (minus the patch) during select games this season as their third jerseys. pic.twitter.com/mSPXlLG5hz

— Flyers Nation (@PHLFlyersNation) June 25, 2018
Pittsburgh Penguins:
Wouldn't mind this blast from the past being the new @penguins third Jersey. @PensInsideScoop pic.twitter.com/qQunF0vkVP

— タイラー (@Hudock84) April 2, 2013
San Jose Sharks (via Icethetics.co):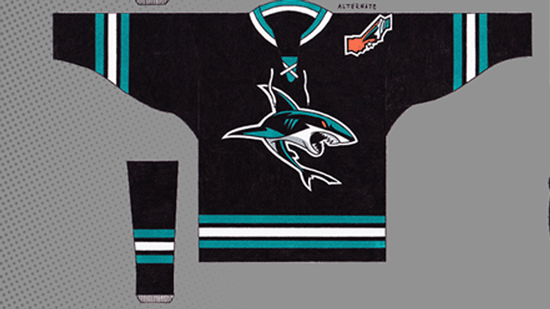 St. Louis Blues:
Pass or Fail: Blues officially reveal 2017 Winter Classic jersey. https://t.co/shdXeBsyNa #NHL pic.twitter.com/hPJHJjQPxM

— Yahoo Sports NHL (@YahooSportsNHL) November 9, 2016
Toronto Maple Leafs:
Did you ever wonder why the @MapleLeafs wear the green St Pat's jersey? All is revealed at tonight's screening at the 2017 @toirishfilmfest pic.twitter.com/AjT5glJKpC

— Puck of the Irish (@PuckIrishDoc) March 3, 2017
Washington Capitals:
Love the Capitals retro jerseys so much pic.twitter.com/xfBRw5GVcU

— Brando ⚡️ (@13Hockeytown40) November 25, 2016
Winnipeg Jets:
Zhamnov finished with 25 goals. The other three Jets were Evgeny Davydov (28), Keith Tkachuk (28), and, of course, Teemu Selanne (76). pic.twitter.com/qxr20ZqWxi

— Mike Commito (@mikecommito) March 28, 2017