Sorry Internet, the Mike Pence website wasn't hacked this weekend.
In a classic case of how things go viral online, a parody site on Pence tricked a whole lot of people on Facebook and Twitter, including a few journalists, after Democratic operative Scott Dworkin shared a link to imposter site last week.
In all fairness, Dworkin never claimed the site was hacked, tweeting only "This Mike Pence for President website is amazing :)," but his nearly 200,000 followers quickly spread the misinformation around the web.
This Mike Pence for President website is amazing 🙂 #ImpeachTrumphttps://t.co/SopGoNyQha

— Scott Dworkin (@funder) August 9, 2017
While the site, officialmikepence.com, certainly sounds — well — official, it's actually a parody site that came online on April Fool's Day four months ago. 
Capitalizing off of rumors that the vice president might be after the Oval come 2020, the site pokes fun at Pence's regressive views on LGBTQ rights and his penchant for calling his wife "mother."
A banner across the top of the site reads "Are You A Homosexual? If Yes, Click Here." It redirects to hell.com.
The site also features a bio: "A former U.S. congressman and governor for the state of Indiana, President Mike Pence is proud to serve the white and Christian population of America for more than two decades."
someone hacked mike pence's official website and it is a work of art pic.twitter.com/VccQB3lCxq

— Suz A. (@suzaminah) August 11, 2017
And it tosses in a few "Mike Facts" as well, like "Mike Pence won 3rd prize in the 1972 Indiana Junior Corn Contest," and "Mike Pence has won seven (7) penmanship awards." Who knew?
If you've ever wondered what the ex-Indiana governor eats? Look no further.
whoever hacked mike pence's website is our next poet laureate pic.twitter.com/IFuSnFKZOF

— jaboukie young-white (@jaboukie) August 11, 2017
A section titled "Mother May I," features a "Dear Abby" set up where Pence's wife Karen supposedly answers questions from the community.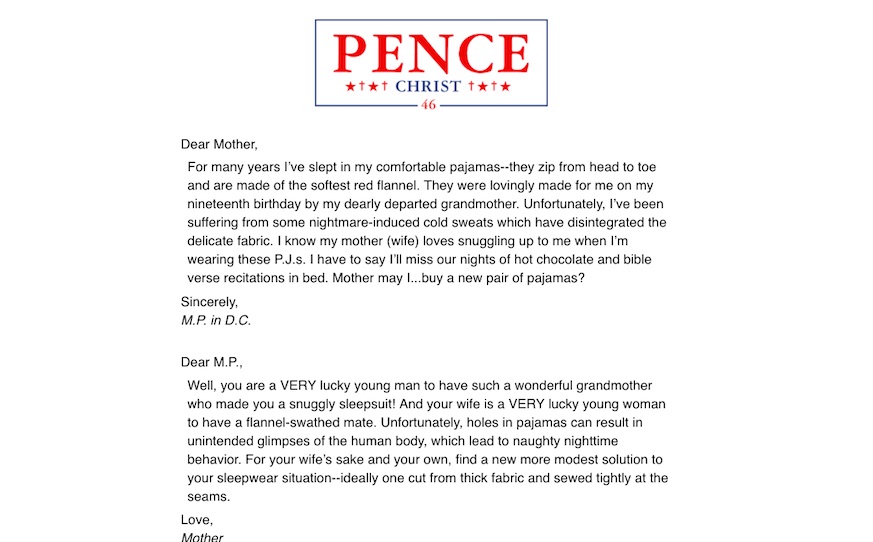 But rather than a lesson in web security, if anything, the story underscores the importance of scooping up domain names for politicians who try to take their game to the national stage.
Time and time again politicians have failed to be masters of their domain names, and Pence is hardly the first high-profile politician to be bested by clever parody site.
One-time presidential hopeful Ted Cruz doesn't own TedCruz.com and during the campaign, it featured messages like "Support President Obama," and "Immigration reform now."
For a while, JebBush.com, a domain purchased by Donald Trump, was redirecting to the site the fellow Republican candidate who would go on to win the 2016 presidential election.
Most domain names associated with Hillary Clinton are owned by a retired factory worker who tried to sell them back to the ex-presidential candidate for thousands of dollars a pop.
Even Bernie Sanders has a few imposter sites, though they are largely supportive of Vermont senator.