The hits keep coming for the New York Mets. Just hours before slugger Yoenis Cespedes opted to undergo season-ending surgery on his calcified heels, it was revealed that the San Diego Padres have checked in on the trade status of ace pitcher and fan-favorite Noah Syndergaard, per Dennis Lin of the Athletic.
It's just the latest development of the Syndergaard trade saga as he and teammate Jacob deGrom, who is having a Cy Young-worthy campaign, have been linked to trade talks since May. However, the initial candidate for either arm was the New York Yankees. 
Despite the Padres being 15.5 games behind the NL West-leading Los Angeles Dodgers as of Wednesday, the organization looks keen on upgrading its pitching staff now. Ken Rosenthal, also of the Athletic, reported that the Padres also checked in on Tampa Bay Rays ace Chris Archer.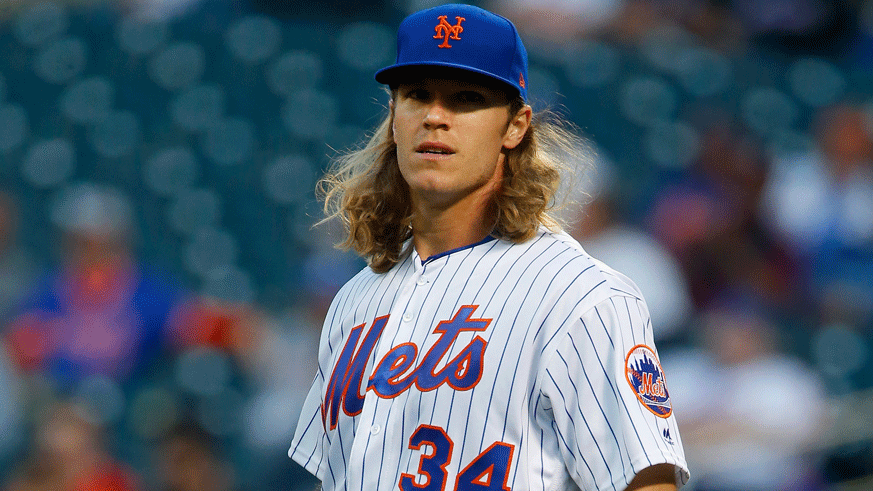 San Diego's starting pitching staff is one of the worst in the National League. Other than rookie Joey Lucchesi, who stymied the Mets on Monday night, the Padres don't have another arm who has started at least 10 games with an ERA under 4.29. The Padres' pitching staff as a whole is ranked ninth-worst in the majors, allowing 4.72 runs per game. The starters are even worse with a 4.83 ERA, which ranks 24th in the league.
Syndergaard would provide San Diego with an ace for the next three-plus seasons as he is under team control until 2022. The Mets, though, would be looking for quite a significant return should they consider swapping the fireballing right-hander considering he is one of the game's most electrifying pitchers when he's healthy. 
What could the Mets get for Noah Syndergaard from the Padres?
The Padres certainly have the means to at least pique the Mets' interest seeing as they have three of Major League Baseball's top 15 prospects, according to MLB Pipeline. Shortstop Fernando Tatis Jr. is the No. 3 prospect in all of baseball while left-handed pitcher MacKenzie Gore comes in at No. 12 and catcher/outfielder Francisco Mejia is 15th. 
Should talks ever get that far, the Mets would likely ask for at least one of those talents. 
Syndergaard has been limited over the past two seasons due to injuries though, which could drive his trade value down. The 25-year-old made just seven starts in 2017 because of a torn pectoral muscle before missing seven weeks this year with a finger issue. He only lasted two starts until heading back to the 10-day disabled list as he contracted hand, foot and mouth disease. He is 6-1 with a 2.89 ERA with 83 strikeouts in 13 starts.