With the rise of the celebrity chef came a hunger from avid foodies for a peek inside their famous kitchens to find out what goes into the making of great food. And right now, there's arguably no more famous kitchen than Copenhagen's Noma, voted best in the world by Restaurant magazine three years in a row and boasting two Michelin stars. 
The New York Times called head chef Rene Redzepi's food "intelligent and delicious," but don't take their word for it: Metallica's Lars Ulrich dubbed him the Pablo Picasso of cooking in the foreword to Redzepi's new book, "Rene Redzepi: A Work in Progress."
The three-volume memoir — part diary, part cookbook, part behind-the-scenes glimpse complete with Instagram-style photos — chronicles a year in the life of Noma. Much of it is devoted to ruminations on creativity and what drives innovation: Redzepi, an alumnus of Spain's dearly departed culinary vanguard El Bulli, admits he's only begun to explore the possibilities of Nordic cuisine.
We snagged a few minutes with the chef at the New York launch of his book at the Strand's new outpost inside Club Monaco's Fifth Avenue flagship store to talk fun with food and how coffee can be just as fun to sip as wine.
Did you write this book partly to remind yourself why you became a chef?
It was probably more to remind me why I opened the restaurant, as a project that was made for fun and the idea of just trying to find the flavor of a region. We never intended it to be set up to win the accolades we've come to have. And everybody sort of tells you now you've reached the mountaintop, stay there, don't move around, don't change things.
And you certainly have reached the top.
I don't think we've reached the top. The ultimate top is still the day when we can truly talk about what is that flavor of the region, what is it that we cook. And in that picture, we're like infants. We might be 10 years old as a restaurant, but in the development of a regional cuisine that we are a part of, we're infants, newly borns.
What do you want people to understand about Nordic cuisine?
Nordic food is about the cuisine of wherever you are, that's the special thing of it, that we cooked food in a place where people didn't think you could cook food. And we did it, so I think if there is one little tiny message there, it's that food can happen everywhere.
You just revamped Noma's coffee program — waitstaff were specially trained in a pour-over brewing method. Why?
Coffee was always this afterthought for most restaurants. And even though we thought we had a good attention to it, once we really dug deep, we knew that we weren't as specialized as we are with wine, or with starters, or with main courses, or with cognac. And now, it changed especially the service team — suddenly, they are cooking something. It's quite amazing, actually. So not only is it more delicious, but the team are better, more together because they're like, "Hey, we're gonna cook something every day."
"Rene Redzepi: A Work in Progress" is available now. Try your hand at the elegant tastes of Noma with this beautiful dessert from the cookbook.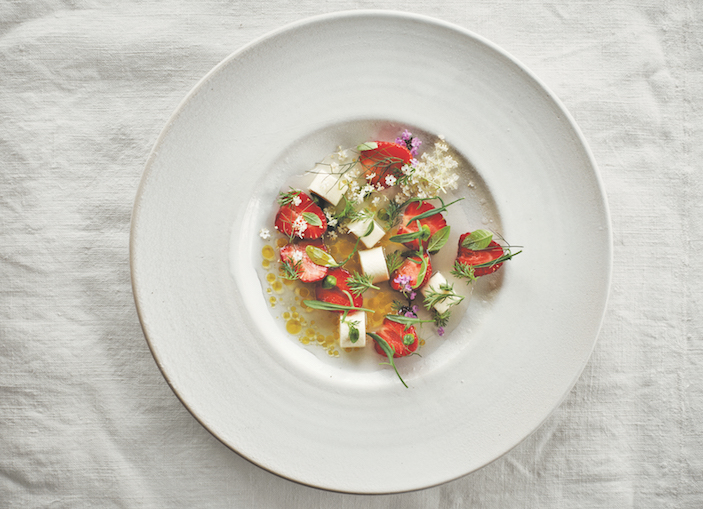 Recipe: Strawberries and Chamomile
Ingredients
20 strawberries
1 gelatine leaf
65g egg yolks
45g sugar
30g trimoline (inverted sugar)
250g hay cream (see book)
250g water
22g dark flower honey
15g chamomile buds
salt
lemon juice
citric acid
Garnish
leaves of sheep sorrel, verbena, marjoram, oregano; small bronze fennel tips; elderflower sprigs; canola oil
Directions
Cut the strawberries in half lengthwise and trim at an angle so they stand up on the plate. Sprinkle some sugar on the cut surface and leave to marinate for about 12 minutes.
Soak the gelatine for 5-6 minutes. Blend the egg yolks, sugar, water and trimoline at medium speed in a Thermomix until the mixture begins to thicken and reaches 180°F. Transfer the mixture to a stand mixer, add the bloomed gelatine and whisk until cool. Whip the hay cream to medium peaks and gradually fold it into the egg mixture. Transfer the parfait to a piping bag, pipe into 2-centimeter cylindrical molds and freeze. Cut the parfait into 1 centimeter-thick rounds.
Boil the water with the honey. Remove from heat, add the chamomile buds and infuse for 10 minutes. Strain, keep half the chamomile buds as garnish and blend the remaining buds with the broth. Strain and leave to cool. Season the broth with salt, lemon juice and citric acid.
Divide the strawberries between four chilled plates. Top with half the herbs for serving. Add five rounds of hay parfait and dress with the remaining herbs and reserved chamomile buds. Finish with spoonfuls of broth and a few drops of canola oil.