A day after Trump met with Kim Kardashian and her attorney to discuss pardoning Alice Marie Johnson, the president said he was granting conservative author/filmmaker Dinesh D'Souza a full pardon on Thursday. D'Souza pleaded guilty in 2014 to campaign finance violations. Trump, hours after his announcement, told reporters onboard Air Force One that he would also consider commuting (read: reducing) former Illinois Gov. Rod Blagojevich's sentence and pardoning celeb-homemaker Martha Stewart (both were on The Apprentice). But, exactly why was Martha Stewart in jail? And how long did she spend behind bars?
Obama & his stooges tried to extinguish my American dream & destroy my faith in America. Thank you @realDonaldTrump for fully restoring both

— Dinesh D'Souza (@DineshDSouza) May 31, 2018
Stewart told former E! News host Giuliana Rancic in 2014 that, while serving her sentence, she fell "in one deep hole, for a period of about 10 months."
"That deep hole was not a pleasant hole," she related. "…It doesn't make you better at all. It could ruin you."
"Luckily, I have an extremely strong, healthy constitution, so my health never suffered," Stewart told Rancic. "Health, optimism and that curiosity to see what shouldn't happen, what you can overcome. So, I overcame a very difficult, nasty situation."
Trump pardon: Why was Martha Stewart in jail?
You know about the potential Trump pardon, but why was Martha Stewart in jail? We'll break it down for you.
Stewart was convicted in 2004 on felony charges of conspiracy, obstruction of justice and making false statements to federal investigators. These charges were based on insider stock trading, which, when illegal, is essentially trading your stock based on insider information that isn't available to the public (or providing another person with that information).
As a 2004 NBC report at the start of Stewart's imprisonment explained, she "was convicted in March of lying to investigators about why she sold ImClone stock in December 2001, just before the stock price plunged." Two days after she sold her shares of ImClone, it was announced that the FDA has not approved the company's main pharmaceutical product, Erbitux, and stock fell 16 percent.
Stewart was found guilty and was sentenced to five months in West Virginia's Alderson Federal Prison Camp, plus five months of home confinement. She was released in March 2005.
"It was horrifying and no one, no one, should have to go through that kind of indignity really except for murderers, and there are a few other categories, but no one should have to go through that," Stewart told Katie Couric on her podcast. "It's a very, very awful thing."
What about Rod Blagojevich?
"There's another one that I'm thinking about, Rod Blagojevich," Trump said to reporters on Thursday, according to NBC.
Blagojevich was sentenced to 14 years in prison for charges of corruption. This included attempting to "sell" Obama's Senate seat when he became president in 2008. Blagojevich was impeached from his position as Illinois' governor in 2009 and began serving that sentence in 2012 at the Federal Correctional Institute in Englewood, Colorado.
According to the Associated Press, the Supreme Court has turned down appeals from Blagojevich twice.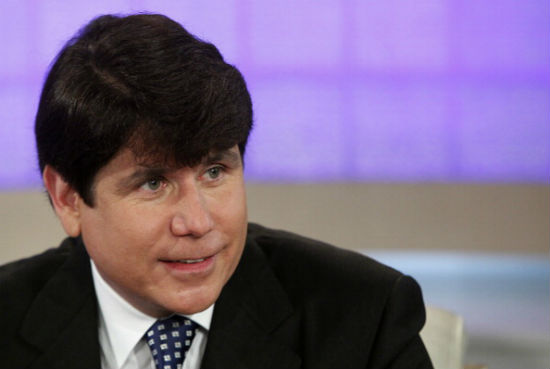 Trump said that the man had received a long sentence "for being stupid and saying things that every other politician [says]."
"And he's a Democrat. He's not my party," Trump continued. "But I thought that he was treated unfairly."
Trump said, too, that Stewart "was harshly and unfairly treated. She used to be my biggest fan in the world."