Since its launch in May 2017, the NYC Ferry has become a valuable mode of transportation for 5 million New Yorkers overall, and this summer, many more will be able to see what the buzz is about when the Hornblower-operated service adds two new routes.
Later this summer, NYC Ferry service will expand to include routes along Manhattan's Lower East Side and the Soundview section of the Bronx, which will join current routes to Rockaway, Astoria, South Brooklyn and along the East River, the latter of which serves Manhattan, Long Island City, Greenpoint, Williamsburg and Dumbo.
Additionally, the New York City Economic Development Corporation on Friday unveiled the Ocean Queen Rockstar, the first of six 350-passenger capacity vessels that will join the fleet to help alleviate the service's record-breaking ridership. The Ocean Queen Rockstar traveled 2,200 nautical miles from the Gulf Coast to New York Harbor this week, and after some final testing, modifications and installations, she is slated to join the fleet by the end of July.
While the official launch dates of NYC Ferry service to the Lower East Side and Soundview are yet-to-be-determined, read on to see what we do know so far.
NYC Ferry Lower East Side route
The Lower East Side route will include five stops: Long Island City at Gantry Plaza State Park; East 34th Street; Stuyvesant Cove at 20th Street and FDR Drive; Corlears Hook on the East River Promenade and Wall Street/Pier 11.
The trip from Long Island City to Wall Street should take approximately 32 minutes, according to the service.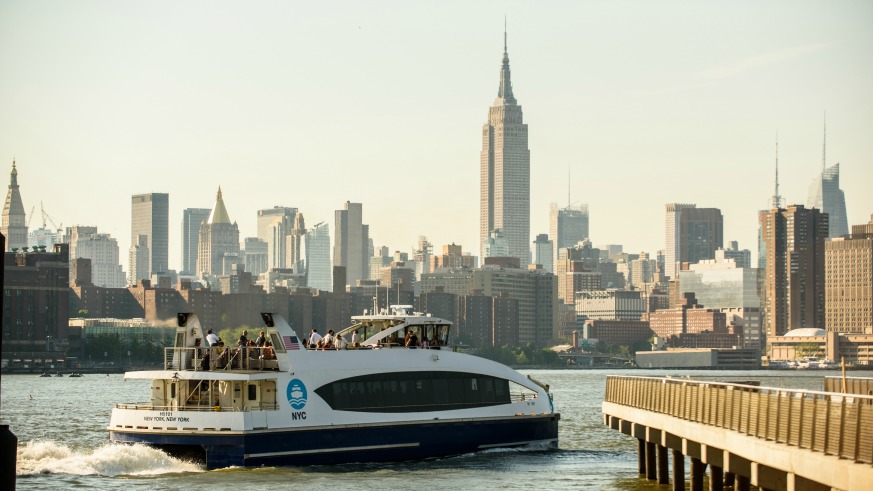 NYC Ferry Soundview route
The Soundview route will make four stops: Soundview/Clason Point); East 90th Street; East 34th Street and Wall Street/Pier 11.
The trip from Soundview/Clason Point to Wall Street will take approximately 54 minutes.
Original plans for NYC Ferry service to Soundview included a proposed stop at East 62nd Street, but that was nixed in August 2017 due to safety concerns regarding limited space and barge traffic, the New York City Economic Development Corporation said.
Instead, East 34th Street was added to provide passengers with easier access to the other NYC Ferry routes along the East River and to Astoria and the Lower East Side.
NYC Ferry ridership
While overall ridership on the NYC Ferry has hit 5 million passengers since launch, here's the breakdown for each current route, as of June 13 of this year, according to the NYCEDC:
• 2,635,492 on the East River route, which launched May 1, 2017.
• 842,300 on the Rockaway route, which launched May 1, 2017.
• 744,218 on the South Brooklyn route, which launched June 1, 2017.
• 738,864 riders on Astoria route, which launched August 29, 2017.
• 11,821 riders served through the Governor's Island summer weekend service.
While you cannot use a MetroCard for NYC Ferry tickets, trips cost the same as one: $2.75 for a one-way ride or $121 for a 30-day pass. Passengers can also bring bikes on board for $3.75 one-way or $141 for 30-days. For more info, visit ferry.nyc.