Immigrant-rights group New Sanctuary Coalition is hoping to get thousands of volunteers to camp out at the United States-Mexico border for 40 days and 40 nights to aid caravan migrants as they seek asylum.
New Sanctuary Coalition, a faith-led immigrant rights group based in New York City, is organizing a movement its dubbed the Sanctuary Caravan to support migrants as the Trump administration restricts the path to asylum.
"This is a very critical moment we are in," said Ravi Ragbir, executive director of New Sanctuary Coalition. "We've made a national call for people of faith to stand up…so that we are able to counter the violence that is going to happen, and also to show the president there are more of us — people who are welcoming, people who want to help others live in dignity and safety — than there are of them, people who hate."
The coalition is reaching out to faith leaders and others across the country, asking anyone who can to join or fund the Sanctuary Caravan. The activists are working to coordinate transportation to the San Diego-Tijuana border from New York City for those who want to be involved.
What will the New Sanctuary Coalition Sanctuary Caravan do at the US border?
At the border, members of the Sanctuary Caravan will be stationed on the Mexico side, at border check-in and on the U.S. side.
Within a pro se clinic on the Mexico side, trained individuals will help caravan migrants fill out any necessary paperwork and hone their story for why they are seeking asylum, in preparation for their credible fear interview.
Faith leaders and other volunteers will then physically walk with these migrants to the border checkpoint. Sara Gozalo, an organizer with the coalition, said that the group will be "demanding that, because our friends will have all their paperwork, everything will be ready, that there is no need for anyone to be detained."
Once the caravan migrants are on the U.S. side, the Sanctuary Coalition will continue to assist them in finding resources and getting to wherever their final destination may be in any state.
"This is not a protest. This is working in solidarity with people so they may cross the border and continue their right to ask for asylum as both U.S. and international law says they have a right to do," Gozalo said. "We are not there to create chaos — quite the opposite. We are there to make it as efficient and as nonchaotic as possible, to process as many people as possible on every single day."
Ragbir expects the Sanctuary Caravan to head to the border in the first week of December as the main migrant caravan is arrives. Kaji Dousa, senior pastor at Park Avenue Christian Church and co chair of New Sanctuary Coalition, will herself head down to the border with a group of faith leaders just after Thanksgiving.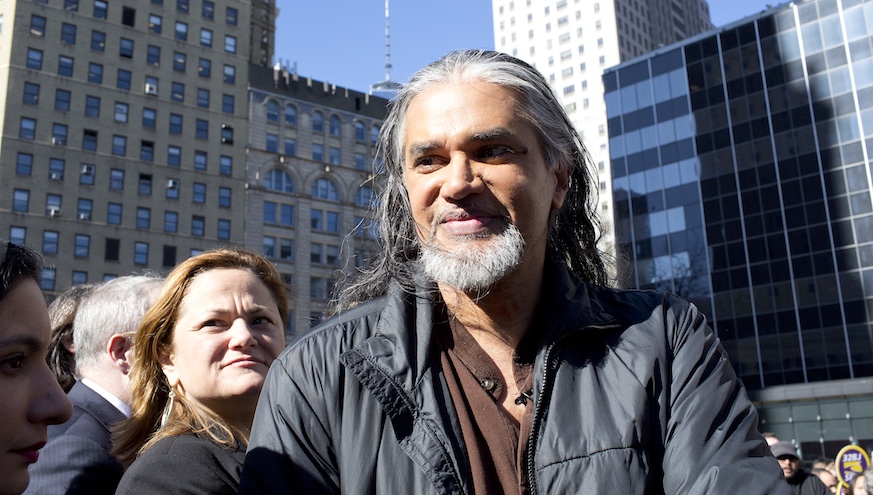 Immigrant activist Ravi Ragbir pictured at a demonstration. Getty
On Wednesday, a fraction of the caravan arrived at Tijuana after about 400 LGBTQ migrants broke away from the larger group and boarded fleet buses to the border. Most of the 5,000 other migrants are making the journey largely on foot.
Beginning this week, New Sanctuary Coalition will hold the first legal trainings for caravan volunteers. They will be recorded and available online at sanctuarycaravan.org, which is also where people can sign up to join this effort.
"We understand the radical vision that is part of [this] call. We understand we're in movement moment," said Caroline Murray, national coordinator with New Sanctuary Coalition. "As word gets out, we anticipate many thousands of people to respond to this call. They can participate at home, online, at the border, [in their] community. We want to make sure we're meeting people where they're at, creating ways for everyone to participate in this moment of really welcoming our brothers and sisters to the United States."