Fall never seems to last long enough in New York City, but that just means we get to the winter fun faster. Among the many delights of the holiday season, there's nothing quite as magical as the Winter Village in Bryant Park, and it's back starting Saturday, Oct. 27.
Now in its 17th season, the European-style outdoor market takes over the entire park, turning it into a winter wonderland of sparkling lights, shops and food stands nestled inside glittering glass-walled booths and lots of festive activities. Here's everything you need to know about our favorite NYC holiday market.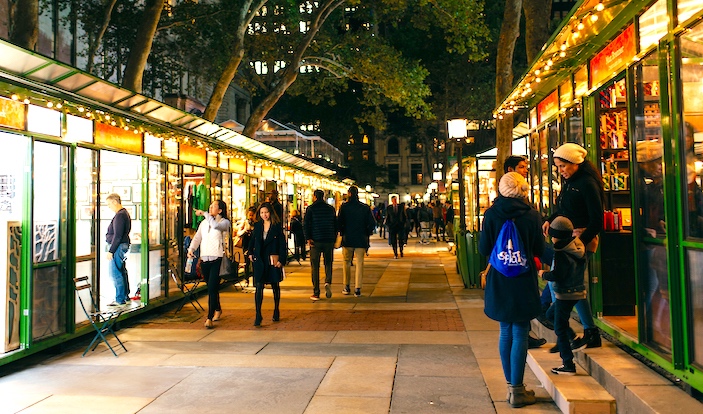 What's new at the Winter Village in Bryant Park?
The Bank of America Winter Village in Bryant Park opens on Oct. 27 — the marketplace will remain in place through Jan. 2, 2019, while the ice rink will stay through March 3, 2019. This year's market will have 170 vendors including holiday gift shops and food stalls in addition to the usual Olympic-size ice rink and various activities and special events throughout the season.
There is one major addition for 2018: The Lodge, a food hall and post-skate cooldown area modeled after the Swiss aprés ski chalets. Along with 12 restaurants, you'll find a holiday-themed cocktail bair and a lux Champagne Bollinger bar. It'll be open daily Mon-Fri from 11 a.m.-8 p.m. and Sat-Sun 10 a.m.-8 p.m.
If you just can't wait to get the holidays started, be among the first 100 people lined up at the rink on Opening Day at noon to receive a free skate rental, Bank of America knit gloves and hot chocolate.
One night you don't want to miss is the annual Tree Lighting Skate-tacular, taking place Dec. 4. Hosted by Alan Cumming, the night includes special performances including a routine by two-time Olympian Johnny Weir. In 2016, he memorably performed to Radiohead's Creep in a billowing red ensemble, because Johnny Weir always is always going for gold.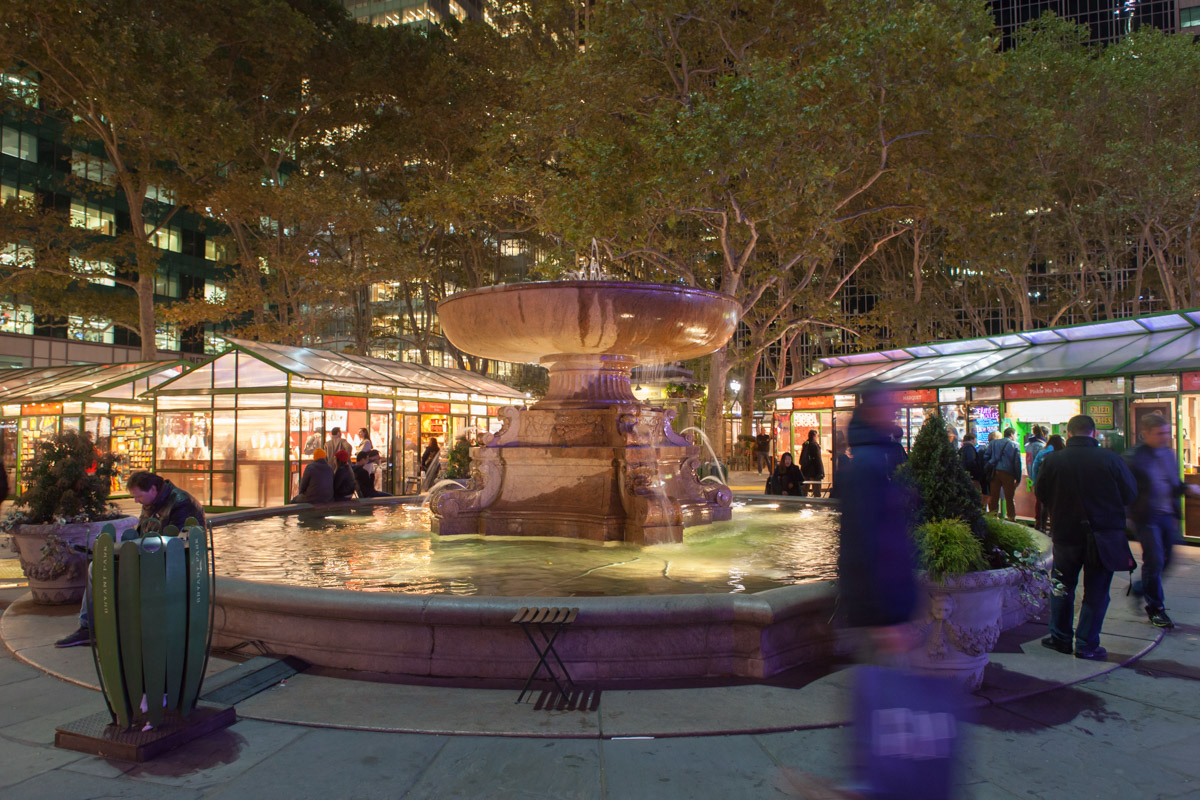 Holiday shopping
For the holiday shoppers, the Winter Village is NYC's largest outdoor holiday market, and also its prettiest — the whole park really does seem to sparkle even without snow. The market is a great place to find stocking stuffers and warm weather essentials, with a mix of local and international vendors including fine art photos by You Are Here Studios, statement jewelry at Little Village Crafts and Mexican handicrafts at Un Pueblo.
The marketplace is open from Oct. 27-Jan. 2, 2019, Mon-Fri at 11 a.m. and Sat-Sun at 10 a.m. until 8 p.m., though many shops stay open later on holidays and after Thanksgiving.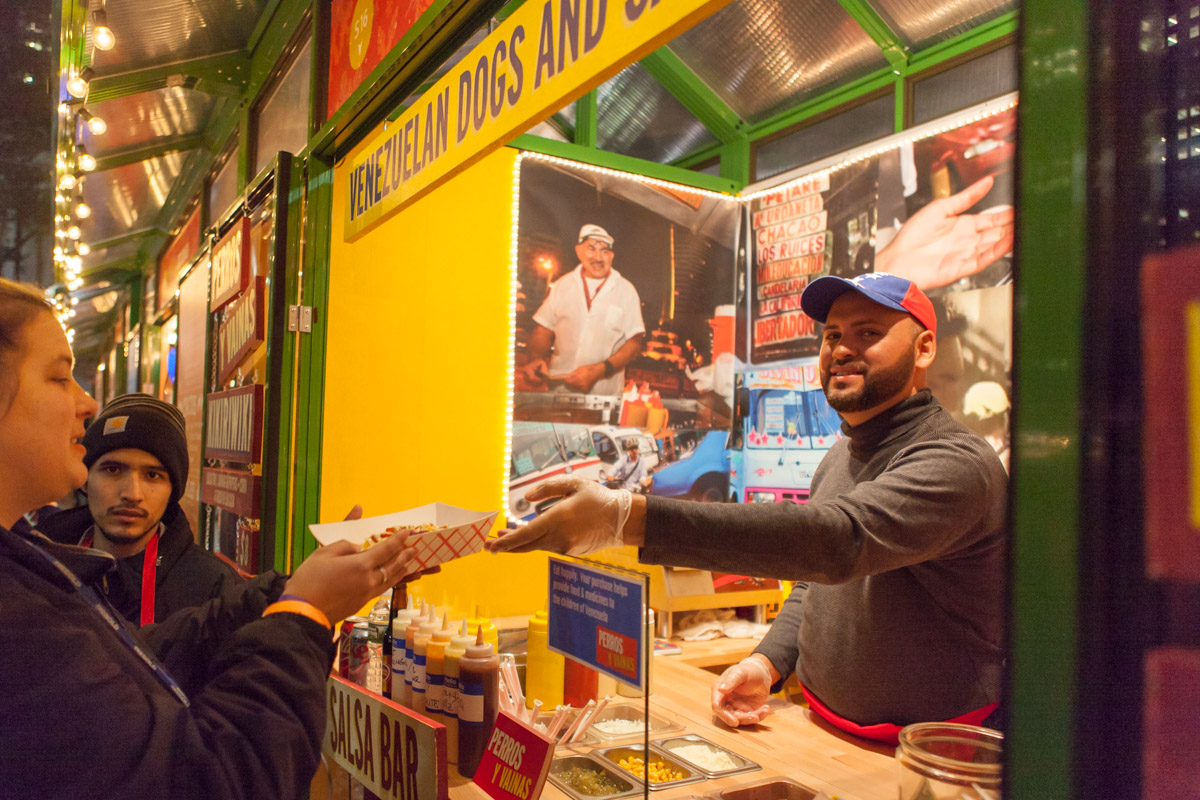 Food vendors
Located on the south side of the Winter Village and inside The Lodge is a collection of restaurants curated by Urbanspace. This year, you'll have 41 restaurants to choose from to recover post-skate or carb up for a shopping spree, including an outpost of the acclaimed Mah-Ze-Dahr Bakery, Chinese crepes from Mr. Bing amd Cheesesteaks by The Trufflist. Come by on Tasting Tuesday (Nov. 6) to try bite-size samples from most vendors!
Ice skating at the Winter Village
One of the Winter Village's biggest draws is its massive ice rink, the only one in New York City that offers free admission (though skate rentals will still run you $15). The rink is open daily from 8 a.m. until 10 p.m., and newbies can book a skating lesson. And while the Winter Village marketplace will close on Jan. 2, 2019, the ice skating rink will remain open through March 3, 2019.
More holiday fun
Besides the shops, food and skating, the Winter Village is always teeming with activities, especially for kids. As it gets closer to Christmas, everyone (of any age — and even pets on special days!) is welcome to stop by Santa's Corner for a free holiday photo op with the big man in red from Dec. 16-23, plus holiday crafts and caroling.
On Dec. 18, the New York City Opera will be caroling around the Christmas tree.
There's plenty of opportunities for free exercise at the Winter Village, too. Thursday mornings at 8 a.m., a figure skater or hockey player lead Exerskate classes, while January and February brings a Broomball league to the rink.
And for something different, wear your white-tie best to the annual Ice Ball, a prom on skates taking place on Feb. 1, 2019.