October 1 marks one year since a gunman opened fire on 22,000 concert goers at the Route 91 Harvest Festival. The Las Vegas shooting killed 58 — all by bullets.
"A lot of people have probably put it out of their minds," Steve Sisolak, a Clark County, Nevada, commissioner told the Associated Press. "The anniversary is going to bring up a lot of feelings, good and bad."
And by all appearances, he's right.
But tonight, the bright lights on the Las Vegas Strip will dim to commemorate the lives lost as the gunman, Stephen Paddock, fired from the 32nd floor from nearby Mandalay Bay. The hotels, casinos and other building along the famous road will dim the lights starting at 10:01 p.m. — the same time the Las Vegas shooting started in 2017.
How the Las Vegas shooting affected the survivors
Country singer Jason Aldean was on stage when the shooting started.
"The last possible thing I thought could be happening was somebody shooting a gun at us," Aldean told The Tennessean. "Once you figure out what's going on … what people don't realize is that we didn't know where it was coming from. For all we knew he was on the ground backstage walking around mowing people down. It's the worst thing I've ever experienced, hands down."
Fellow country star Eric Church performed at the Festival earlier in the weekend.
"I felt like the bait," Church told Rolling Stone of how he felt after the shooting. "People come to see you play, then all of a sudden they die? That is not an emotion that I was prepared to deal with."
Those in the audience are still dealing with the aftermath, both physically and mentally.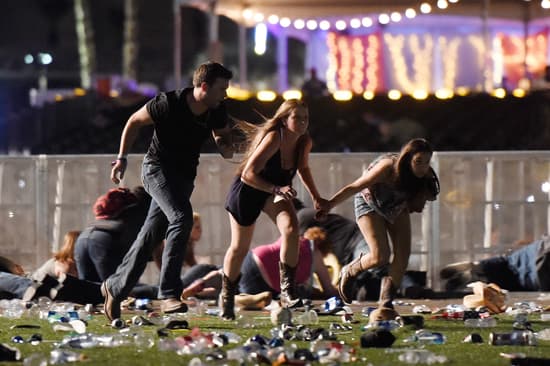 "The PTSD is real," concert goer Michelle Leonard told Fox 10 in Phoenix. "It's something that doesn't go away. I wake up everyday and I remember because of my injuries that I have. I've lost my job because I can't do this work anymore. Physically and mentally it's changed my life upside down."
Some survivors deal with their experience by watching the hundreds of videos of the shooting online.
"Watching the videos helped me to gain perspective on what other people's experience may have been like," Diane Hutchinson told CBS News.
"Sometimes I watch to remind myself what I survived," she added. "Sometimes I watch because I feel dead inside and want to go back to that night to see if I can come back to life.  Sometimes I watch just to feel the pain so I'm know I'm still alive."
What was the motive of the Las Vegas shooting?
Paddock was a regular at the city's casinos known for gambling big bucks, but he was somewhat a mystery — and that mystery extends to this day.
A 10-month investigation by the Las Vegas Metropolitan Police Department failed to find a motive for the Las Vegas shooting.
"People are bewildered by the case—there's a bewilderment, and there's a horror," J. Reid Meloy, a forensic psychologist and clinical professor of psychiatry at the University of California, San Diego, told the Wall Street Journal.
Extensive interviews with his girlfriend, ex-wife, doctor, casino employees and relatives didn't give them any insight into why Paddock murdered 58 people before taking his own life. His computers, phones and internet history didn't provide any clues — though they never found the hard drive — and he didn't leave a suicide note.
"The most troubling cases are those without an answer."