The one aspect of baseball that any common man can compare to a major leaguer like New York Yankees catcher Gary Sanchez is hustle.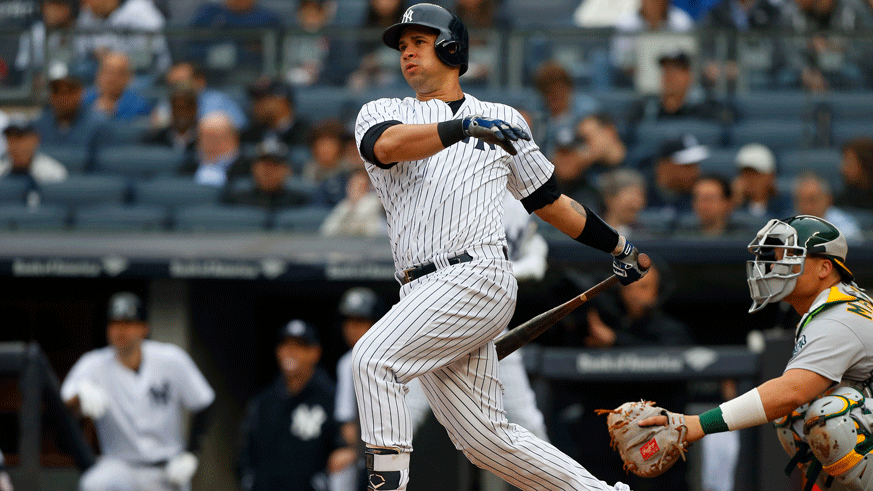 Sure, you might not be able to hit a 95 mile-per-hour fastball or scoop out a low throw at first base, but you can run hard out of the batter's box when you make contact or while playing defense in the field. 
There's a certain level of respect that baseball deserves and a lot of it has to do with hustle. If you show it, you will be rewarded even if your numbers aren't of an All-Star's caliber, especially in New York. That's what most baseball (and sports) fans look for in their favorite athletes. 
If you give it your all, bust it out of the box, show a desire to get your uniform dirty, you are going to make friends in the Big Apple. 
But the Yankees catcher is only digging this hole of a bad 2018 season even deeper after Monday night's loss against the Rays. 
Sanchez made the final out of a 7-6 loss, grounding out with the bases loaded. That would have been reason for some vitriol considering he's batting a miserable .188 this season, but it's the way the final out was made that is causing him the most grief. 
You see, Sanchez did not run hard out of the box when he slowly rolled a 1-1 offering right to second baseman Daniel Robertson, who was playing to the left of the bag because of a shift. He attempted to flip the ball to shortstop Willy Adames at second base for an easy force out, but the throw wasn't in time as the Adames had to scramble to the base. 
That should have given Sanchez more than enough time to beat out the throw, thus tying the game at seven. 
However, the slumping 25-year-old's lollygagging ensured Adames had enough time to set and throw to first, beating Sanchez by a full step:
How the game ended with Gary Sanchez's at-bat ? pic.twitter.com/Y1P2BXb5Qk

— YES Network (@YESNetwork) July 24, 2018
After the game, Sanchez admitted that he should have "run harder," but hindsight is 20/20 and baseball ensures that the weak link is exposed. 
Sanchez has been nothing but a weak link this season, which has made him a liability on a Yankees team that is now six games back of the Red Sox in the AL East after Boston defeated the Baltimore Orioles on Monday night. 
Forget about the last year's 33 home runs and 90 RBI last season. Forget about the .278 average. Either put Sanchez on the bench until he is ready to give it his all or demote him to the minor leagues. 
It's not like they don't have another option. Austin Romine is batting .270 with six home runs and 26 RBI in 41 games this year and was awarded the organization's Heart & Hustle Award on Tuesday morning. 
Talk about bad timing. 
Aaron Boone has remained incredibly loyal to Sanchez during his first year as manager, but the closer things get to October and the further the Yankees fade from the Red Sox, the more obvious it becomes that his starting catcher is not ready to contribute to a World Series contender. 
Some time on the bench or the minors could change that.