The New England Patriots are Super Bowl champions for the third time in five years and the sixth time since 2002 thanks to a dominant defensive performance in a 13-3 victory over the Los Angeles Rams on Sunday night in Atlanta. 
So much for Tom Brady and Bill Belichick fading into irrelevancy. 
The victory not only ensures the Patriots remain atop the NFL heap for another season, but it secures yet another party in Boston on Tuesday as another victory parade will be headed down the streets of Beantown. 
Shortly after the win on Sunday night, Boston Mayor Marty Walsh wasted little time sending out the invitations to the Patriots faithful:
LET'S GO!!!!

Congratulations on another Super Bowl championship @Patriots!!

Fire up the duck boats @CityOfBoston! We will see you at the #SBLIII parade Tuesday at 11:00am!

Check here for updates: https://t.co/CFTRtQrh4l

— Mayor Marty Walsh (@marty_walsh) February 4, 2019
Starting at 11 AM, the route will start from the Hynes Convention Center. From there, the route will follow down Boylston Street, make a left onto Tremont Street, and finish up on Cambridge Street at City Hall. 
Here is a map of the route, via Boston.gov: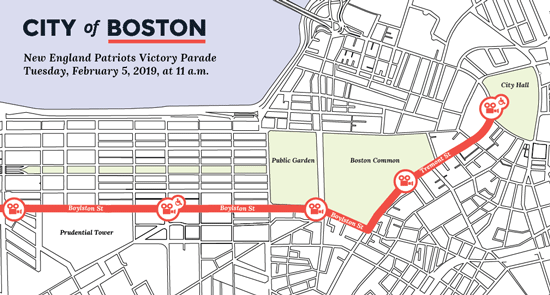 The 21st century has seen Boston transform into the city of champions. Tuesday will provide the city with its 12th championship parade for its four major sports teams. Alongside the Patriots' six championships, the Red Sox have won four World Series titles, while the NBA's Celtics and NHL's Bruins have added a championship apiece.
That means it's just another party for the Boston sports fan generally known as "sign kid."
My @BostonHerald column on the one and only "Sign Kid" – Jason Patrick McKeon of Haverhill. #RedSox

Column Link – https://t.co/LORgJNzkey

(Image via @ralvarez617) pic.twitter.com/aMTtcspgan

— Obnoxious Boston Fan (@realOBF) October 31, 2018