Is Paula Patton dating a married man? Short answer is yes, and I can't even. According to a report by Page Six, Patton's new piece, a Malibu real estate agent by the name of Zachary Quittman, is still technically lawfully wedded to his wife. A source tells the site, "They're married, they're not even legally separated… He doesn't even have his stuff out of the house."
That didn't stop Patton from gushing about her new beau on Extra. Earlier this week, the 42-year-old practically gushed from the mouth parts, saying "I have a boyfriend now. I haven't called anybody a boyfriend. He's my boyfriend!" OK!
She also revealed that they met through their kids' sports activities, saying, "If you have a kid and you have a basketball game, look at the daddies. It's kind of a suburban romance. It's like all women's fairy tale. He's got kids, I got a kid. It's one of those!" She then added — about her boyfriend of literally one month — "When you know, you know. I love him."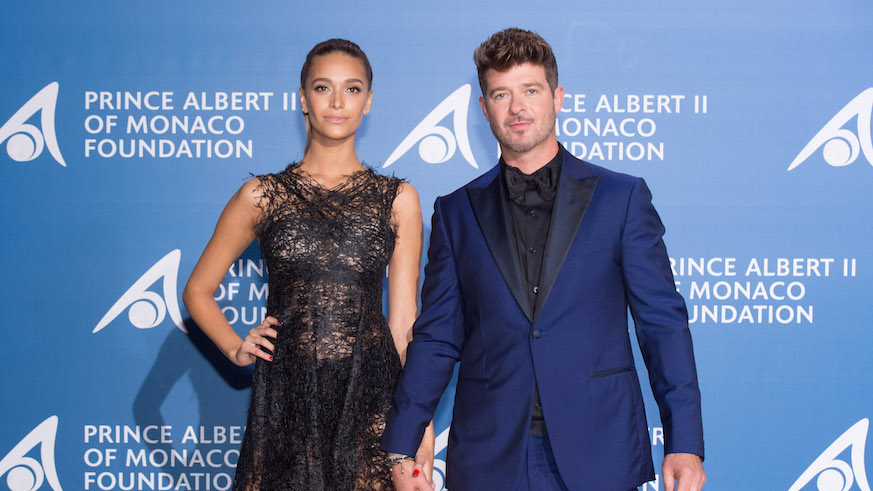 Patton divorced from Robin Thicke in 2015. He welcomed a baby girl with his very young girlfriend, April Love, in February. Getty
Something else to know? He's married, Paula. And yet, Quittman, 37, has reportedly been living with Patton since the two started seeing each other — and he's been tagging along on her press tour for Traffik. Page Six's source says part of the appeal is his very good looks and his salesmanship. "He's like a trust fund kid, his mom is like #1 in real estate, he's a good salesperson so I'm sure he's selling himself," the source shares. "He hasn't really made anything of himself in his life and being in the spotlight is great for him… he's all about what he looks like, his body, his tattoos, he's a very selfish man." Sounds like a catch!
Patton and her ex-husband, Thicke, divorced after 10 years of marriage. Thicke, 41, is now dating a 21-year-old model, with whom he welcomed a child in February. Because apparently, neither Patton nor Thicke are capable of having any chill.