Last night, Paulette Jordan won the Democratic primary of Idaho's race for governor.
"AJ is a good man and a formidable opponent," Jordan tweeted early this morning of adversary A.J. Balukoff. "He and I debated issues that haven't been discussed in Idaho for decades — together, out candidacies gave all Idahoans a stronger voice."
AJ is a good man and a formidable opponent. He and I debated issues that haven't been discussed in Idaho for decades — together, our candidacies gave all Idahoans a stronger voice. https://t.co/6Sv8BBTKni

— Paulette Jordan (@PauletteEJordan) May 16, 2018
Next, she will face Lt. Gov. Brad Little (R) in the November election. If she wins in her state — which, as CNN pointed out, Trump won by 32 points back in 2016 — she'll become the first Democratic governor Idaho has had in over two decades, it's first female head of state and, to top it all off, the first Native American governor our nation has ever had.
According to the Associated Press, Jordan has already made history as the first woman to become the Democratic gubernatorial (read: governor) nominee in Idaho. Here's everything to know about her.
Paulette Jordan is 38, hails from Idaho and went to college in Washington
Jordan grew up on a Native American reservation in northern Idaho. The 38-year-old went to the University of Washington where she received degrees in communications, comparative literature and American Indian studies.
She is a former Idaho state rep 
Jordan served in the Idaho House of Representatives for two terms for the state's fifth district. She won her seat in 2014, then was re-elected in 2016. 
Jordan officially resigned from her Idaho House seat in February and was replaced by Democrat Margie Gannon. 
Paulette Jordan is part of the Coeur d'Alene tribe and comes from a long line of chiefs
Jordan became the youngest person elected to the Coeur d'Alene Tribe Council after college.
Her ancestors were chiefs, and according to Huffington Post, her great-great-grandfather, Chief Kamiakin of the Yakama-Palus Nation, engaged in a three-year war against the U.S. government when the governor of Washington forced him to sign over the land (a type of treaty called land cessions).
Jordan's grandmother served as tribal chair of Colville Confederated Tribes. Jordan told the site that all of her grandmothers could "lead as chiefs and fight as warrior chiefs. They taught me the way."
"I come from a powerful line of women. I'm proud of that heritage and legacy," Jordan said. "The opportunity for women is now. The president is divisive. Women know we can bring the country together. I'm working to defend my state, my people, even as this president is part of spreading hate and fear."
Paulette Jordan and her views
Jordan has been endorsed by Planned Parenthood, Democracy for America, People for the American Way and other organizations.
According to The Hill, she is "pro-LGBTQ rights, pro-marijuana legalization, pro-Medicaid expansion." If she becomes governor, she wants to address Idaho's "broken tax system and education system that she says doesn't support teachers," noted Huffington Post. 
Jordan is also for DACA, telling Teen Vogue, "We've been discussing DACA as best we can on this platform … There's a strong dairy industry [in which Hispanic immigrants are the backbone], and yet the industry owners, the people who are invested, who are leaders of that group are not promoting a pathway forward for immigrant population. So we spoke of basically creating this pathway forward for citizenship, and how as governor we can lobby for it at the national level."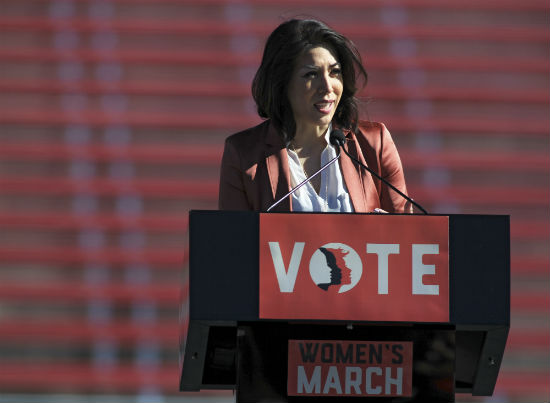 Jordan understands the rural way of life and wants to protect the land — but it's more that that. "It's sustainability. It's defending your family and your way of life," she said. 
"Every single issue that tribes push forward are issues that are good for everyone, all of humanity," Jordan said when speaking to the Shoshone-Bannock Tribes back in February. "So when we talk about education in tribal communities, it's the same for Hispanic communities, it's the same for every single district up and down this state."
One young girl asked Jordan, "When you become governor, are you going to help us? Or are you going to turn your back on us?" The woman replied, "…I know, looking at you, you're never going to let me forget. But I already promise you that I will not forget the people because I was raised by the people."