We hope you have your appointment with your barber, because the Peaky Blinders season 4 release date is rapidly approaching, and you wouldn't want to watch looking any less dapper than Cillian Murphy.
By the way, the actor's not much a fan of the haircut he has to sport during shooting. "People are going into barbers asking for a Peaky," he told Esquire during one of their Esquire Townhouse sessions, quipping, "why, I don't know, but they are." But it's not the look he doesn't like. "It's great," he finally added. "It's just an awful lot of maintenance." So if you're really committed to rocking the same 'do, just make sure you follow up with your barber frequently.
What to expect from Peaky Blinders season 4
But wait, is it even worth your time to count down to the Peaky Blinders season 4 release date? Well, it's certainly going to kick off with a bang if you're into that sort of thing.
Peaky Blinders season 3 ended dramatically, with the entire Shelby family convinced Tommy had betrayed them as they were arrested and carted off to prison. "Tommy is trying to convince himself it's okay. He's trying to live with it and what happened to the rest of them," Cillian Murphy told Deadline about where his character is emotionally at the beginning of Peaky Blinders season 4. "He's not the sort of character who's going to go to therapy… It's an interesting place to find him completely estranged; family was his raison d'etre," Murphy added.
"Tommy's not the sort of guy that I think processes things emotionally," the actor shared in the same Esquire Townhouse in which he opined about the iconic haircut. "He tends to sort of repress things and not talk about them," Murphy explained, adding "then they come out in weird ways." It's those weird ways that are sure to make for a fascinating fourth season.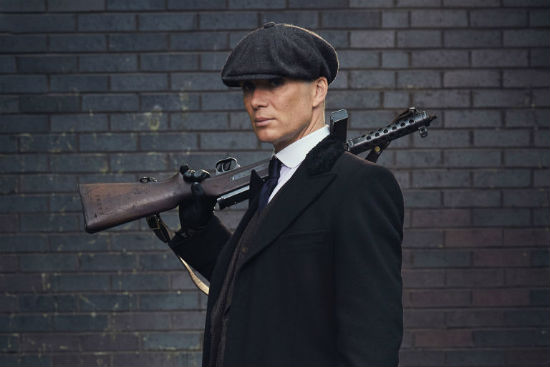 But Peaky Blinders season 4 is also going to be a bit emotional. Tommy's "fractured," Murphy explains. "The whole thing is broken." And we're sure he's going to run into some roadblocks as he tries to piece the family back together.
But don't expect all the intrigue to come from the men. Steven Knight, the creator of the series, is known for writing strong female character, so expect them to get into capers of their own. In fact, it's so natural for him that he told Esquire he didn't "understand why anyone wouldn't" bring strong female characters to their scripts. "It's not deserving of praise" to represent women in this way, he explained, adding "it's just what goes on." All the more reason to love Peaky.
What does the future hold for Peaky Blinders?
Although creator Steven Knight confirmed that he envisioned the series as five seasons and plans to wrap it up on the timeline he's envisioned, there appears to be a little wiggle room in respect to Peaky Blinders season 6. "Never say never, but we feel that series five may be the last. We don't know for sure," Knight told Joe UK. "Peaky is one of those things everybody loves, and the response has been so magnificent on both sides of the Atlantic. I have got the end in my mind; whether that happens at the end of five is the question."
That's because the ending he has in mind hangs in a historical event, not a specific season. "I want it to end when the first air raid siren sounds in Birmingham, Knight said, explaining, "It is a story of a family between two world wars." The start of World War II would then, obviously, be a conclusion to that story.
Murphy expressed interest in going further — if that's at all in the cards. But it might not be as further seasons of the beloved series.
Will there be a Peaky Blinders movie? Or, wait for it, musical?
Although Peaky Blinders creator is skirting speaking directly about the possibility of a movie, they can count Cillian Murphy in on a future project — on one condition. Murphy said of the possibility of a film that he "wouldn't be surprised" because "Steve has so many ideas, he's so inventive." But to get him to sign onto anything, that comes down to the script. "For me, I've always said as long as the writing stays as good as it is, I'm around," he summed up.
"We are also keeping our minds open as regards a movie and we are making progress on the musical," the creator shared. "Peaky is now a beast that will not die." But the musical is where Murphy likely breaks with Knight. "That's not for me, I'm going to pass on that one," the actor concluded.
Watch the Peaky Blinders season 4 trailer below
To hold you over until the Peaky Blinders season 4 release date — or, sorry, make you even more anxious — catch the preview of the new season below.
Peaky Blinders season 4 release date
Peaky Blinders season 4 episode 1 kicks off the newest run on Wednesday, November 15 — for the BBC in the UK. We know, it's completely unfair for U.S.-based fans of the Peaky Blinders boys. The good news is that the Peaky Blinders season 4 release date on Netflix might not be far behind. Although some outlets are reporting that it will be released on the streaming service just as the series is wrapping up on the BBC, Peaky Blinders season 3 was released on Netflix in the U.S. on May 31. That should give us a good idea of when to expect season 4.