If you were arrested for marijuana possession in New York City, you're probably not white, according to a new report.
Out of all marijuana possession arrests in the first six months of 2018, 93 percent were of New Yorkers of color, according to the Police Reform Organizing Project (PROP).
PROP based its report on NYPD arrest data from the New York State Division of Criminal Justice Services, said Director Robert Gangi, and the nonprofit has been putting out such reports on NYPD arrest practices regularly.
"We focus on marijuana possession arrests because those are probably the most blatantly racially biased," Gangi said.
NYPD arrested 6,604 people for marijuana possession in first six months of 2018, or about 37 per day, per the report, and 93 percent of those arrests were of people of color.
PROP said they found discriminatory practices across all arrest categories as well, but Gangi said that marijuana possession arrests show "blatantly racist practices" because research has proven that black and white people use marijuana at about the same levels.
"These are illegal practices, they're unconstitutional on an equal protection basis, and the serious issue for us is that they haunt people every day," said Gangi. "It's not just that they're illegal, that they're unconstitutional, that they pick on poor people. They haunt people. They defy people of their liberty, they inflict a king of collective trauma on the community because people of color know they're being arrested and harassed for activities that are virtually decriminalized in white communities."
Marijuana possession arrests in NYC: A changing reality?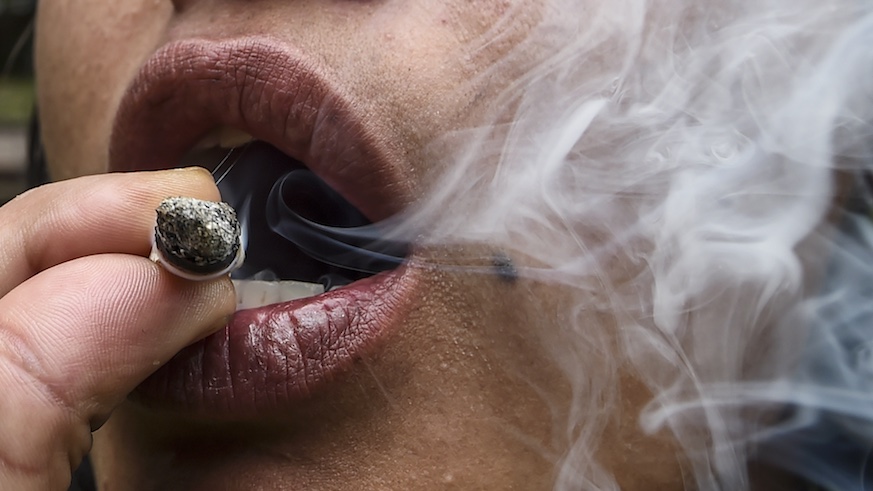 New York's attitude toward marijuana seems to be changing. Democratic Candidate for Governor Cynthia Nixon has voiced support for marijuana legalization in New York, citing the racial disparities of those arrested in relation to marijuana, as has New York City Public Advocate Letitia James.
Gov. Andrew Cuomo recently released a Health Department report that says the "positive effects" of legalization "outweigh the potential negative impacts." And though Mayor Bill de Blasio said he isn't ready to fully support marijuana legalization, he announced that the NYPD will ticket, rather than arrest, those smoking marijuana in public as long as they have no prior record. 
To all of this change, Gangi said that he is cynical in how this will change that racial bias.
"The conditions attached [to the NYPD arrest changes] by their very nature will continue their targeting of African American and Latino people of the city," he said.
So far in 2018, 87 percent of misdemeanor arrests in New York City involved people of color, according to the PROP report. That means, Gangi noted, that most people with prior convictions or who are on probation are New Yorkers of color, who will still be arrested for marijuana possession under the NYPD's changes.
That number of misdemeanor arrests did drop compared to the first six months of 2017, when 86.5 percent of NYPD misdemeanor arrests were of people of color. The NYPD made about 16 percent fewer misdemeanor arrests overall in the first 6 months of 2018 compared to the same time period last year.
In response to this report, the NYPD said in a statement that it "enforces the law fairly and equally, and works tirelessly every day to keep every resident and every neighborhood safe."
"The NYPD is also committed to building trust between police and the community, whether by dramatically reducing stop-and-frisk by more than 90 percent; by providing more than 8,000 officers with fair and impartial training; or by implementing a new neighborhood policing strategy that bring cops and community closer together through mutual respect and partnership," the statement continued. " This commitment will only intensify moving forward – demonstrating that in New York City, we can drive crime to record low levels and strengthen the bond between police and residents."