In Spring 2011, a little ice cream shop called Ample Hills Creamery opened in the quiet neighborhood of Prospect Heights in Brooklyn — and was instantly overwhelmed with love for its rich flavors with quirky names and funky housemade mix-ins. Now in July 2018, Brian Smith and Jackie Cuscuna's literal mom-and-pop shop is growing into an ice cream factory in Red Hook with their 11th scoop shop inside — plus a mini museum of ice cream.
"It's profoundly gratifying too to see the whole space come together and to turn this warehouse into a thriving factory that's open to the public," says Smith. "Especially to do it in Brooklyn, where we live, is incredibly special."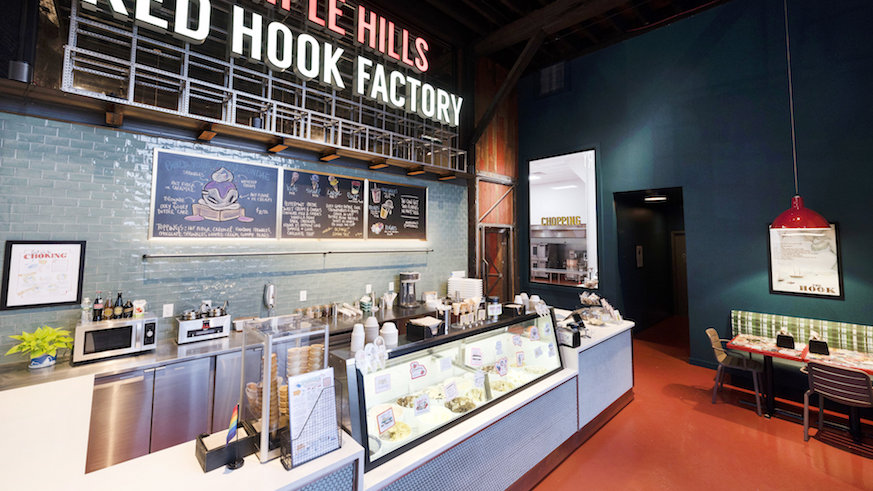 Inside the Ample Hills Red Hook Factory
Two years in the making, the Ample Hills Red Hook Factory perched on the Brooklyn waterfront spans 15,000 square feet — a giant step up from Ample Hills' current 1,000 square-foot kitchen in the Gowanus scoop shop. The new equipment expands production to 200 gallons an hour, up from their current capacity of 15-18 gallons, which was keeping the company from growing even faster.
"[The shop in Gowanus] is tapped out, it can't make enough ice cream for a single other shop, so we were really struggling to keep up," says Smith.
Guests will enter the factory through the scoop shop in the front, get their ice creams, then move on to the factory in the back where all the machinery is visible through glass walls, just like in the original Prospect Heights shop, where people would line up for the freshest churned ice cream that they could see Smith making in the glass-walled kitchen. "From the beginning, we've been inviting people into that story, and for the factory we wanted to do it 10-fold," he says. There will be guided behind-the-scenes tours as well.
The observation room also doubles as a museum of ice cream, with educational plaques and interactive stations about the ice cream-making process.
The factory is actually half bakery and candy shop dedicated to making Ample Hills' beloved mix-ins like ooey gooey cake and cookie dough bites — and yes, he knows you'd love to buy those separately, too. "We'll see if we have the extra capacity," he says.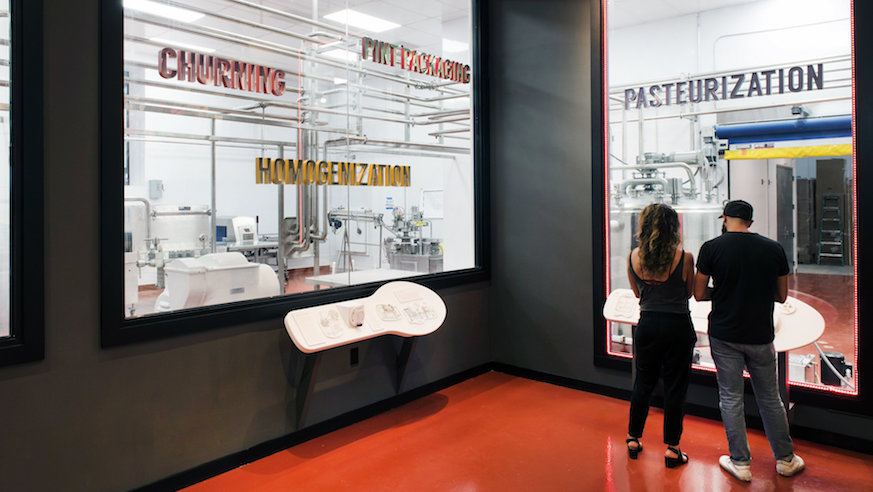 How Ample Hills got into business with Disney
Ample Hills has been plenty famous in New York since its opening, but partnering with Disney on three Star Wars-themed flavors tied to the 2016 release of The Force Awakens sent it into the stratosphere, selling 40,000 pints.
Getting into business with Disney started when Ample Hills started shipping ice cream nationwide in 2014. "One of the first people to order on the first week was Bob Iger, the CEO of Disney," Smith recalls. "We saw his name and sent him a copy of our cookbook, and he wrote back maybe three days after he got the ice cream and just said, 'Oh my god this is amazing ice cream, if there is anything I can do to help let me know, maybe Ample Hills at Disney?'"
Ample Hills did open a scoop shop at Orlando's Disney BoardWalk in 2016. "It was one of those sort of things that drops out of the universe. He's become a mentor and a friend and helped guide us with ideas and suggestions."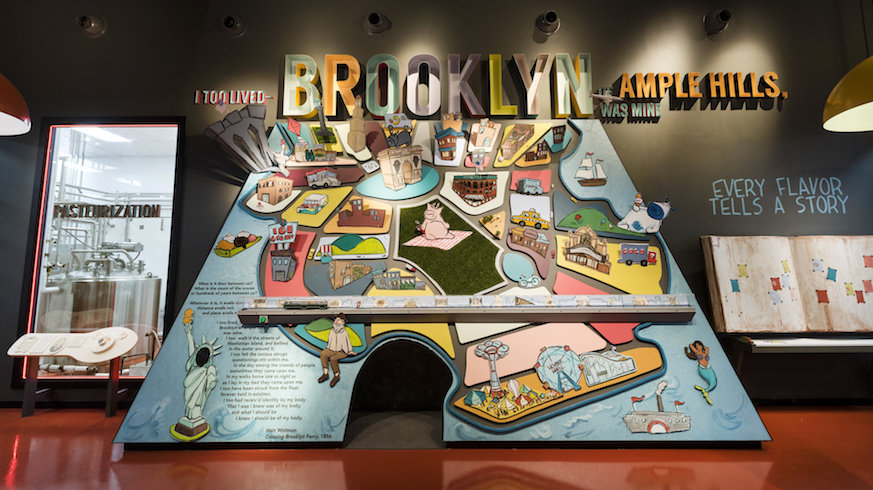 The success of Ample Hills is its stories
Smith's connection to the House of Mouse started much earlier. He grew up in South Florida and visited the Disney Parks in Orlando three times a year as a kid, "so there was a lot of Disney baked into the fabric of Ample Hills in terms of the focus on storytelling and narrative and how we could do an experiential ice cream shop," he says.
And while the ingredients certainly deserve their credit in making Ample Hills a success, Smith believes the real magic lies elsewhere. The ice cream museum's centerpiece is a 20-foot interactive board called Every Flavor Tells a Story, which translates Smith's creative process for new flavors into one visitors can use, too.
"We don't think about starting with milk, cream, sugar and egg; we think about starting with a story, and then we think about flavors that support the story we want to tell," he explains. "We're asking people to think about their own life as an ice cream flavor. You grow up in Hawaii, maybe there's pineapple in your ice cream. Your mother made an oatmeal cookie that you remember that you would incorporate into your flavor that only you would come up with."
These flavors could even end up being made for the shop, so everyone can taste a little of your story.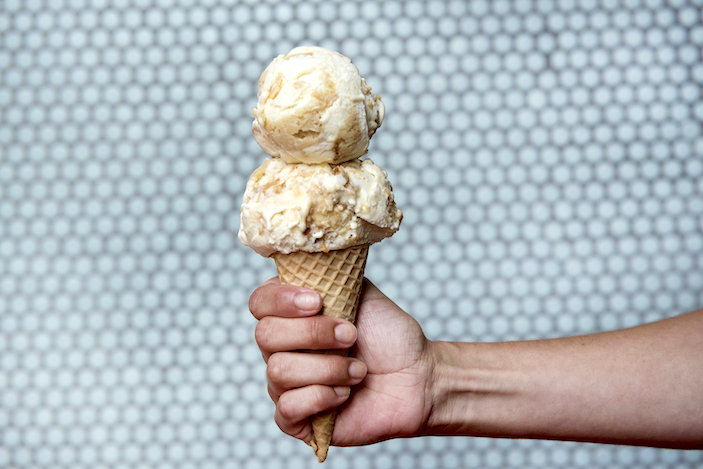 What's the special flavor at Ample Hills Red Hook?
Every Ample Hills scoop shop has its own unique flavor that tells a story about its neighborhood. For Ample Hills Red Hook, that's The Hook: burnt sugar ice cream, a nod to the Revere Sugar Factory that used to be on the next pier over, with pieces of stroopwafel referencing the Dutch who were the first to settle Red Hook and named it, and chunks of fudge to represent the cocoa beans that a century ago were stored in the warehouse Ample Hills now calls home.
"That's what gets me up in the morning," says Smith, who was also a screenwriter of "bad horror movies" before turning to the ice cream business. "Anybody can ultimately make ice cream, there's no real secret to it. But not everybody thinks about it quite so story-centric the way that we like to do."