New York is currently in the midst the sci-fi, anime, superhero, video game and general pop culture extravaganza that is New York Comic Con 2018. An expected 227,000 fans are descending upon the Javits Center — despite the 7 train — to see panels from the stars and creators of their favorite comics, shows, movies and figureheads of geek culture.
One of the main attractions of the event however, is not the stars. It's the extreme lengths that attendees of NYCC 2018 go to sewing and building their own costumes to cosplay as their favorite characters. There have been tons of amazing and creative costumes so far this year, and we've collected some of the highlights from New York Comic Con 2018. 
How are you spending New York Comic Con 2018?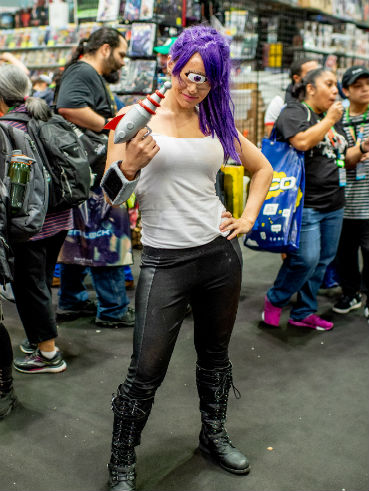 Lela from Futurama. Getty Images
Today is the second day of New York Comic Con 2018, which means that you will have until Sunday to cram in as many panels and meet and greets as possible until next year. What is on your agenda? Here are some of the highlights that you should check out before New York Comic Con 2018 is over.
NYCC Presents Tardis Time: Matt Smith, David Tennant, & Alex Kingston Live
Date: Friday, Oct. 5
Time: 8 p.m. 
Where: Hammerstein Ballroom
Check out these Doctor Who alumni in a rare conversation about all things "Who"! The 10th and 11th Doctors will be joined by River Song to talk about their journeys throgh time and space. What could be better than that? 
Cartoon Network Costume Contest 
Date: Saturday, Oct. 6
Time: 10:15 a.m. 
Where: Hammerstein Ballroom
We've already shown you some of the best costumes from New York Comic Con 2018 so far, but this is your chance to dress up for all of the bragging rights! Now go get to work on your best Steven Universe costume. 
Riverdale Exclusive Sneak Peak and Q&A
Date: Sunday, Oct. 7
Time: 10 a.m.
Where: The Hulu Theater at Madison Square Garden 
Riverdale isn't just a guilty pleasure anymore. It's a worldwide phenomenon. The New York Comic Con 2018 will have a special sneak peak at the new season along with a Q&A with the cast. #FreeArchie. 
For a full schedule, head over to the New York Comic Con 2018 site.