It's been a good summer for reconnecting with your inner child and filling up your Instagram with enviable photo ops between Candytopia, Rose Mansion, Believe in Your Selfie Museum, Dream Machine, Happy-Go-Lucky Exhibit and many more New York City pop-up galleries. The latest, Color Factory, arrives with a lot of hype after its successful run in California, but what you'll find inside is way more than just pretty backdrops.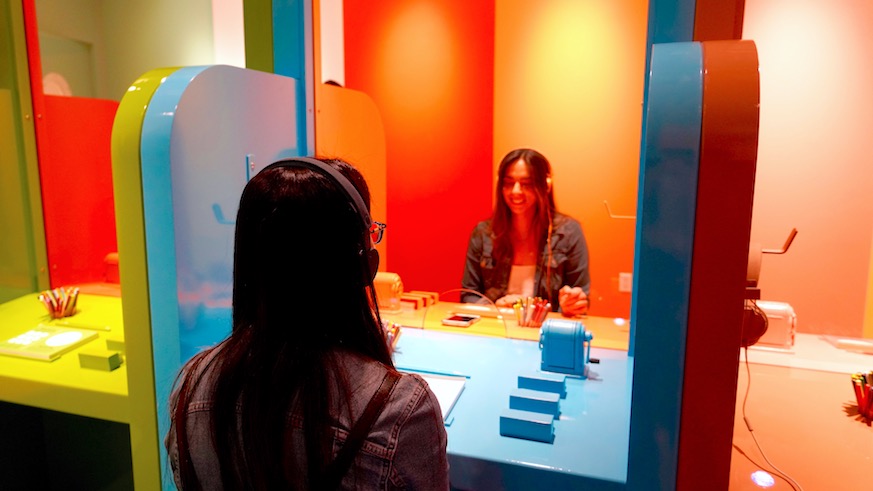 Everything you need to know about Color Factory New York
First of all, don't come to Color Factory alone. Bring your bestie, the friend you've been meaning to get together with, your significant other, your mom — anyone you've wanted to connect with. Color Factory is designed to be shared. In one room, you sit facing each other as instructions are given for a color-based activity via headphones.
City life trains you not to make eye contact with strangers, but when is the last time you really looked at the people in your own life? In another, there are paired tastings of unique candies from Sockerbit. And who wants to groove to Pharrell's Happy on a glowing dance floor by themselves?
Another thing to know: Give yourself plenty of time. It takes about an hour and a half to go through the 20 exhibits, and there's plenty of details to linger on if you're a true art enthusiast. Each room inside Color Factory is the interactive creation of a local artist, and you can feel the thoughtfulness and creative process at work.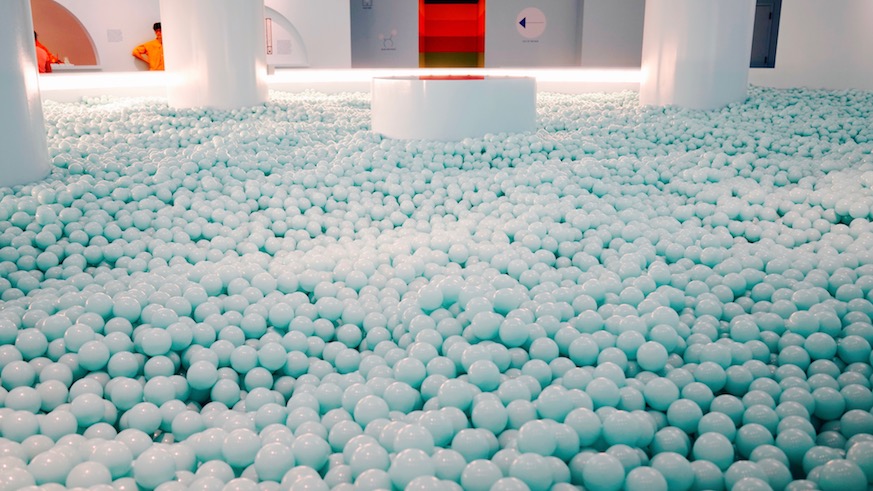 There's an echo chamber of xylophones tuned to play "the perfect cadence," a flowchart laid out on the floor and walls to discover your path to your personal color (Sunrise or sunset? Glass half empty or half full?), a blue-hued "pool" room of 500,000 plastic balls with blue-themed puns and references painted around the room (a silhouette of Elvis for Blue Suede Shoes, a string of characters and punctuation for blue language). Color Factory rewards exploration, and not everything is meant to be photographed — some things you just need to enjoy in the moment and share a laugh of discovery.
That joy continues even outside the walls of the pop-up. Every visitor to Color Factory New York gets a map of 20 sites around the SoHo neighborhood for destinations like an ATM that dispenses colorful surprises, a nail salon offering a special Color Factory manicure and more.
The pop-up does have one good intention that doesn't quite work. Color Factory has its own cameras set up in almost every room to get you to put your phone down and just experience the space. But we had mixed results with the images — one wasn't taken at all, another was too dark to see anything but my outline, and several were washed out in the color of the room — and it's not clear where you should stand for the best shot. So BYO camera, but remember that the person next to you and the thrill of discovery are the real reasons to go.
Color Factory opens Aug. 20 at 251 Spring St. in SoHo. Hours are Thurs-Tues 10 a.m.-11 p.m. Tickets are $38 and must be purchased in advance. Contributing artists and organizations include Molly Young, Andrew Kuo, Alex Kalman, Tamara Shopsin, emmanuelle moureaux, God's Love We Deliver, Ways+Means, James Rosa of LAND Gallery, Kassia St Clair, Erin Jang, Leah Rosenberg, Christine Wong Yap, 826NYC, Lakwena Maciver, Abimaro Gunnell, Kendra Dandy, Jon Burgerman, Carissa Potter, Christian Robison, Jing Wei, Maddy Nye, Abby Clawson Low, Roz Chast and Dave Eggers. Partners include Maybelline New York, Gymboree, Sherwin-Williams and Anagram Balloons.