People come back from Hawaii different than when they left. Previously serious, Type A people start talking about getting closer to nature, questioning why we're all working so hard and prioritizing happiness.
It happened to Georgia O'Keeffe — that much is clear from the series of 20 paintings she produced after a single visit to our 50th state in 1939. Those works have now been reunited for the first time since they were first displayed in 1940, along with a lush recreation of the Hawaiian fauna that inspired them at the New York Botanical Garden.
Opening May 19, Georgia O'Keeffe: Visions of Hawaii is a glimpse of a natural world that understandably inspired the makers of "Jurassic Park" to film the movie there. The garden's main Enid A. Haupt Conservatory has been transformed into the vibrant, oversized landscapes of the Aloha State with more than 300 types of native and cultivated plants set in scenes created by Tony Award-winning designer Scott Pask.
Hibiscus flowers hang heavy and so bright, they seem like they grew under a different sun, while plumerias with uniform two-tone petals and sprawling vines of bougainvillea vie for your attention. Once summer begins in June, pineapple and banana trees will be planted outside the conservatory along with other edible tropical plants like papaya and sugarcane.
Because the paintings can't hang with the plants, find them in the garden's LuEsther T. Mertz Library. Better known for the stark desert landscapes and Native American motifs of her beloved New Mexico, Visions of Hawaii finds her equally talented with capturing the ecological complexity of the Hawaiian islands of Hawai'i, Kauai, Maui and Oahu. 
The library's gallery also contains a trove of information about the islands' plant life with archival photos, illustrations and specimens, as well as letters O'Keeffe wrote to her husband during her nine-week trip.
To put you even more into O'Keeffe's Hawaii, the garden created an app with 360-degree videos of the locations she visited, plus a painting feature to create your own flower portraits. Special performances like hula dancing, traditional music and hands-on crafting bring Hawaiian culture to life on the weekends, plus a "sandscape" for kids to play in and special gardening programs in the Everett Children's Adventure Garden.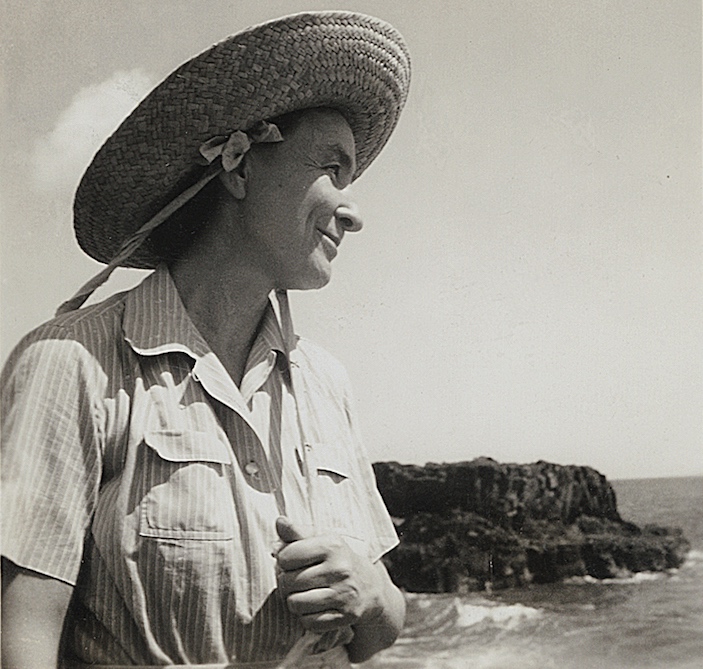 Georgia O'Keeffe in Hawaii, 1939. Photo by Harold Stein
Come on select Saturdays from June through August during Aloha Nights to experience the garden at night with illuminated installations by Hawaiian-Chinese sculptor Mark Chai, special events, and themed cocktails and Hawaiian poke.
For the full effect, of course, you need to actually breathe the coconut-scented air, be surrounded by the islands' beautiful people and float in its endless blue ocean. Maybe Visions of Hawaii will inspire you to make it happen.
Georgia O'Keeffe: Visions of Hawaii runs May 19-Oct. 28 at the New York Botanical Garden, 2900 Southern Blvd., Bronx. Access is included in the all-garden pass: $23 on weekdays and $28 on weekends; nybg.org