It was 1893 when the first Louis Vuitton case landed in the United States. We don't have to tell you how that went for the brand.
Even if you're not into haute couture and are still only dreaming of carrying a real LV monogram purse, the new exhibit Volez, Voguez, Voyagez — or, for the non-French speakers, "Fly, Sail, Travel" — is a captivating look at the brand's history.
Housed in the old American Stock Exchange building in Lower Manhattan at 86 Trinity Place, the free exhibit spans two floors of whimsical, luxurious and totally curiosity-satisfying displays about the luxury travel accessory company's history and legacy.
Louis Vuitton has thrown open its warehouse vaults to showcase classic and modern items, juxtaposing pieces a century apart to show how tradition continues to influence the brand's designs.
Each room adds another chapter to the timeline of human travel and the necessary types of luggage it spawned. And it's the endless functionality built into each trunk that'll keep you lingering over the displays, tiny drawers and fold-out tables, garment racks and specially-sized compartments that combine a closet, dresser and vanity all in one.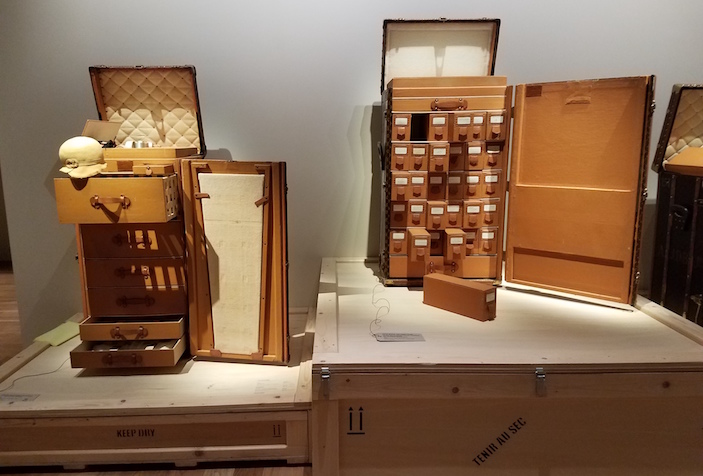 Notable items include Louis Vuitton's own LV steamer trunk, which has a flat instead of curved top — his own design innovation that rapidly became the industry standard.
The suitcases, purses and accessories used by famous fans of the brand like actress Jane Fonda and "The Great Gatsby" author F. Scott Fitzgerald — sometimes with their own personal items still inside — make for a rare glimpse into their world.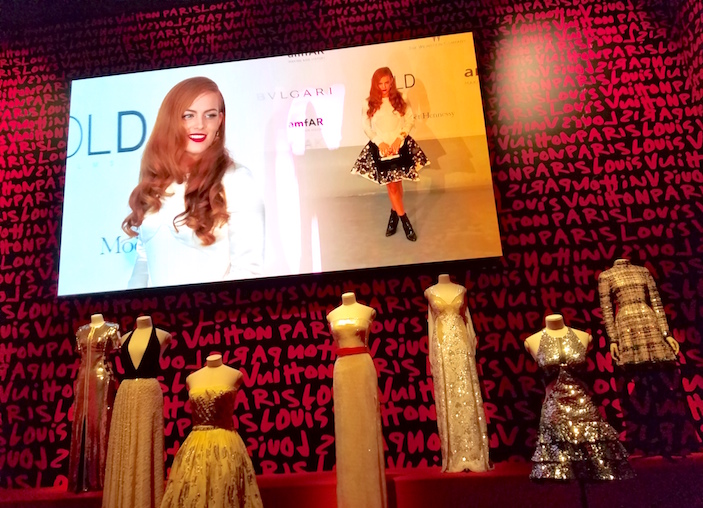 An entire hall at the end of the exhibit is devoted to the red carpet looks created by Marc Jacobs during the 16 years he spent as LV's head designer. Famous collaborations with Takashi Murakami and most recently Jeff Koons get their own hall, as do the intricate bags created just for ladies on the go.
More than just a gallery of its greatest hits, "Volez, Voguez, Voyagez" honors the hard work behind the glamour: the wooden tools used to make the first bags, design sketches, how the sewing and inner frame are made just so for those perfectly circular seams and crisp corners.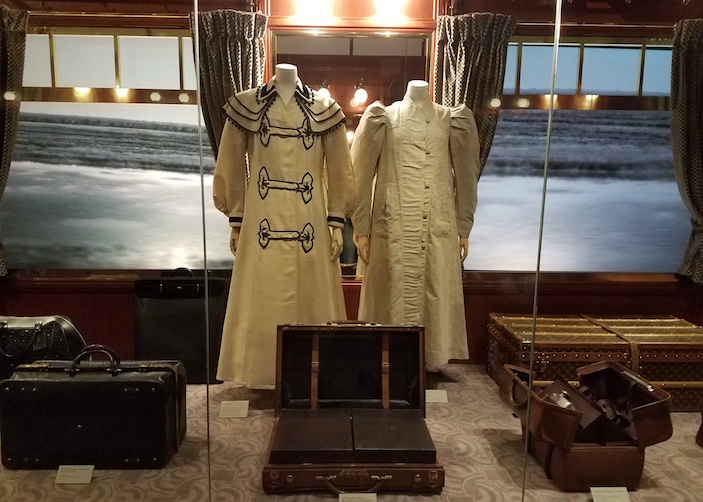 Trunks are often laid open with period-appropriate garments and accessories to show the intuitive knowledge of what travelers needed and the intricate craftsmanship that went into objects that were once more than just utilitarian. You can actually imagine going on safari, boarding a steam-powered locomotive and taking a carefree car ride into the countryside for a picnic.
Yes, it's certainly nice that travel by planes, trains and automobiles is no longer restricted to the extremely wealthy — and really, having a Louis Vuitton case for your hairbrushes was always a bit much, no matter how much money you have.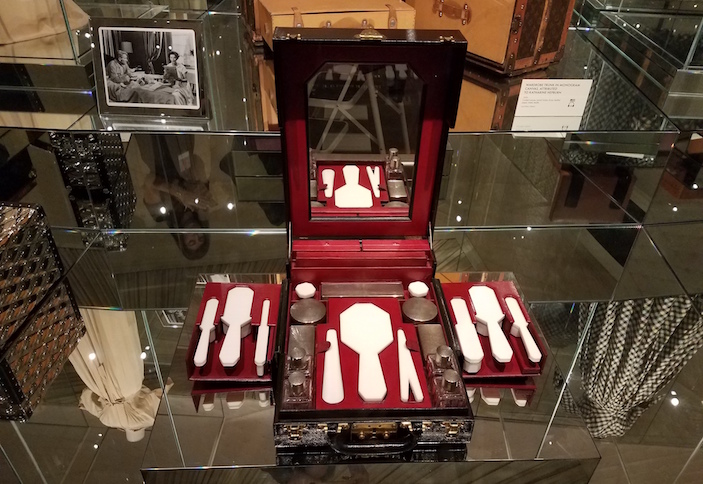 But being surrounded by these iconic symbols that indicate "going places" in every sense of the phrase affords us all a glimpse of what travel was like when the journey was the destination. It'll leave you inspired to see the world — no matter how you get there.
Should you find yourself in need of a souvenir, instead of a gift shop the brand is opening a temporary store at nearby Brookfield Place for the duration of the exhibition.
"Volez, Voguez, Voyagez" is open Oct. 27-Jan. 7, 2018 at the Old American Stock Exchange, 86 Trinity Place. It's free to attend; more info at us.louisvuitton.com.