The next best thing to attending Hogwarts School of Witchcraft and Wizardry yourself is visiting Harry Potter: History of Magic, now open at the New-York Historical Society.
It seems impossible, but we solemnly swear it's true: Even the most diehard Harry Potter fan will learn something new at this exhibit of real-world science, folklore and "magic" that J.K. Rowling used to build the Wizarding World.
"It's hard to believe Harry Potter had been in our lives for 20 years, but magic has been in our lives for much longer," says Louise Mirrer, president and CEO of the New-York Historical Society.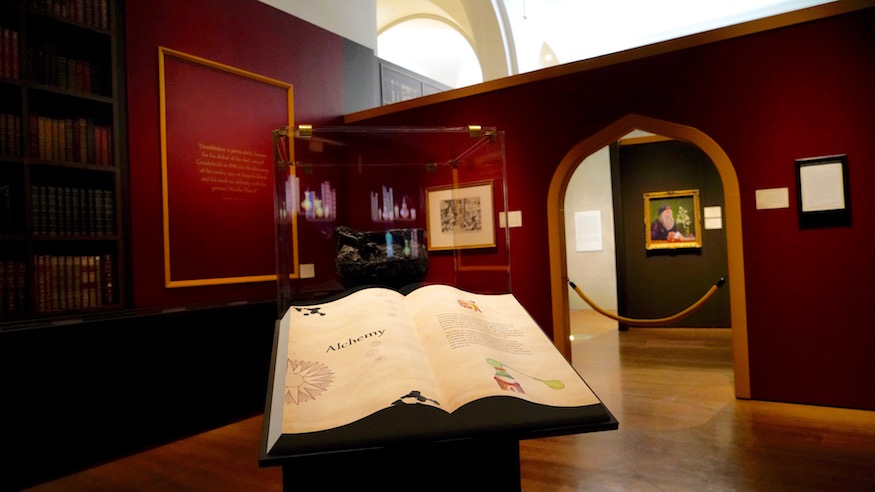 Harry Potter: History of Magic comes to NYC
The already Hogwarts-like halls of the Historical Society with their soaring Gothic arches are the perfect setting for the show of centuries-old artifacts, manuscripts, books and antiques from around the world.
Created by the British Library and first displayed in London, the exhibit brings out the Hermione Granger in any visitor as they peruse each room, organized by the subjects taught at Hogwarts. In Alchemy, you'll find an actual alchemical scroll from Yale University that medieval practitioners believed could yield a Sorcerer's Stone and meet Nicolas Flamel, a real Parisian baron born in 1330 who lived to age 80 — "which is basically immortal for his time," according to British Library docent Tanya Kirk.
Potions introduces you to the first illustration of witches with a cauldron from a book published in 1489 — ironically, it was meant to calm fears about witchcraft, but because it was written in Latin which most people couldn't read, including the illustrator, it just fueled the panic. The Charms section features an actual witch's broom that a woman named Olga Hunt used to "ride" around the moors of Devon in England.  
Just as in the wizarding world, whimsical touches abound too. The Herbology section includes a study of garden gnomes, and among the items on display in Care of Magical Creatures is the "mermaid" that toured the country as part of P.T. Barnum's circus freak show, actually made up of fish parts, chicken claws and a carved wooden head. History of Magic also has a couple digital games, like a Tarot card reading in the Divination Section and a cauldron to try your hand at potion-making.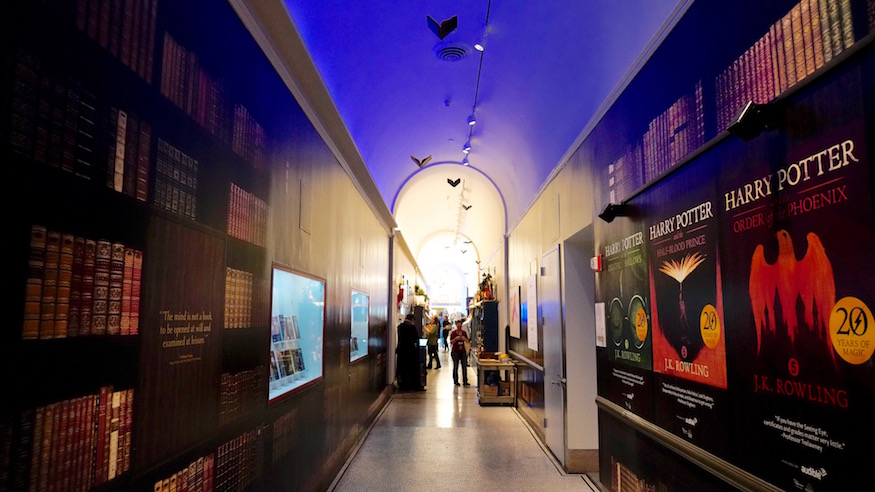 Harry Potter in the real world
As fascinating as it is to make connections between our world and the Wizarding World, among the gems of the exhibit are the never-before-seen artworks by Jim Kay and the personal relics of J.K. Rowling and Bloomsbury. The first Harry Potter book was famously rejected by several publishers until editor Nigel Newton gave the manuscript to his 8-year-old daughter Alice to evaluate. Her handwritten reader's note — which reads in part, "The excitement of this book made me feel warm inside." — might be the star of the show.
While History of Magic is a fascinating and fun romp on your own, you can book a guided tour or use a free audio guide narrated by Game of Thrones star Natalie Dormer, courtesy of Audible.
And to help connect Harry Potter fans, the Historical Society will also be holding trivia nights, a book club, workshops and more special events throughout the run of the exhibit — they even host birthday parties.
Harry Potter: History of Magic is open Oct. 5-Jan. 27, 2019 at the New-York Historical Society, 170 Central Park W. Tickets are $21 for adults, $13 students, $6 kids ages 5-13; nyhistory.org