Last night, New York City came together and marched up Sixth Avenue for the annual NYC Halloween Parade.  The evening had a somber undertone due to the nearby violence from the Tuesday afternoon terror attack that left eight people dead and more than a dozen injured. Many were concerned about the parade being canceled, but it was confirmed the parade was going to go on.
New York City Mayor Bill de Blasio and New York State Governor Andrew Cuomo, New Yorkers were encouraged to demonstrate resilience, have a good time and conduct themselves normally. There was ramped up police presence at the Halloween Parade to ensure the safety of everyone. The New York Post reports there were officers carrying heavy weapons along with sand trucks lined up along the parade route used as protective barriers.
Parade costumes this year ranged from Halloween favorites to elaborate takes on the menagerie theme. As expected, there were several people wearing political costumes this year ranging from interpretations of President Donald Trump to Kim Jong-un to zombified renditions of Uncle Sam. 
Member from the NYC Rise and Resist organization attended the parade dressed as an interpretation of a "naked" Donald Trump while carrying bags filled with paper towels along with signs that read "The Emporer Has No Clothes" 
In case you were wondering where former president Barack Obama and first lady Michelle Obama spent Halloween, they were at the parade — kind of. 
At least one couple were seen wearing Barack Obama and Michelle Obama masks walked along the parade route. One couple carried signs that read, "I know you miss me America" and "I love you Barack."
NYC Halloween Parade 2017: Parade goers go as Barack and Michelle Obama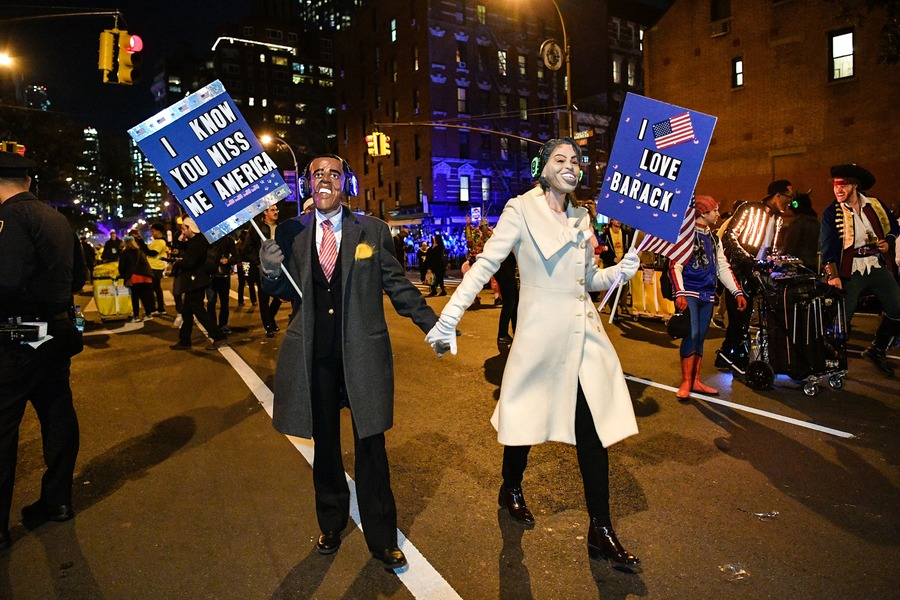 The parade, the nation's largest Halloween celebration, is annually attended by over 2 million people, according to the event's website.
A co-mingling of the city's diverse elements, the Village Parade is renowned not only for its spectacle but also for its ability to transcend economic, social and ethnic barriers to present an enthralling, inclusive take on Halloween.