If you don't have kids, you probably haven't checked out the Big Apple Circus. A New York institution for 41 years, it changed hands in 2017 and got a major makeover this year aimed at attracting millennials — and it's bound to be a hit.
Big changes at the Big Apple Circus
It's rare to feel like you're truly getting a special experience when you spring for VIP tickets, but that's what awaits beneath the first big top you'll enter. The evening's entertainment begins an hour before the show inside a traditional Dutch spiegeltent, a charming old-world wooden party room called the Hall of Wonders created with the hopes of attracting a kid-free crowd (though pint-size guests are welcome, too). Performers roam the room, telling your fortune in a crystal ball or spinning you around onstage, plus several cute circus photo ops.
You'll be feeling just silly enough to indulge in all of it thanks to new themed cocktails by mixology star Pam Wiznitzer, tops among them the Pop It Like It's Hot (though for Instagram purposes, the Big Apple served in a balloon dog wins).
Having the cocktails be pre-batched and three bartenders on hand makes service incredibly fast, a welcome change from the long lines for wine and beer (still available in the general welcome/concessions tent where non-VIP patrons can hang out before the performance). While the spiegeltent is just for VIPs at the start of the show, everyone is welcome to enjoy a drink afterward.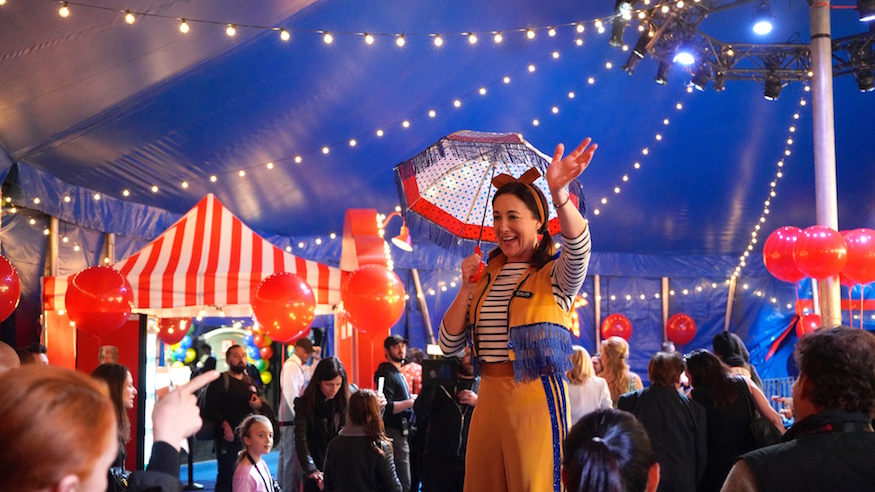 Many of the performers in the Big Apple Circus ring are new, too. Mark Gindick and Adam Kuchler make for a perfect double act as the clown "hosts" of the evening, keeping the comedy at a perfect pitch for both adults and kids. The Big Apple Circus is known for its intimacy, with a single ring where no seat is more than 50 feet from the stage, which also means the audience shares in every gasp and laugh.
Among the new performers, and there are many, the stars are Valeriy Sychev and Malvina Abakarova in their aerial ballet act Desire of Flight, sensual without being racy and breathtakingly daring — they rise all the way to the ceiling on just two hand-held straps and no net, receiving a well-earned standing ovation from the crowd. For creativity, horizontal juggler Victor Moiseev, making his first appearance in the U.S., is a visual delight.
The two-hour show (with a 20-minute intermission for refills of whatever you fancy midway through) zips along, ending almost too soon. In its 41st year, the Big Apple Circus has certainly learned the trick to charming audiences of all ages.
The Big Apple Circus is open now through Jan. 27, 2019 at Damrosch Park, 60 Lincoln Center Plaza. Tickets are $29-$80; bigapplecircus.com