Bullying is a major problem amongst our nation's children. That is why Play Works, the country's leading non-profit bringing awareness and affecting change to transform children's social and emotional health, is taking it to the schools with the help of special guest and spokesperson, International Dominican pop-star Kat Deluna, for their "Real Players Don't Bully" campaign for National Anti Bullying Month.
The program will empower children to be more empathetic to their fellow students and set the example for their underclassmen to see that taking the high road through understanding and kindness is always the best option for paying it forward.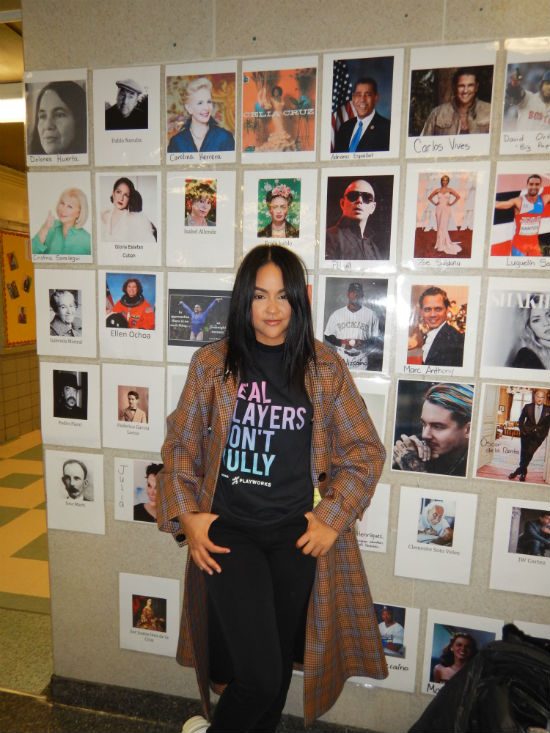 Kat Deluna paying a visit to  PS. 9 Teunis G Bergen Elementary School in Prospect Heights, Brooklyn as apart of Playworks' "Real Players Don't Bully" campaign. 
"We're leveraging friends and celebrity talent, like our friend Kat Deluna, to really turn the spotlight on bullying and prevention and teach kids that it's cool to be kind and be more empathetic to their peers," explains Playworks New York and New Jersey Executive Director Kim McCall.
In fact, Playworks found a perfect partner with Deluna who's new song "Nueva Actitud" — "New Attitude" in English — sends a positive message of holding your head up no matter what sort of adversity comes your way. As a native of the Bronx and Newark, New Jersey who had lived in the Dominican Republic for a time as a child, Deluna had her fair share of experience with bullying at a young age.
"I've had many experiences with bullying," explains Deluna, who was giving a talk to kids from PS. 9 Teunis G Bergen Elementary School in Prospect Heights, Brooklyn. "Primarily, it was one of them was when I was in Elementary. I was born here but I went to live in the Dominican Republic. I came back at the age when I realized I could sing. I'm a singer. I'm a ballad singer. I remember the director at school heard about it and he brought me to the school and automatically put me in the choir. I didn't have to audition like the other kids. A few people, of course, took that wrong. Then I got leads which is where you can sing in front of the choir. Some kids did not take that well. So I got jumped by five girls who were older."   
Although the program is just starting with the Deluna's help, she is excited for the possibility of creating a positive impact for children around the country who may be experiencing similar situations to her own.
"I definitely want to get together behind the scenes to find ways where I can really get with the kids and make it a bigger thing," says Deluna. "I'm really happy with what's going on where we all want to help each other and thrive."
For more information on the "Real Players Don't Bully" program, head over to playworks.org.
Check out the video for "Nueva Actitud" by Kat Deluna below…