A latest addition to the vault of Pope Francis quotes has people talking — and for good reason.
The leader of the Catholic faith told a victim of clerical sexual abuse that being gay "does not matter" and that "God made him" like that.
"You know Juan Carlos, that does not matter. God made you like this," Juan Carlos Cruz, sexually abused by a Chilean church leader, said Pope Francis told him. "God loves you like this. The Pope loves you like this and you should love yourself and not worry about what people say."
Pope Francis quotes about homosexuality
A spokesman told CNN that the Vatican doesn't comment on private conversations and didn't confirm the comments.
Though the comments weren't on the record, it's not unprecedented. He's commented on homosexuality multiple times — and none of them reflect the traditional Roman Catholic view that homosexuality is "objectively disordered."
"A person once asked me, in a provocative manner, if I approved of homosexuality. I replied with another question: 'Tell me: when God looks at a gay person, does he endorse the existence of this person with love, or reject and condemn this person?" he told America Magazine in 2013. "We must always consider the person."
Other Pope Francis quotes reflect on treating people equally, regardless of sexual orientation.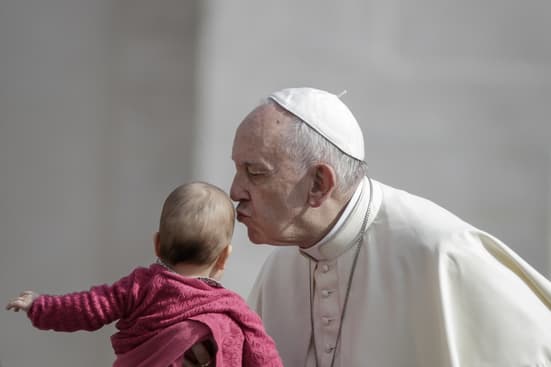 "If someone is gay and he searches for the Lord and has good will, who am I to judge? We shouldn't marginalize people for this. They must be integrated into society."
"It is deplorable that homosexual persons have been and are the object of violent malice in speech or in action. Such treatment deserves the condemnation from the church's pastors wherever it occurs."
Though he doesn't support gay marriage, he has expressed openness to civil unions between same-sex couples — multiple times.
"Marriage is between a man and a woman" he said, adding "we have to look at different cases and evaluate them in their variety."
Other notable Pope Francis quotes
The Argentinian Pope is no stranger to controversial comments — and he's not afraid to challenge others, or have others challenge him. "I like it when someone tells me 'I don't agree.' This is a true collaborator. When they say 'Oh, how great, how great, how great,' that's not useful."
Pope Francis quote on gun control: "If you trust only men you have lost," he said in 2015.
"It makes me think of … people, managers, businessmen who call themselves Christian and they manufacture weapons. That leads to a bit of distrust, doesn't it?"
Pope Francis quote on atheism: In April, a young boy asked Pope Francis if his late father, an atheist, went to heaven.
"His father wasn't a believer, but had his children baptized. He had a good heart," Pope Francis said. "The one who says who goes to heaven is God. But what is God's heart like with a dad like that? What? What do you think?" he asked the crowd.
"A father's heart. God has a dad's heart. And with a dad who was not a believer, but who baptized his children and gave them that bravura, do you think God would be able to leave him far from himself? Do you think? Speak up, come on! Does god abandon his children? Does god abandon his children when they're good?" The crowd said no.
"There, Emanuele, there is the answer."
Pope Francis quotes about women: "We have to work harder to develop a profound theology of women within the church," he said. "The feminine genius is needed wherever we make important decisions."
"Women in the church are more important than bishops and priests," he added in another speech.
Pope Francis quote on income inequality: "These days there is a lot of poverty in the world, and that's a scandal when we have so many riches and resources to give to everyone," he once said. "We all have to think about how we can become a little poorer."
Pope Francis quote on refugees: "Our world is facing a refugee crisis of a magnitude not seen since the Second World War. This presents us with great challenges and many hard decisions," he said in 2017.
"On this continent, too, thousands of persons are led to travel north in search of a better life for themselves and for their loves ones, in search of greater opportunities. Is this not what we want for our own children? We must not be taken aback by their numbers, but rather view them as persons, seeing their faces and listening to their stories, trying to respond as best we can to their situation."