There's been another romaine lettuce recall, and its affecting major food stores. 
The CDC announced that, as of June 28, the multistate outbreak of E. coli linked to romaine lettuce appeared to have ended (though, if you remember, no lettuce was recalled). Now, a romaine lettuce recall is being issued for fear of a different kind of parasite: Cyclospora. Health officials are warning consumers that the greens in question are sold in salads and wraps at grocery chains like Kroger, Trader Joe's, Gordon Food Service and Walgreens.
Here's everything you need to know about this romaine lettuce recall.
Romaine lettuce recall: Cyclospora contamination
The lettuce being recalled was supplied by Fresh Express and used in pork, poultry and beef products distributed by Caito Foods LLC between July 15 and 18, according to a public health alert from the USDA's Food Safety and Inspection Service (FSIS) issued Monday. Products affected by this romaine lettuce recall had "Best by" dates between July 18 and 23.
"The problem was discovered when Caito Foods LLC received notification from their lettuce supplier, Fresh Express, that the chopped romaine that is used to manufacture some of their salads and wraps was being recalled," the FSIS wrote.
Products sold by Trader Joe's include a chicken tarragon wrap and two chicken salads. To view the full list of tainted products affected by this romaine lettuce recall, click here.
CONSUMER WARNING: Popular salad and wrap products sold at stores including Kroger, Walgreens, and Trader Joe's may be contaminated with the parasite cyclospora. https://t.co/yrcMnB7aGY pic.twitter.com/jIEoVcFDdR

— WebMD (@WebMD) July 31, 2018
This comes after a multistate outbreak of Cyclospora infection, that began in mid-May, was linked to McDonald's greens supplied by Fresh Express. The fast food chain announced on July 13 that it had stopped selling affected salads in more than 3,000 of its locations, according to the CDC.
What is Cyclospora
Cyclosporiasis is an intestinal illness caused by Cyclospora, or Cyclospora cayetanensis. The FSIS says that "consumers may be at risk due to the length of the Cyclospora incubation period."
The CDC reports that the "time between becoming infected and becoming sick is usually about 1 week," but Cyclospora can have an incubation period of up to 14 days.
The period of incubation in this particular case would include the dates of July 25 through August 6, 2018, writes the FSIS. "Illnesses might not have been reported yet due to the time it takes between when a person becomes ill and when the illness is reported."
Infections from this parasite can lead to watery diarrhea "with frequent, sometimes explosive, bowel movements."
"Other common symptoms include loss of appetite, weight loss, stomach cramps/pain, bloating, increased gas, nausea, and fatigue," states the CDC. "Vomiting, body aches, headache, fever and other flu-like symptoms may be noted. Some people who are infected with Cyclospora do not have any symptoms."
Symptoms can last from a few days to over a month.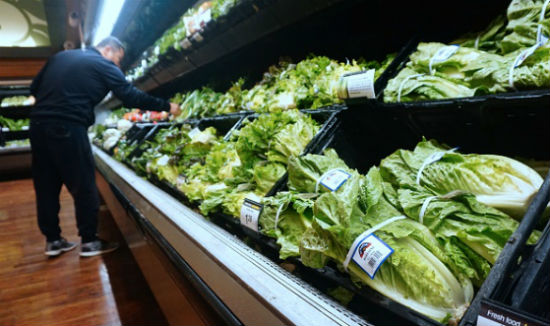 Statements issued by companies affected by this romaine lettuce recall
Trader Joe's issued a statement on July 30 in response to the romaine lettuce recall, saying that no illnesses have been reported. They also clarified which states and products were affected:
We have been alerted by our supplier that the following products – sold only in our IA, IL, IN, KS, KY, MI, MN, MO, NE, OH, & WI stores – with date codes BEST BY: 07/21/18 through 07/23/18 may have been made with romaine lettuce that had the potential to be contaminated with Cyclospora:

Trader Joe's Tarragon Chicken Salad Wrap (SKU#97031-51775MW)

Trader Giotto's Caesar Salad with Chicken (SKU#06832-51775MW)

Trader Ming's Chinese Inspired Salad with Chicken (SKU#65234-51775MW)
Gordon Food Service and Kroger could not be reached for immediate comment.
A Walgreens representative said in a statement sent to Metro, "This product was available in a limited number of our stores in Illinois only. Upon learning of the recall, we notified these stores to immediately pull and dispose of any product on store shelves."
A representative from Caito Foods sent us the following statement regarding the romaine lettuce recall:  
Our supplier explained that the recall was being issued as a precaution due to a single random test sample that tested positive for Cyclospora. By the time we received this communication, both the lettuce and the products we produced were already well past their best by/use by date. The products had varying "best by/use by" dates with the latest being July 23. Out of an abundance of caution we notified our distribution customers to ensure the potentially affected products were no longer being offered for sale.

Caito Foods takes food safety seriously and we are working closely with both the USDA and FDA on this matter. 

Our customer service team is ready to help anyone who has questions or concerns. Anyone seeking information may call 844-GO-SPART (844-467-7278) Monday through Friday, 6 a.m. to 10 p.m. CT and Saturday and Sunday, 6 a.m. to 6 p.m. CT.