The New York Rangers rebuild in 2018-19 has gone exactly how many expected during the early portions of the season as the Blueshirts are 1-4 after five games. 
Management made it clear last season that there are going to be some lean years around Madison Square Garden as the Rangers build a future contender through youth, whether that's from draft picks or trades. 
They already have a stockpile of young centers, so many in fact that some of their brightest talents are still in the AHL waiting to get a shot at consistent playing time in the NHL. Among those prospects is Lias Andersson, the 20-year-old Swede poised to make the jump to the big club after being drafted seventh-overall at the 2017 draft. 
He saw brief playing time last year, appearing in seven games while recording a goal and an assist before being sent back down once again.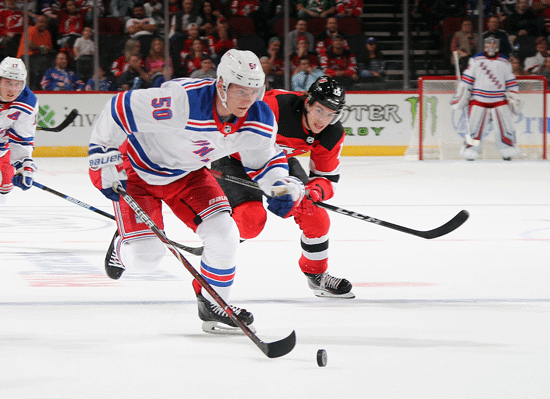 Andersson has had a hot start to the season with the Hartford Wolf Pack, the Rangers' AHL affiliate. Over his last three games, he's recorded six goals (2 G, 4 A), as he continues to make his case to management that he should be playing full-time in the Big Apple. 
In order to do so, the Rangers have to make a move in order to open a spot for him. Of the centers currently on the NHL roster, between Mika Zibanejad, Brett Howden, Kevin Hayes and 19-year-old Filip Chytil, Hayes is considered a favorite as the one to go. 
Why would the Rangers trade Kevin Hayes?
During the summer, Hayes' name was mentioned alongside Mats Zuccarello and Chris Kreider about possibly being traded in an attempt to accrue more future assets. At 26 years old, he is coming off a 2017-18 season in which he posted a career-best 25 goals while etching out a niche as a power forward. 
Talent-wise, Hayes is a middle-line center, one that can add offensive depth to a contender looking for a scoring punch. Danny Jones of Blue Line Station suggested that Hayes would be a perfect fit for the San Jose Sharks right now considering they recently put veteran forward Joe Thornton on injured reserve. 
For a contender in need of established offensive help immediately, the Rangers should be atop anyone's list as their rebuild is in full swing. Hayes, who will be an unrestricted free agent after this season, will likely bring a return of more draft picks while a slot is open for Andersson to truly begin his NHL career.