Fresh off a six-game series win over the Montreal Canadiens, the Rangers will continue to focus their efforts north of the border with a second-round matchup against the Ottawa Senators beginning Thursday night:
Rangers vs. Senators schedule:
Game 1: Thursday, April 27 – New York @ Ottawa, 7 p.m. (CNBC)
Game 2: Saturday, April 29 – New York @ Ottawa, 7 p.m. (NBC)
Game 3: Tuesday, May 2 – Ottawa @ New York, 7 p.m. (NBCSN)
Game 4: Thursday, May 4 – Ottawa @ New York, 7:30 p.m. (NBCSN)
Game 5*: Saturday, May 6 – New York @ Ottawa, TBD
Game 6*: Tuesday, May 9 – Ottawa @ New York, TBD
Game 7*: Thursday, May 11 – New York @ Ottawa, TBD
*If necessary 
In what is expected to be an evenly matched series, Metro dissected each team and figured out which side has an advantage: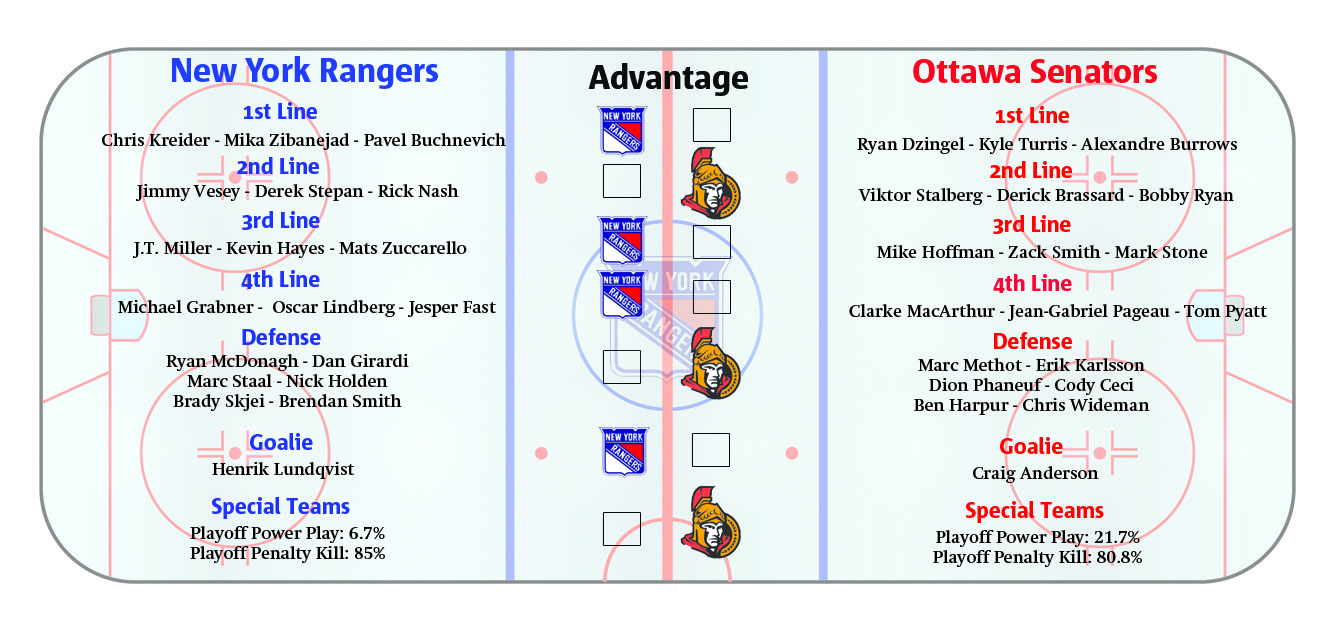 There was a legitimate chance that the Rangers could have swept the advantage column of all four forward lines. However, Bobby Ryan and Derick Brassard combined for 15 points during the playoffs for Ottawa, ranking in ties for second and fourth respectively among all postseason skaters. 
No New York skater has more than four points so far, and that honor belongs to Mika Zibanejad.
The Rangers managed to move past Montreal despite an anemic power play that generated little during the first round. Had it not been for Mats Zuccarello's wrister that beat Carey Price five-hole in Game 6, the Rangers would have been shut out on the man advantage. The special teams will have to improve in order to get past the Senators considering their power play has been performing significantly better as of late. 
Like most playoff series though, things will come down to the goaltending and the Rangers have the advantage there. Henrik Lundqvist has been sublime so far with a .947 save percentage and 1.70 goals against average this postseason, keeping the Rangers within striking distance of Montreal throughout the first round. 
As long as he continues the high level of play, the Rangers won't be stopped this round. 
Prediction: Rangers in 6