I imagine many of you may have come across Polish culture at some point. Maybe your friends are of Polish descent,  maybe you like Polish pirogies, maybe you drive to work passing Kosciuszko bridge, rest by the Jagiello monument in Central Park (even if you wonder who the king was), or spend endless hours playing Witcher on your computer. No wonder that you do as in the United States there are around 10 milion Americans of Polish descent cultivating their culture, making other interested in it, and reminding how much Poland is connected to America.
Today, 10 milion Polish-Americans remember how warmly America welcomed their ancestors, and are honoring  that deep routed friendship with a special celebration of to mark Poland's regained  freedom.
This year marks the 100th  anniversary  of  Poland regaining its Independence from constant rule from Austria-Hungary, Germany, and Russia. One may say that Poland reappearing on the map of Europe wouldn't have happened without the United States' help.  In 1918 President Wilson changed the course of history when he presented his plan for justice to Congress in the aftermath of World War I, claiming that the rest of the world should recognize the people of Poland as members of the free world. "An independent Polish state," he famously said, "should be erected which should include the territories inhabited by indisputably Polish populations, which should be assured a free and secure access to the sea, and whose political and economic independence and territorial integrity should be guaranteed by international covenant.."
What Wilson had started, other presidents continued. Poland had also been a focal point of the Hoover presidency. In a new traveling photo exhibit curated by Zbigniew Stańczyk titled, "The Spirit of Compassion, Herbert Hoover in Poland" depicts Hoover in his campaign to provide a daily meal to 1.3 million Polish children from the years 1919 to 1922 directly after World War I. And in the more recent history one cannot forget about America's input to communism collapse and it's later help in bringing Poland back to the structures of the Western World. Today Poland Poland is a Member of NATO, the European Union, and a Non-Permanent Member of United Nations Security Council in 2018-2019.
But this friendship is mutual – without such a brave freedom-fighters as Kosciuszko and Pulaski American way to independence wouldn't be the same.
To stress and strengthen this long-term bond on October 31st, the City Council of New York had voted in favor of three separate resolutions recognizing Poland's independence and honoring important and influential figures in Polish-American history: Resolution 420  declares that November 11th will now be known as Polish Independence Day in the city of New York.    
Resolution 421 declares October 11 as Casimir Pulaski Day (Kazimierz Puławski) in the city of New York.
Resolution 422 declares October 15 as Tadeusz Kosciusko Day (Tadeusz Kościuszko) in the city of New York.
To celebrate the Independence Regained this November and December the Polish Cultural Institute will be hosting a number of different events all over the city. Don't miss out this chance to dive into Polish culture.
Polish Cultural Institute — 100 years of Polish Independance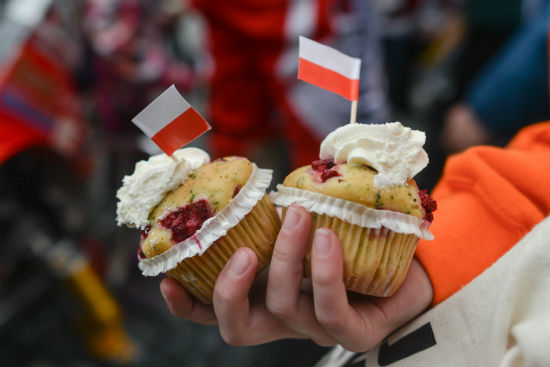 Photo: Getty Images 
Death is Irrelevant: Selections from the Marc and Livia Straus Collection, 1975–2018
Where: Hudson Valley MOCA, 1701 Main Street, Peekskill, NY
When: On view from October 13th to 
August 2, 2019.
Death Is Irrelevant is an exhibition showcasing selected figurative sculptures of international artists from the Marc and Livia Straus Collection, 1975–2018, co-curated by Ken Tan, Tim Hawkinson, Marc Straus Gallery, in collaboration with the Marc and Livia Straus Family on view at the Hudson Valley MOCA in Peekskill, NY. Among exhibited sculptures there is a featured piece by a renown Polish artist, Paweł Althamer, The Power of Now (2016), alongside Folkert de Jong (Netherlands), Damien Hirst (UK), Patricia Piccinini (Australia), or Nicole Eisenman (USA). The exhibit is a contemporary contemplation of existential themes reflected in the selected figurative sculptures from the collection, focusing on notions of decay, mortality, and the timeless inclinations to preserve life. For more information, head to:  hudsonvalleymoca.org.
Silesian String Quartet at The Morgan Library & The Museum
Where:  The Morgan Library & The Museum | 225 Madison Ave, New York, NY 10016
When:  November 6th, 7:30 pm
In celebration of the 100th anniversary of Poland regaining its independence, one of Poland's leading chamber music ensembles, Silesian String Quartet, will perform works by some of Poland's most important modern composers including Karol Szymanowski, Witold Lutosławski, Grażyna Bacewicz, and Krzysztof Penderecki, on November 6 at The Morgan Library & The Museum.
Complimentary Meal from the Old Traditional Polish Cuisine Food Truck  
Where: 47th Street & Park Ave.
When: November 9th   
The taste of Poland.  On November 9th   — As a part of its centenary celebration of the regaining of Polish Independence, the Polish Cultural Institute in New York invites all polish cuisine lovers for a complimentary meal from the Old Traditional Polish Cuisine Food truck, that will be waiting for the New Yorkers at 47 Street & Park Ave.  Starting at 11:00 am, you can try polish pierogis, kielbasa and a bit of sweet touch – polish donuts (pączek).
The International Chopin & Friends Festival
Where: All over the city
When: November 9 – 18th
The International Chopin & Friends Festival in New York is an annual festival organized by the New York Dance & Arts Innovations, Inc. which showcases artists of various disciplines who emulate Chopin's legacy across variety of mediums uniting the traditional and the contemporary art forms. This year's edition will feature Magdalena Filipczak on violin, and Alice Chenyang Xu on piano for the Gala Concert Compositions of Sound and Form to be held at the Consulate General of Republic of Poland in New York on Friday, November 9. There will also be Compositions of Sound and Form exhibit at the Polish and Slavic Center featuring Bolek Ryzinski: Wayward Cube and his kinetic sculpture as well as photography on canvas by Ahmed Wafik, as well as Virtual Reality exhibit at the Jerome L. Green Science Center, and other events. For more infrmation, check out:  www.NYDAI.org
"100 for 100. Musical Decades of Freedom" — Dance performance
When: November 11th, 8:00 pm
 Where:  Roulette Intermedium, 509 Atlantic Ave, Brooklyn, NY 11217
In celebration of centennial of Poland's regained independence on November 11 2018, The Ministry of Culture and National Heritage of the Republic of Poland together with PWM Editions and the Polish Cultural Institute New York presents the "100 for 100. Musical Decades of Freedom". The New York City program will feature remarkable performance by Oratorio Society of New York at the Carnegie Hall, which will deliver the renown Polish masterpieces by Henryk Górecki, Karol Szymanowski, as well as by Ralph Vaughan Williams. In the evening the International Contemporary Ensemble ICE at the Roulette will lead performances of works by five contemporary Polish composers: Agata Zubel, Paweł Mykietyn, Tadeusz Wielecki, Lidia Zielinska, and Aleksander Nowak, under the baton of the conductor Steven Schick.
"The Auschwitz Volunteer: Captain Witold Pilecki" —  A monodrama by Marek Probosz
When: November 11th
Where: Theatre Row; 410 West 42nd Street, New York City
September 1940: Polish army officer Witold Pilecki volunteered for a secret undercover mission at Auschwitz: smuggle out intelligence to the Allies, and build a resistance organization among the prisoners. Pilecki accomplished this impossible mission, barely surviving nearly three years of brutality, torture, starvation, and disease before escaping. His bravery has few rivals.
Poland Regained: Polish Posters from the 1890s to the 1930s
Where: Outside of the Consulate General of Republic of Poland
When: November 19 – December 31st  
 Poland Regained: Polish Posters from the 1890s to the 1930s is a visual link to the centennial celebrations of Poland recovering independence in 1918. The posters featured were made between 1892 and 1939: after the 123-year period of the Partitions (1795-1918), when Poland was gone from the map of Europe, and during the 20 years of its existence as an independent state up until the outbreak of World War II. These selected unique pieces of poster art bring us closer to interwar Poland through its charming nooks and crannies such as the Ojców and Ciechocinek health resorts—include posters promoting domestic sports and overseas tourism, both growing by leaps and bounds at the time.
Jacek Dehnel in Conversation with Karen Kovacik
When: November 29th at 6pm
Where: Instituto Cervantes New York
Acclaimed polish author Jacek Dehnel will discuss his latest novel and poetry collection published in the U.S., addressing topics such as Internet culture, science, postmodern architecture and gay love. Plus, he'll be available to sign copies of his books after the event. This event is part of New Literature from Poland Festival. 
Retrospective of Pawel Pawlikowski's films 
When: December 7-16th
Where: The Museum of the Moving Image
Paweł Pawlikowski is a Polish filmmaker, who has garnered much acclaim for a string of award-winning documentaries in the 1990s and for his feature films Last Resort and My Summer of Love, both of which won a BAFTA and many other European awards. Ida won the 2015 Academy Award for Best Foreign Language Film and at the 2018 Cannes Film Festival, Pawlikowski won the Best Director prize for his latest film Cold War.
Screening of Zookeper's Wife
Where: the Jewish Community Center in Manhattan
When: December 18th
Zookeper's Wife is a 2017 war drama film directed by Niki Caro and based on Diane Ackerman's non-fiction book of the same name. The film tells the true story of how Jan and Antonina Żabiński rescued hundreds of Jews from the Germans by hiding them in their Warsaw zoo during World War II. It stars Jessica Chastain, Johan Heldenbergh, Daniel Brühl and Michael McElhatton.
Head here for more information on these events sponsored by the Polish Cultural Insitute. 
This article was written in partnership with the Polish Cultural Institute.