Singer-songwriter Regina Spektor has always had a sense of theatricality and cinematic grandeur in her songs. With her rhythmic phrasing, fluttering piano playing and elastic voice, Spektor can whip you through more peaks and valleys in a three-minute song than the tornado that transported Dorothy from Kansas to the land of Oz. Next month, she will be looking back on nearly 20 years as a performer with a five-night residency at Broadway's Lunt-Fontanne Theatre.   
Running June 20-26, the soon-to-be Bronx Hall of Fame inductee Spektor promises that these special performances will be special for both casual and longtime fans, with different special surprises for each performance.
"I am so inspired as I plan these five nights on Broadway at the Lunt-Fontanne, a beautiful old theater with a rich history," said the Russian-born Spektor in a release. "One of the things I'm most excited about is the chance to explore theatrical elements within my concert show. This isn't a 'Broadway Show,' and yet it's not a tour concert, either. I'm revisiting all the songs I've ever written, to see how some of them might group together and connect into a show. I am thinking up some fun ways to incorporate special guests as well. I'll be rotating the solo songs quite a bit between the dates, and I'm finding ways to reimagine many of them. Some haven't been played since my days of playing bars, cafes and open mics. So far the plan is to set up at the Lunt-Fontanne, and in my own small way, pay homage to Broadway!"
We caught up with Spektor to talk about her relationship with Broadway and getting into character for these new shows.
Regina Spektor hits Broadway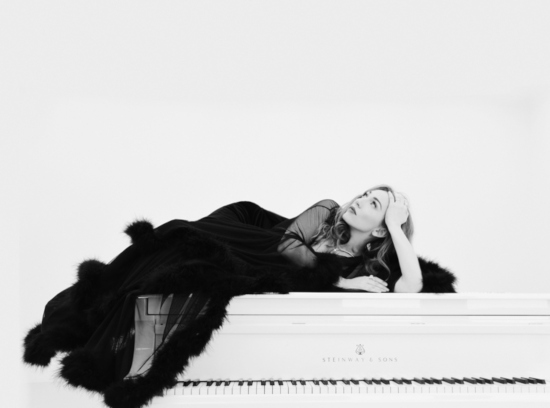 Photo: Shervin Lainez
What was the decision behind doing this Broadway residency?
Regina Spektor:  This residency of shows was suggested to me by the promoters and my agent. We did the walkthrough at the Lunt-Fontanne, and I could really picture it even though everything was covered in plastic and undergoing a small renovation. I really doubt I would have had the idea myself, but now that I'm working on the show, it makes so much sense. I'm so excited!
Has Broadway shaped your musical life in any way? 
Regina Spektor: I grew up in an immigrant bubble in the Bronx, and as a family we loved classical music, The Beatles, Soviet-era singer-songwriters, and jazz. There was very little overlap with Broadway — maybe some Gershwin, and a few film musicals like "Mary Poppins," "Singing in the Rain," "Jesus Christ Superstar" and "Sound of Music." I was actually very excited to find out that the theater I'll be residing in, the Lunt-Fontanne, was the first place "The Sound of Music" ran!
For the most part, Broadway was a cost-prohibitive mysterious thing. I knew kids at school who were Broadway kids. They would see a show they liked a few times, and have cast recordings. It was an expensive habit.
I'm only discovering more about musical theater now. I love "Hamilton"! And of the classics, I'm really interested in Sondheim. His sense of harmony and melody, how words sit together to create a feeling of the story within the songs is really fascinating.
Many artists make the distinction of who they are on and off the stage. For example, Jim Osterberg is a more calm and reserved guy than his stage persona, Iggy Pop. Do you generally make that distinction when you are performing?
Regina Spektor: I try to be as truly there as possible, but a better version, too. And maybe a bit less self-critical. A sort of heightened stage version. We're different all the time anyhow — with our parents, at work, at school. We show different sides. That's human. The idea is to be as useful and open as possible, so you can make something special together with the audience.
The dates for these special performances are June 20, 21, 22, 25 and 26. For more information on tickets, head over to reginaspektor.com.