How did Mac Miller die?
Since Miller's apparent overdose on September 7 (and autopsy one day later) the exact cause of death pended further investigation. After almost two months of this investigation, the Los Angeles County Department of Medical Examiner-Coroner finally released the full coroner's report.
The report states that the 26-year-old artist passed away due to "mixed drug toxicity."
How did Mac Miller die? Mixed drug toxicity info
How did Mac Miller die, exactly?
The L.A. County Coroner's Office announced on Monday that fentanyl, cocaine and ethanol (AKA, alcohol) were in Miller's system, which led to an "accidental overdose." 
The coroner's report, obtained in full by Metro, determined that Miller had taken the drugs for "recreational use" and was found unresponsive in his Studio City bedroom resting his face, blue in color, on his knees. He was pronounced dead at the scene around 11:51 a.m. local time.
A red abrasion was reported on his nose, with blood coming out of the right nostril. There was no indication of recent needle punctures.
The following evidence was booked and collected, according to the report: A rolled $20 bill with white powdery residue, a non-prescribed medication, a prescription medication and more of the white powdery substance.
An empty bottle of liquor was also noted on Miller's desk.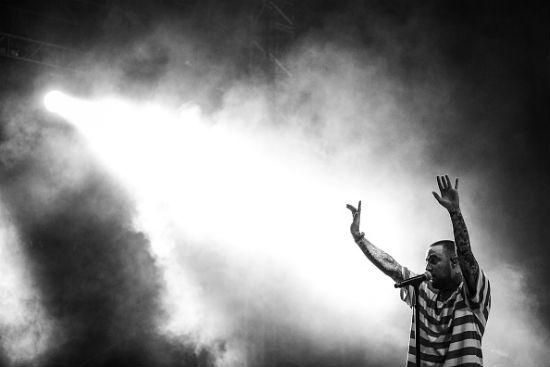 For years, Miller struggled with substance abuse.
The late rapper discussed his use of drugs, specifically lean, in the 2016 Fader documentary Stopped Making Excuses.
"At one point weed didn't relax me from everything. It made me more paranoid about all the sh-t happening," Miller said on camera as he mixed lean. "I needed to get a drug that was a little bit more numbing, if you will…and less, like, in your head. I think that's really what sparked me doing other drugs because I hate being sober."
This past Halloween, a benefit concert was held in L.A. to raise money for the Mac Miller Circles Fund, established by the Pittsburgh Foundation to provide programming and resources to youth from underserved communities interested in the arts.
The week following Miller's death, fans gathered for a vigil at Frick Park.
One vigil attendee told Metro at the time that people were able "to mourn, take it all in, and then we all had fun."
"The sun set, everyone had candles and the park lit up," the attendee concluded, "almost like daytime."