With President Donald Trump in office, the GOP slogan has become "Make America Great Again," and a new survey has found the majority of Republicans point to colleges and universities as one of the things negatively affecting the U.S.
A Pew Research Center poll found 58 percent of Republicans and Republican-leaning independents think colleges and universities hurt the country, exposing a dramatic shift in GOP opinions on the institutions.
In two years there was a 21 percent increase in the number of Republicans who think colleges have a negative effect on the way things are going in the country.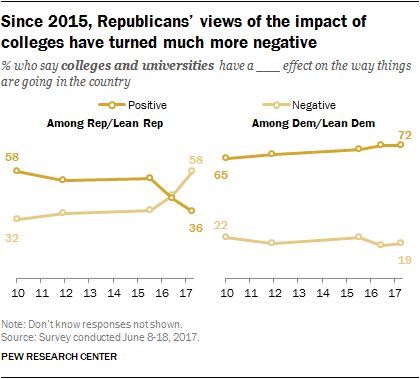 In 2016, Republicans' opinions were mixed on colleges and universities, with 43 percent rating them positively and 45 percent rating them negatively.
In September 2015, 54 percent of Republicans said the institutions had a positive impact on the way things were going in the country, and just 37 percent rated their impact negatively. Those margins have now flipped.
Now, just 36 percent of Republicans think higher-educational institutions have a positive effect in the U.S.
The survey also exposes an ideological gap within the Republican Party. Nearly two-thirds of conservative Republicans — 65 percent — say colleges are having a negative impact, compared with just 43 percent of moderate and liberal Republicans.
On a whole, the majority — 55 percent — of the electorate still believes colleges and universities are good for the country. This is largely because the institutions have widespread support among Democrats — 72 percent said they have a positive impact on the way things are going in the country.
Pew polled 2,504 adults in the survey.
PC culture, widespread populism make Republicans wary of colleges, universities
It's hard to point to one single reason for the dramatic shift in Republicans' opinions toward universities and colleges, but campus protest, growing populism and ballooning student loan debt all have likely played a part.
From Berkeley to Middlebury, liberal colleges have grabbed headlines in the last year for student protests aimed at blocking controversial and typically conservative speakers. It's a practice some have seen as an impediment to free speech, and it even led to congressional hearings which could end up in sanctions for some schools.
The groundswell of support for populist candidate Donald Trump has highlighted differences between blue-collar Republicans and the leftist progressives they see as an elite subculture obsessed with political correctness.
"For some, this resentment has built into an anti-intellectualism that can reveal itself in a corresponding wariness of higher education. Many of these people have experienced a dependability, loyalty, and experiential common sense amongst the uneducated — the self-taught, the entrepreneurial, the hard-working blue-collar class — that they haven't experienced amongst the nation's elitist," Grace Olmstead wrote in "The Federalist".
Olmstead also argues that ever-increasing student debt has turned Republicans off to higher education. College-educated adults with massive student loan debt are working at Starbucks or waitressing in ever-increasing numbers. The cost-benefit analysis falls short.