A foundation created by Senate candidate Roy Moore received a $1,000 donation from a Nazi group in 2005, HuffPost reports.
Moore, a Republican candidate from Alabama, accepted the donation from the Foundation to Defend the First Amendment, a group founded by Willis Carto, a white supremacist, Holocaust denier and Nazi sympathizer. The World War II veteran once said he wished he'd fought for Hitler's Germany instead of the United States.
There's no evidence that Moore's group, the Foundation for Moral Law, returned the donation.
Carto, who died in 2015, was one of the most prominent figures in the white supremacist movement in the U.S. His group, the Foundation to Defend the First Amendment, largely donated to Holocaust deniers, some of whom had been imprisoned in Germany. The group's ideology was described as "Nazi, and notice I didn't say neo-Nazi," by former white supremacist and FBI informant Todd Blodgett.
"Hitler's defeat was the defeat of Europe. And of America," wrote Carto in a 1966 letter.
Moore's campaign and foundation have not commented.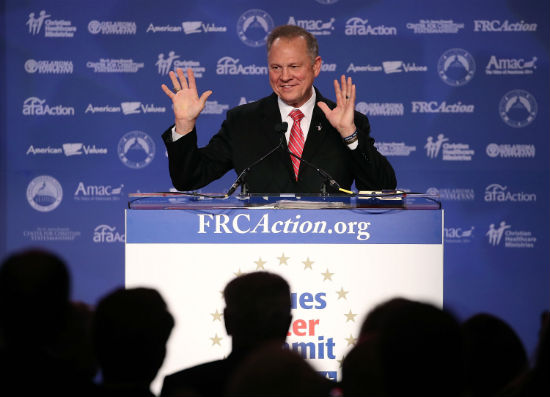 Last month, Moore won the Republican primary in the special election for one of Alabama's seats in the U.S. Senate. He is backed by Breitbart News's chairman (and former presidential adviser) Steve Bannon. Senate Majority Leader Mitch McConnell and President Trump had endorsed Moore's opponent, Luther Strange.
Moore was removed as chief justice of the Alabama Supreme Court twice — once for refusing to remove a monument of the Ten Commandments he had installed in the state courthouse, later for barring clerks from issuing same-sex marriage certificates following the U.S. Supreme Court ruling that legalized them.
Moore's views have made him a preferred candidate of the far right. He has said that homosexuality should be illegal, that Muslims should not be allowed to serve in Congress, that former President Obama was not born in the United States, that parts of the U.S. live under Sharia law and that the 9/11 attacks were due to gays and abortion. In an interview with Time magazine this week, he said that NFL players kneeling during the National Anthem was illegal (it isn't) and that judges who voted to legalize same-sex marriage should be removed from the bench.
Moore now faces Democrat Doug Jones in Alabama's Dec. 12 special election. A Fox News poll released on Tuesday showed the two tied in the polls at 42% each. Last year, President Trump won the state by 28 percentage points.