Track Palin, the oldest son of former Alaska governor Sarah Palin was arrested Saturday after breaking into their home and beating his father bloody Saturday.
New details of what happened have emerged and according to the Los Angles Times, Track Palin urged his father to shoot him before breaking into the house.
According to a police document, Track Palin initially called the Palin home asking his father if he could pick up a truck to use. Todd Palin reportedly told Truck not to come to the house because he could tell the older Palin was drinking.
"Track told him he was [going to] come anyway to beat his ass," according to according Wasilla Police Officer Adam LaPointe in an eight-page police affidavit obtained by the Los Angeles Times. 
Todd Palin reportedly told the police he got his gun to "protect his family." He met Track at the door and Track begged his father to shoot him but he refused to shoot his own son. Track then broke a window, climbed into the house, pushed his father to the ground and hit him repeatedly on the head in a drunken rage. 
According to the document, the older Palin was bleeding from cuts to his head and had liquid coming from his ear.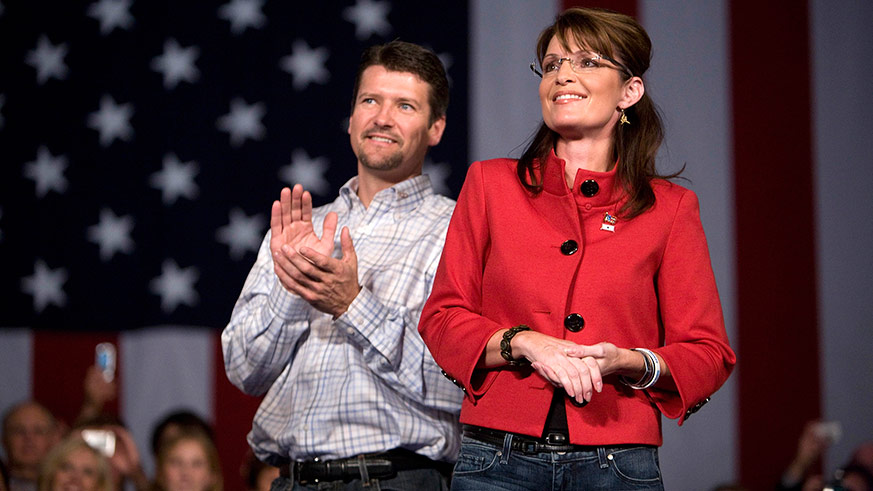 (Todd Palin, left and Sarah Palin during a 2008 campaign rally in Dubuque, Iowa. Credit: Getty Images)
Sarah Palin called the police Saturday around 8:30 pm, saying her son, Track, was "freaking out and was on some type of medication," according to the Los Angles Times. Todd Palin was able to break free from Track and make an escape with blood running down his face, according to police.
When police arrived and approached Track Palin, he called the officers "peasants" and ordered them to put their guns on the ground, according to the affidavit
Track Palin, 28, was arrested and charged with first-degree burglary, fourth-degree assault and criminal mischief. Palin's bail was set at $5,000 by a judge and he is currently in custody at the Mat-Su Pretrial Facility in Palmer, Alaska.
This isn't the first time Track Palin had a run-in with the law.
In 2016, Palin was arrested after assaulting his girlfriend at the time.  According to the New York Times, Palin had a blood alcohol level of 0.189. The legal limit to drive in Alaska is 0.08.  Palin's ex-girlfriend said he was also threatening to take his own life.