Disney musicals already rule Broadway, but this summer one of its classics is heading uptown to Central Park when Shakespeare in the Park adapts the 1997 film Hercules to a massive musical production. That's in addition to two more on-theme adaptations of Much Ado About Nothing and the tragedy Coriolanus, which promises to reignite the political controversy caused by the Donald Trump-as-Julius Caesar adaptation in Summer 2017.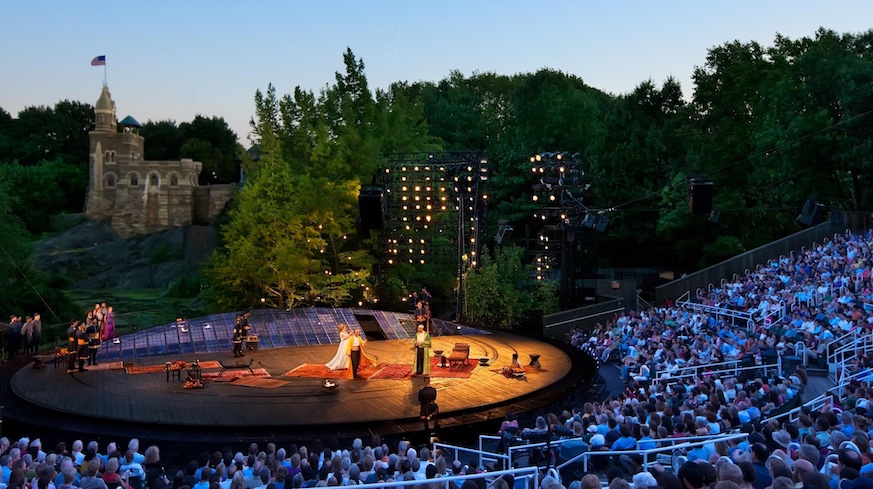 How Shakespeare in the Park is doing Hercules
First, let's meet who's putting the "glad" in gladiator! Hercules' original Oscar-winning team of Alan Menken (music) and David Zippel (lyrics) are reuniting to create new music for the adaptation, which will include a new book by stage and TV writer Kristoffer Diaz and choreography by Chase Brock, whose credits include the Broadway-bound teen musical Be More Chill and Spider-Man: Turn Off the Dark.
The cast will be made up mostly of ordinary New Yorkers alongside a handful of professional actors in the leading roles as part of a theater program called Public Works that's been staging acclaimed musicals since 2012. The show will run Aug. 31-Sept. 8 and all tickets will be free, as they are for all Shakespeare in the Park productions.
"Many generations of our Public Works families have embraced Disney musicals as a shared American canon," says Public Works founder Lear deBessonet, who's also directing Hercules. "Hercules' roots in Greek mythology, infused with soulful gospel music, make it a natural extension of Public Works' radical exploration of humanity through Shakespeare and the classics. We're excited to see how this Public Works production will uncover the deeper meaning of what it means to be a hero and how true strength is derived, not from the greatness of one person, but the transformative power of community."
The 2019 Shakespeare in the Park lineup
The more conventional — and actually written by William Shakespeare — productions for Shakespeare in the Park 2019 are Much Ado About Nothing and Coriolanus.
Directed by Tony winner Kenny Leon, Much Adu will be "a bold new take on Shakespeare's cherished comedy of romantic retribution and miscommunication" set in the modern era. The show was first staged at the Delacorte Theater in 1972 and most recently in 2014, starring Lily Rabe and Hamish Linklater. It's set to run May 21-June 23.
Next will be Coriolanus, the tragic story of a general voted into power by a revenge-hungry people. Tony winner Daniel Sullivan directs a modern-day version, presumably continuing the Public Theater's questioning of what's become of America under the Trump administration that it began with a controversial reworking on Julius Caesar in Summer 2017.
Coriolanus was last staged at the Delacorte in 1979, and most recently adapted by Britain's Donmar Warehouse theater starring Tom Hiddleston in 2014. It's set to run July 16-Aug. 11.
"Coriolanus, like Julius Caesar, reflects Shakespeare's profound nervousness about demagoguery and democracy," says the Public's Artistic Director Oskar Eustis. "Rarely performed in the park, Coriolanus promises to be a strong reflection of our own age's struggle and resistance."
Tickets to all Shakespeare in the Park performances are free and available at the box office on the morning of each day's performance, at select public libraries and through various lotteries. See our Shakespeare in the Park ticket guide for details.