A couple weeks ago we received a reader submission to our Grumble page about two different properties in North Philadelphia that were causing this reader's mother some distress. Both of the buildings, located on North Lawrence street, have been vacant for some time and — in the case of one building — it has been emitting a pretty rancid stench and attracting flies to the neighborhood. The smell was so unbearable, that she can no longer enjoy outdoor activities like tending to her garden. Here is the original Grumble submission in full
Flies Everywhere
Hello. I would like someone to please check what is causing a swarm of flies next door to where my mother lives. A squatter and 2 pit bulls were removed a couple of weeks ago but the smell and the flies will not allow my 73 year old mother to enjoy her garden and the nice weather as she can't open the door without covering her nose. She also has an abandoned house on the other side of her house which was due to be torn down months ago and nothing has been done. The structure of her home is in jeopardy if nothing is done now. Please help my mother at 25xx N Lawrence st.
By Marisol Serrano, Metro Philly reader  
Solving your Grumbles: Vacant and unsafe buildings in North Philadelphia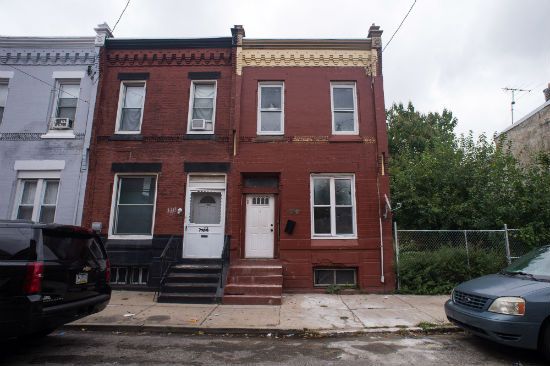 [Photo Credit: Getty Images]
Needless to say, this is an issue that I felt I needed to address. So, I did some digging to see who could help with this issue.  Ms. Serrano was able to provide me with the exact addresses of these buildings for my search. The abandoned house that she mentioned in the email is 2526 N. Lawrence, while the building that is producing the smell and swarms of flies is 2530 N. Lawrence.
I ended up speaking with Karen Guss, the Director of Communications with the Department of Licenses and Inspections with the city of Philadelphia, to see if she could check these properties to give me an update to see what the city is doing about this issue. Before she gave me an answer, she explained a little bit more about why there is such a problem with these kinds of buildings in North Philadelphia.
"There are about 13 to 15 thousand vacant properties in Philadelphia," explained Guss, "It's a widespread problem that affects quite a bit of the city because abandoned properties don't get better. Properties that aren't taken care of only deteriorate. There are about 200 properties in the city that Licenses and Inspections considers to be imminently dangerous. The worst of the worst. Properties that we believe actually pose a public safety threat and need to be taken down before someone gets hurt. Then there are a set of more than 4,000 properties that we consider unsafe. Meaning that they are in bad condition and if left in the current condition will become imminently dangerous. Our challenge is, we have a demolition program where we spend about $10 million a year taking down dangerous properties for public safety reasons. We try to prioritize those properties by taking down the worst of the worst."
She then explained to me that because there is such a daunting amount of these empty and deteriorating buildings in Philadelphia, it can be an almost constant and overwhelming cycle for departments like hers to get ahead of. "Unfortunately what happens," she explains, "is that we take those down and then others become imminently dangerous. So we take down about 550 a year. We just got a budget increase in this last budget because the problem is so bad. So we think we'll be able to take down more but that means a lot of bad properties like these two will continue to be a problem in the city."
As of right now, the building that has been emitting the smell and attracting flies is on the list of "imminently dangerous" properties and is scheduled to be cleaned and sealed up by the city in order to prevent more trespassers and squatters from taking up residence. The other building is currently on the "unsafe" list and will be continually inspected by her department to make sure that it does not become dangerous to the public.
If you have similar properties in your neighborhood, be sure to make your complaints known to the department of Licenses and Inspections by calling 311.