Looking for R. Kelly on Spotify?
You'll have to search: The popular music streaming service has dropped all of R. Kelly's music from all Spotify-owned playlists and recommendations, effective today, as part of its hateful conduct policy.
"We are removing R. Kelly's music from all Spotify owned and operated playlists and algorithmic recommendations such as Discover Weekly," a rep for the music service told Billboard.
Spotify didn't go as far as dropping all of R. Kelly's music from the database.
"We don't censor content because of an artist's or creator's behavior, but we want our editorial decisions — what we choose to program — to reflect our values," the statement continued. "When an artist or creator does something that is especially harmful or hateful, it may affect the ways we work with or support that artist or creator."
A timeline of R. Kelly allegations
Spotify didn't specifically call out R. Kelly's alleged behavior or "values" in the statement, but the company does seem to allude to the continued sexual abuse allegations against the R&B singer.
The singer's sexual escapades with young — and even underage — girls is getting a lot of attention in light of the #metoo movement, but accusations date back to the early 1990s when he married fellow R&B singer Aaliyah.
She was 15; he was 27. The marriage was later annulled because the marriage license said she was 18.
In the years since, he's been sued for having inappropriate sexual contact with underage teens and was charged with creating child pornography, though he was found not guilty because the jury couldn't prove the female in the sex tape was underage.
In one now-famous interview, R. Kelly was asked if he "likes" teenagers.
"When you say teenage, how old are we talking?" he told the interviewer.
When R. Kelly needed clarification on what a teen was.. pic.twitter.com/qV1BBalV5H

— Where Is Yo Scoota? Where Is It?! (@AshleyShyMiller) July 17, 2017
"I was dumbfounded," the interviewer, Toure, wrote in a 2017 piece for The Daily Beast. "I thought of that as pretty much an admission" that he prefered to date teen girls.
In 2017, some parents told BuzzFeed that Kelly was holding their daughters in his homes in Georgia and Illinois in a "sex cult."
"It was as if she was brainwashed. [She] looked like a prisoner — it was horrible," one mother J. told the website about seeing her daughter after months of living with Kelly. "I hugged her and hugged her. But she just kept saying she's in love and [Kelly] is the one who cares for her. I don't know what to do. I hope that if I get her back, I can get her treatment for victims of cults. They can reprogram her. But I wish I could have stopped it from happening."
R. Kelly denies sexual abuse claims against him
More stories of physical and sexual abuse by Kelly emerged since that BuzzFeed report.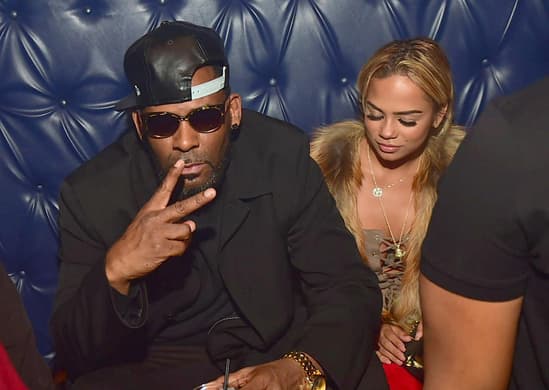 "Five parents are on the record saying their daughter is being held, that they've been out of touch with their daughters for years and they're being physically and mentally abused," veteran music journalist Jim DeRogatis told WTTW.
But what's not clear is if he's being investigated for those allegations. "The FBI has spent hours interviewing all the sources I've talked to in several states," DeRogatis added. "They will neither confirm or deny an investigation. The parents just want their daughters home."
Kelly continues to deny claims against him, but a #MuteRKelly campaign — started by the TIMES UP campaign — resulted in the cancellation of his appearance at the 2018 Love's Jam concert.
"Since America was born, black men and women have been lynched for having sex or for being accused of it," he said in a statement, according to WTTW. "We will vigorously resist this attempted public lynching of a black man who has made extraordinary contributions to our culture."