Ethan Peck's young, bearded Spock is sure to attract the most attention when Star Trek: Discovery season 2 premieres tonight at 8:30 p.m. ET on CBS All Access. Yet as the rest of the show's cast and crew tell Metro, the inclusion of an iconic original series character isn't the only thing audiences should be looking out for. Sure, Anson Mount's Capt. Christopher Pike and the USS Enterprise herself are also included in the mix, but so too is a brand new mystery that's sure to keep viewers engaged.
Star Trek: Discovery season 2 cast, crew on what excites them most
"This season is visually bigger than season 1, and season 1 was pretty big," says writer and executive producer Alex Kurtzman. "We've kicked it up several notches in terms of what we're delivering in action sequences. But we're also holding the balance between the great character work that Trek is known for, the thoughtfulness of its most popular stories and the scope and scale of it all. It's like a big movie is playing out in season 2."
Kurtzman's emphasis on bigger and better visuals, not to mention a more cinematic scale, recalls his attachment to the Star Trek and Star Trek Into Darkness reboot films. As a result, his comments above may give viewers some pause, but he and executive producer Heather Kadin go on to stress that Discovery, especially in season 2, isn't simply trying to squander what longtime fans hold most dear.
"I was much more nervous about the first season, because we had so much to earn from the fans who have loved this for so many years," she tells Metro. "I hope we've earned the right to push more buttons and go in more directions. Hopefully, the fans feel confident that we know we're coming back with something that they're happy with."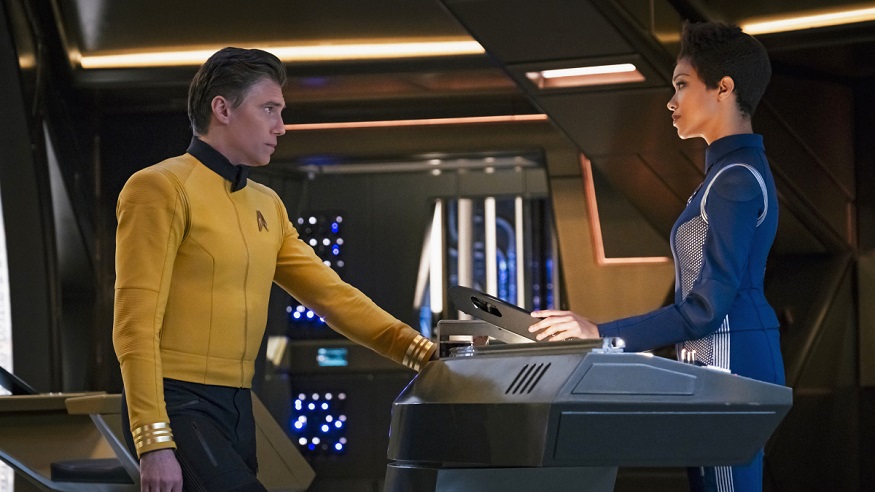 "In the first season, we were trying to figure out how to bring Star Trek back," adds Kurtzman. "How could we do it in an original way that would still honor everything that had come before it? With this season, we get to tell stories that explore a lot of the philosophical issues that Trek, at its best, has done."
This is especially true of the show's character work, which the actors interviewed are all very excited (and nervous) for Trek fans to see this season. "Emotion," and its derivatives, is the word that comes up the most whenever they talk about season 2's big mystery and all the smaller, individual stories that it connects together.
"Season 2 is deeply emotional. Season 1 was very emotional as well, but we go down to a different level with season 2," says Sonequa Martin-Green, who plays Michael Burnham. "Something that I've noticed in looking back on the first season is there was a sort of floodgate with Michael. There was more power to what was boiling beneath her exterior, which is a human pretending to be Vulcan. It's all an act. It's all an image that she's trying to control. But the pot is still boiling, and there's this really strong lid on top of it, but it eventually came off in season 1. You will see the consequences of that in season 2."
Star Trek: Discovery season 2 cast, crew on what excites them most
This is especially true of most of the characters. Like Saru, the Kelpien officer played by Doug Jones, whose alien appearance disguises a great deal of emotional depth. "We don't know how old Saru is and we don't know how old he can get, but we're going to find out a little bit more about that," he tells Metro. "There's a very thin line between awkward and funny, and emotional and tear-jerking."
"It's exciting and more satisfying to me as an actor because we all contain multitudes," says Mary Wiseman, who plays Ensign Sylvia Tilly. "They've been very generous in letting Tilly have more of a life than just what's on the surface. Tilly gets angry this season. She gets pissed. She has moments when she's frustrated and I'm excited for people to see those colors. She's going to be tested. We all are."
"What we think about it most is emotional serialization. The characters have these experiences, and they take the emotions associated with those to the next episodes," Kurtzman notes while hinting at season 2's overarching mystery, the so-called "Red Angel" teased in the trailers. "There's a mystery here and we've known where we wanted to go from the beginning. I think the fun of it is trying to get there in ways that surprise everyone. So even if the audience thinks they're on to where we're heading, they might be right but they also might be wrong."
Star Trek: Discovery season 2 release date
Star Trek: Discovery season 2 premieres tonight at 8:30 p.m. ET on CBS All Access.