There are many different types of yoga: from restorative and power yoga to Yin and the ever-popular hot yoga. But sometimes, all you really want is easy moves that will give you a good stretch (guilty). In other words, yoga for beginners is where you're at.
Yoga doesn't have a body type — it's for everyone.
Jessamyn Stanley, body positivity advocate, yoga instructor and author, told Metro in a 2017 interview that, to get started, you should think of yoga as a "spiritual practice you need to take care of every day." This will keep you motivated.
And, she says practicing at home makes getting on the mat even easier. It's less daunting and grants you the flexibility to fit yoga into your routine.
"I was free to wear whatever I wanted," Stanley explains, "hold poses as long as I wanted, and break a lot of rules."
At-home workouts are convenient, and there are plenty of programs that offer yoga for beginners.
Better yet, there are free yoga videos so you can get your namaste on with peace of mind.
Yoga for beginners: 5 Yoga YouTube channels to try
Free yoga videos do exist, and we've rounded up a handful that will cover all the basics. Yoga for beginners doesn't have to be boring or complicated — these channels are led by experienced instructors who won't put you to sleep (unless that's the point of the particular yoga flow you're doing).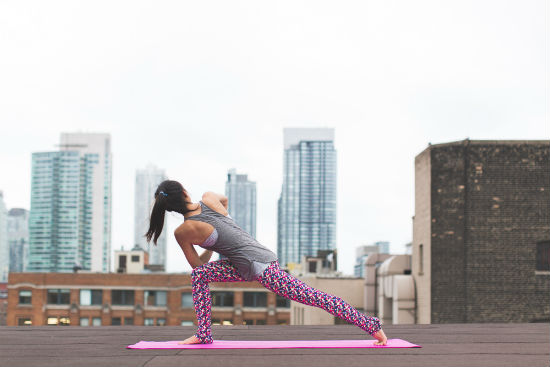 These YouTube channels with free yoga videos (specifically yoga for beginners) also offer intermediate and advanced practice. Once you've gotten the hang of things, you may want to give those a go. 
Fightmaster Yoga
These free yoga videos are led by Lesley Fightmaster (and "yes," she says on her YouTube channel, "that's really my last name").
She offers yoga for beginners — like the yoga for beginners "30 Day Challenge" — and other flows such as YogaFix30, designed to help you create a healthy habit of practice. There's yoga to strengthen your core and lower body, videos for weight loss and so much more.
"We can all take ourselves a little too seriously," she writes on her channel. "My free yoga videos will help you to laugh more and stress less." 
SarahBethYoga
Sarah Beth's free yoga videos are designed to "stretch, strengthen, tone and de-stress." She offers yoga for beginners as well as other flows like power yoga and meditation.
These videos range from five to 30 minutes long. They're also categorized by level so you know exactly what you're getting.
There's yoga to energize your mornings, wind down at night and, if you're daring, one video devoted solely to splits.
BrettLarkinYoga
These free yoga videos are perfect for the beginner types getting into the groove at home.
Some examples? There's "Beginner Morning Yoga for women," "Beginner Bedtime Yoga Sequence," "Quick and Easy Restorative Yoga Flow" — even a "Mommy and Me" session (because who doesn't want to look at cute babies?).
These videos are "appropriate for people who've *never done yoga before* to very sweaty, advanced stuff for when you want a true yoga workout out home!" the channel states. "My goal is to make this deeply powerful practice accessible, fun, and transformative to everyone."
Yoga by Candace
Yoga by Candace offers a variety of yoga flows from chair yoga for tight hips to yoga for arm strength to more unique videos like "5 ways to use resistance bands in Yoga."
Her videos range from 15 to 60 minutes long and, if you're looking for more than just yoga, she offers free workouts like "Deadlift and Burpee" or a quick ab series.
Yoga with Adrienne
Yoga with Adrienne features every possible yoga practice you can think of: yoga for back pain, yoga for digestion, yoga for insecurity — even yoga for gardeners.
Adrienne has over 3.5 million subscribers to her free yoga videos because, well, she really knows her stuff. And, there's an entire "playlist" full of yoga for beginners videos.
Adrienne ends many of her flows with mantras she's learned loved ones or other yogis along the way. You're left not only feeling well-stretched, but also feeling self-reflective and confident. My favorite is this: "The universe is for me and so is everything else."