When the Statue of Liberty needed a boost in 1885, the American people stepped in. Now, a new Statue of Liberty museum showcasing her history and legacy is turning to the world for a little help.
The Statue of Liberty Museum, coming to Liberty Island in 2019, is looking to raise the final $10 million of its $100 million construction cost through an Indiegogo crowdfunding campaign called For Lady Liberty, launching on Monday, July 2. All donations will become part of the ongoing fundraising initiative being led by chairwoman Diane von Furstenberg, who immigrated to the U.S. from Belgium and built a storied fashion empire.
Besides being a fitting gesture to continue the legacy of friendship that inspired France to gift the Statue of Liberty to the U.S. in 1886, the campaign also echoes an important piece of the statue's own history.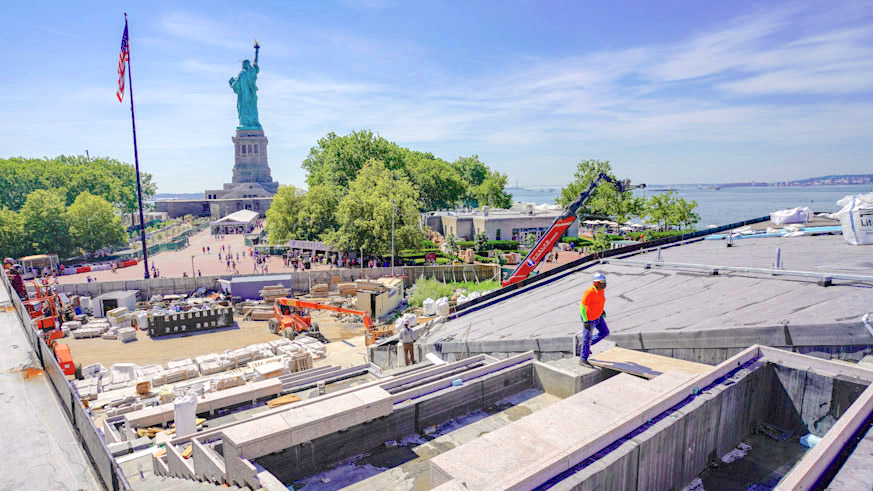 Created by sculptor Auguste Bartholdi and engineer Gustave Eiffel (yes, of the tower), Lady Liberty arrived in New York City before the final $100,000 needed to build her a sufficiently grand pedestal had been raised.
Enter publishing magnate Joseph Pulitzer, who led what may have been America's first crowdfunding campaign. As a reward for contributions of any amount — most of the over 120,000 donors gave less than $1 — Pulitzer printed their names in his newspaper the New York World.
"From building Lady Liberty's pedestal in the 1880s to contributing to the 1986 centennial restoration, the American people have given whatever they could afford to support the Statue," says Richard Flood, vice president and chief advancement officer for The Statue of Liberty-Ellis Island Foundation. "This crowdfunding campaign honors that history, ensuring that our fundraising efforts are inclusive, while also expanding the opportunity to a worldwide audience."
When the statue was badly in need of restoration 100 years later, the nonprofit Statue of Liberty-Ellis Island Foundation was created to raise the funds. Once again, it was communities across the country who answered the call, including schoolchildren donating pennies, giving more than $6 million.
The For Lady Liberty campaign has several reward tiers, beginning with a Founder-level contribution of a symbolic $18.86 that will ensure you a permanent place within the museum as part of the Liberty Star Mural. Inspired by the American flag, the mural by French-American artist Anh Duong will feature 50 stars representing one of the project's major donors. A Founders Star will represent the For Lady Liberty campaign; a digital registry of donors' names will also be on display in the museum. 
The Statue of Liberty Museum will have three galleries exploring the statue's construction — including a recreation of the French workshop where she was built — and a spectacular new showcase for her original torch, which was replaced during the 1986 restoration. It's expected to open in May 2019 and will be free to visit.