Roddy McDowall had it easy. In the old "Planet of the Apes" movies, the actor — along with the likes of Kim Hunter, Sal Mineo and John Huston — got to wear beautiful, elaborate ape masks. Not Steve Zahn. To play a chimp in "War for the Planet of the Apes," the actor merely strapped on a suit and popped an army of sensor-dots onto his face. Only later, with the magic of technology, would he actually look simian.
"If you go to a Halloween party as Zorro, you feel like Zorro, right? Because you've got the Zorro outfit on," he says. "If you went to the party as Zorro but without the Zorro outfit and people went, 'You don't look like Zorro, but for some reason you seem like Zorro' — that's kind of what it's like playing without costumes."
The third in the rebooted series is more intense and gritty than any movie in multiplexes right now. It finds that human-ape relations have gotten even more frayed than they were before. Zahn plays "Bad Ape," a traumatized former zoo animal who joins up with chimpanzee rebel leader Caesar (Andy Serkis) as he battles a psycho Colonel (Woody Harrelson) who wants all apes dead.
Zahn is primarily known for his comic relief characters; our favorite is bumbling criminal Glenn Michaels in "Out of Sight." Bad Ape is sort of the comic relief, but he's no figure of fun. For one thing, he's called Bad Ape because that's the phrase he heard the most when he was a prisoner at the zoo.
"I found him really tragic, really vulnerable and accessible," Zahn explains. "You have these heavy, brooding, slow-moving apes, and then you have this little guy who's just really excited to be around people again. His friends are dead, his family's dead, he's become a hoarder just to fill the void of not having anyone around. I'm just moved by him. And I trusted that the humorous moments would just kind of happen."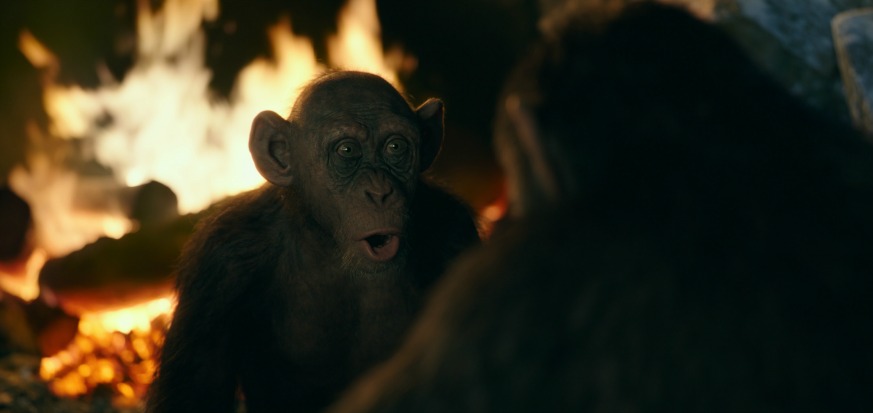 The original "Planet of the Apes" movies, which started in 1968, were generally aimed at kids, but they were much more adult than their reputation: dark, cynical, in touch with era of Civil Rights and the Vietnam War. Like its two predecessors, "War for the Planet of the Apes" is very, very serious, and it takes the time to flesh out its grim world.
"Usually movies of this size don't have patience. They don't have the guts to sit back and settle, to let you get invested in character," Zahn says. "Then you watch a movie like this and Woody and Andy have a scene that's seven minutes long, between these two adversaries. All of a sudden it's like you're watching a production of 'King Lear.'"
It also reflects our own uncertain and combative time.
"It really is about what fear does," Zahn explains. "It talks a lot about empathy. It's about being able to empathize with beings that are different from you. When you don't have that empathy, you can do really horrible things to others. We can try to destroy each other because we've made others into something they're not. We have to share this place together. I mean, that's today, right?"
What it says about our times isn't terribly encouraging.
"It asks how soon can this spin out of control. Pretty quickly, I would imagine. But what is the thing that keeps us from spinning out of control?" Zahn asks. "That's why these movies work: They're about that. That is always there, whether it's 1968 or 2017."
Follow Matt Prigge on Twitter @mattprigge