Since being released into cinemas last week, Stronger has drawn critical acclaim for its realistic yet still utterly compelling depiction of Jeff Bauman's recovery, after he lost both of his legs in the 2013 Boston Marathon terrorist attack. The film hasn't been without its controversy, though.
In fact, just ahead of "Stronger's" release, the Ruderman Family Foundation, which supports the advancement of people with disabilities, criticized the film and its director David Gordon Green for not even giving actors who are amputees the chance to land the role of Jeff Bauman, which ultimately went to Jake Gyllenhaal. I recently sat down to talk to Green, and during our conversation I asked him for his response to this criticism.
"There are incredibly talented people everywhere. When I first read the script I just thought of Jake, he's who came to my mind as an actor, and he is somebody that I've just really wanted to work with, and I just thought he would be extraordinary in this role. Not only extraordinary, but part of the value of Jake is we know him as an international audience through his life in movies, from 'City Slickers' to 'Nightcrawler', and that makes it someone I know more. Someone I know that is facing this hardship, so I'm drawn in. When I read the script that is what I pictured. I pictured Jake honestly."
Green noted that plenty of amputees assisted "Stronger" throughout its production, and they helped to bring a level of authenticity to the film that would otherwise have been lacking.
"We had a lot of, when we were at Spaulding [Rehabilitation Hospital], we had a lot of amputees and patients from the hospital, in addition to just medical professions and we just had a lot of patients involved. It was great to just have that kind of authenticity and authority. And that certainly was something we were excited about doing, and I have used actors with disabilities. I directed the new season of 'Vice Principals' and one of our main actors is wheel chair bound, and when that's what you're looking for that's always perfect. I'm always looking to explore new talent out there, and it's just a very fast world of possibilities."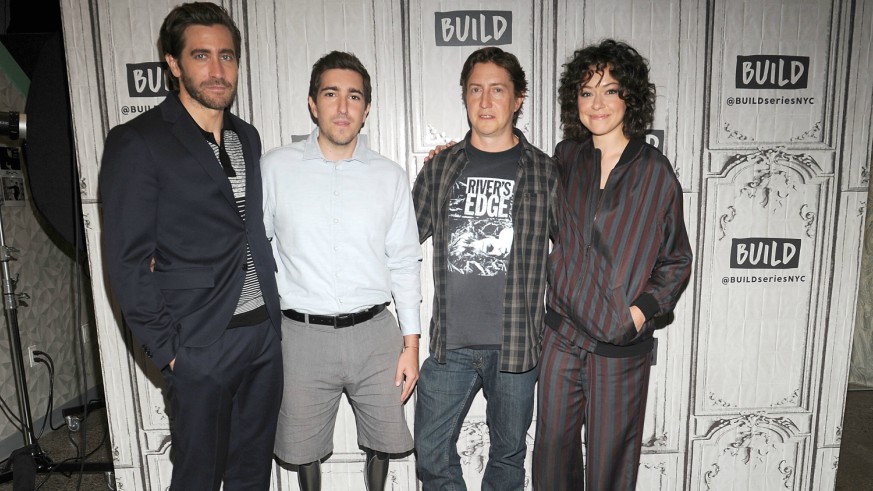 When I told Green that, in their statement, the Ruderman Family Foundation's main complaint was that he hadn't even given actors "who are amputees the chance to audition for the role," the director went into more detail about his desire to work alongside Gyllenhaal.
"I don't know any by name, but I'm sure there are wonderfully talented amputees or people that have lost their legs in various ways that could have given extremely skilled performances. But Jake was just the one that I always had in my mind, an actor I'd had my sights on for years to work with, and this just felt like the perfect role for him to embody. And I needed an actor, you could look at it from a financial level or an audience level, but I needed an actor that I knew had the experience and that could go do the research. Jake has a reputation as a dedicated actor that really digs in, and he's renowned for that commitment. And that just gave me a great comfort level of having a collaborator that I could be very invested and very involved with, and try to make something that felt as much like a documentary and authentic."
"Stronger" is now in cinemas across the United States. You can read my review for the drama here, and watch its trailer below.