The International House of Pancakes is taking its newest menu item on the road.
To introduce its latest dessert-as-breakfast innovation, IHOP is unleashing a food truck onto the streets of New York City on Friday, Aug. 4. The truck, which will be parked at Fifth Avenue between 22nd and 23rd streets, will be serving free samples of the chain's new French Toasted Donuts from 8 a.m. until noon or until the last sugary crumb is gone.  
Back to that crazy new dish though. As a summer trend, doughnuts were an unlikely contender. Yet here we are, with the launch of some seriously delicious and Instagram-worthy brioche cartoon doughnuts at Sugar Factory, doughnut ice cream sandwiches at Underwest and the triumphant return of Cuzins Duzins' fried-to-order mini doughnuts at DeKalb Market Hall.  
And where there's a dessert trend, there's IHOP turning it into a breakfast dish for those who need a bit more than caffeine to get going in the morning. To make its French Toasted Donuts, IHOP dips either a Bavarian cream or apple fritter doughnut and dip in a sweet vanilla batter and griddles them up, only for a limited time.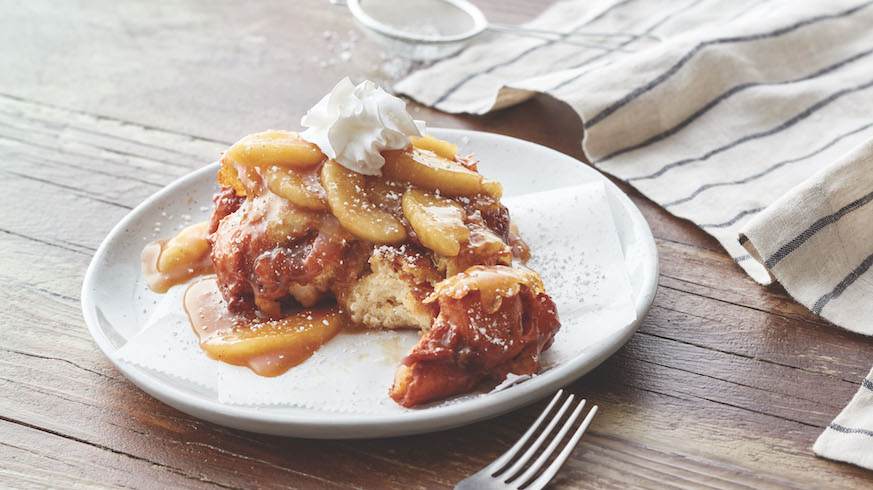 The chain hasn't changed its tactic of piling sugar upon sugar, though the always-on bacon makes a cameo too (despite sky-high prices). Check out these flavor descriptions:
Bacon & Maple: Bavarian-cream filled doughnut topped with rich maple glaze and savory hickory-smoked bacon crumbles
Strawberries & Cream: Bavarian cream-filled doughnut topped with strawberries in a "juicy glaze" and powdered sugar
Apple Fritter: Warm apple fritter topped with sweet cinnamon apples, powdered sugar and whipped topping
For those who aren't already in a diabetic coma just from reading that, French Toasted Donuts are available at its regular brick-and-mortar IHOPs beginning July 31 through Sept. 24.