Get ready ghost hunters, because Supernatural season 13 episode 1 airs tonight, right in time to get you creeped out for Friday the 13th.
Although it's an oversimplification to call Supernatural the guy version of Charmed, it does have the same winning characteristics: personal storyline, siblings fighting supernatural forces together and, you know, the random possession just for a little extra bit of drama.
What can you expect from Supernatural season 13?
Although we can't guarantee all of this in Supernatural season 13 episode 1, there's a lot in store for the upcoming season. "The big thing with us is: How do we keep it fresh?" co-showrunner Robert Singer said of the season that kicks off tonight. And they're going to deliver. The new, fresh vision that starts with Supernatural season 13 episode 1 is not only testing the waters for a potential spin-off, but also trying out a new format: you'll see an animated episode.
But the plot holds plenty of new drama, too. This season will b defined by Lucifer's son Jack (Alexander Calvert) moving in with the Winchesters. "We just felt there's so much opportunity with Jack," Singer explained. "It's a big swing again, but somehow we always manage to keep the show grounded in its own reality." And, no, don't worry long-time fans of Sam and Dean. You won't be seeing less of them. The show stays "grounded in its own reality" by ensuring that the series always comes back to these two, and their day-to-day lives juggling the human world with the supernatural.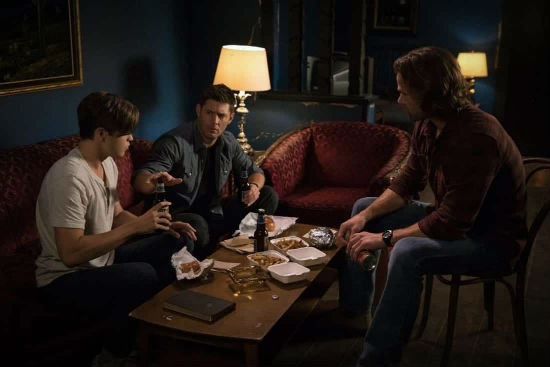 "At the end of the day, the show is really about these two guys and how great they are together," Singer confirmed. "They're the lifeblood of the show." No question there.
But throwing Jack into the mix is a way for fans of the show to get to know the guys better, in a whole new light. "To have [Sam and Dean] confronted by this kid who is at once scary and charming gives us a chance to show a different side of the guys, and that's always a great thing, especially 13 seasons in," Singer explained.
So, what time does Supernatural season 13 episode 1 start?
You can catch every second of the guys fighting supernatural forces when the new season kicks off with Supernatural season 13 episode 1, entitled "Lost and Found," on Thursday, October 12 at 8:00 p.m. EST on The CW.
Where can I watch Supernatural season 13 episode 1 online?
You have two options to watch Supernatural online: First, catch the season premiere on The CW's website when they stream it tonight; second, watch it through Fubo. If you're not a member of the streaming site, you can sign up for a 30-day free trial prior to the start of Supernatural season 13 episode 1, just make sure you start a couple minutes early to get through the process before the premiere launches into action you won't want to miss.