Election Day is around the corner, and Massachusetts voters are still mulling over ballot Question 1.
A new Suffolk University/Boston Globe poll shows that voter support for Question 1 has flipped as Election Day looms, with a majority of voters now leaning toward "no" on the ballot measure.
Massachusetts ballot Question 1 aims to establish patient-to-nurse ratios. A "yes" vote on the question would limit the number of patients assigned to registered nurses working in hospitals. Under the measure, violations could be reported to the attorney general, who could file suit and civil penalties. A "no" vote on Question 1 would make no change in current laws regarding patient-to-nurse limits.
Who supports Massachusetts ballot Question 1?
The battle over Massachusetts ballot Question 1 has been intense. Back in September, a WBUR/MassINC poll found that voters were split on the measure with 44 percent in favor, 44 percent opposed and 12 percent undecided. A Suffolk poll in September showed 52 percent  support, and this most recent poll now shows 59 percent of voters are opposed. 
Those supporting a "yes" vote include Senators Bernie Sanders, Elizabeth Warren and Ed Markey, along with the Massachusetts Nurses Association, Mass-Care and more. In response to that latest poll, Kate Norton, spokeswoman for the Committee to Ensure Safe Patient Care (which supports "yes" on Question 1) said that the results don't reflect what her campaign sees on the ground.
"We're getting very positive responses from people. The fundamental point is when people hear the truth, hear directly from the nurses, they're on board," she said. "The hospital industry, the executives, spent $19 million so far to defeat this measure. That's $19 million that could have gone toward patient care." (The Committee to Ensure Safe Patient Care has spent $10 million).
Though Massachusetts hospitals are highly rated, that's not totally indicative of patient care, she said. Hospital readmission rates are high across the commonwealth, and Nolan said that's due to things like infections and UTIs — preventable issues, she noted, that could be curbed if nurses had more time to spend with each patient.
"This is very simple — do you want to be one of four patients assigned to a nurse, or one of eight?" she said. "If you look at it as a staffing issue, then you're talking about money, revenues, budgets, et cetera, but if you look at it as a care issue — which is what it is — you're talking about creating a standard of care. There should be a limit … because if you're in a hospital, you're there because you need that nursing care, that 24/7 monitoring that you don't get in another setting."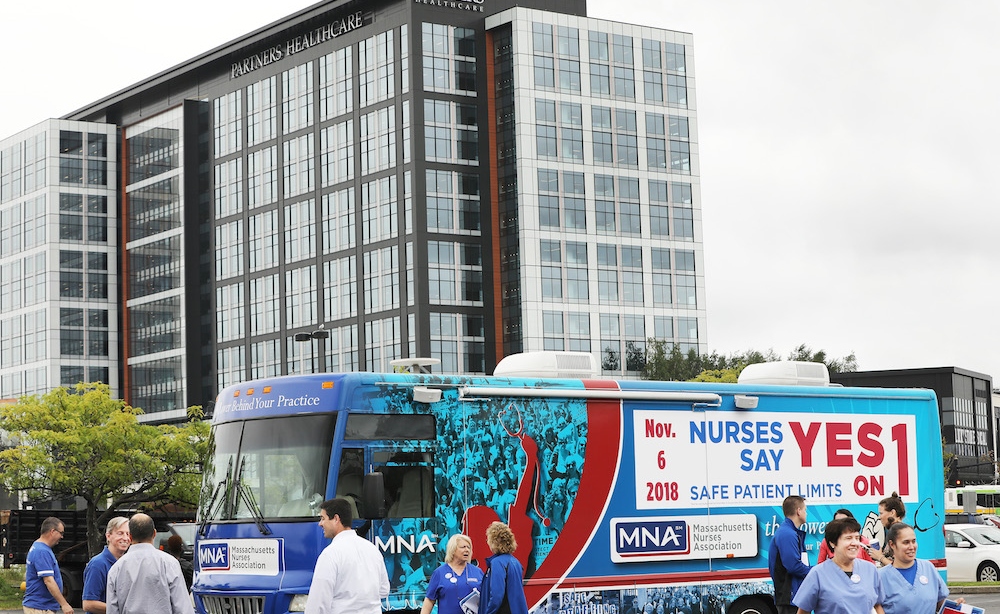 Who opposes Massachusetts ballot Question 1?
For every "nurses say yes on Question 1" sign you've seen, you've probably also spotted a "nurses say no on 1" sign.  Along with Gov. Charlie Baker, those on the opposition include the American Nurses Association Massachusetts, the Organization of Nurse Leaders and dozens of hospitals across the state.
Dan Cence, spokesperson for the Coalition to Protect Patient Safety, which opposes Question 1, brought up the the cost of hiring enough nurses to satisfy ratios. It could reach nearly $1 billion, according to a Health Policy Commission report.
The coalition says this could force other hospital services or staff positions to be sacrificed.
"There's not a billion dollars to go around in the hospital community, [places] are either going to add the cost or cut services," he said.
The other issue is the timeline. If passed, Question 1 gives hospitals less than two months to meet these ratio requirements, with the law going into effect on Jan. 1, 2019. Such strict nurse staffing ratios so soon, with fines for not reaching these ratios, could force smaller, more rural hospitals to close, Cence said.
"This is really a watershed moment for health care and the commonwealth of Massachusetts," he said. "We have the greatest health care delivery system in the world. Why would we want to change that?"