Dozens gathered at the Massachusetts State House on Thursday to urge Gov. Charlie Baker to help Francisco Rodriguez, a custodian at MIT who is currently being detained and who faces deportation after 10 years of living and working in the United States.
Rodriguez is originally from El Salvador and currently lives in Chelsea with his family, which includes two U.S.-born daughters and his permanent legal-resident mother. He was taken into custody on July 13 at an annual scheduled check-in with U.S. Immigration and Customs Enforcement.
"He's had legal permission to be in the country for years, and he does yearly check-ins," said Roxana Rivera, head of the local SEIU 32BJ union, of which Rodriguez is a member. "When he arrived [this time,] they immediately detained him and had an order for his deportation."
Rodriguez's 10-year-old daughter Mellanie stood on the State House steps in front of the crowd, which included many people holding signs that showed a picture of her father, and fought back tears to speak on her father's behalf.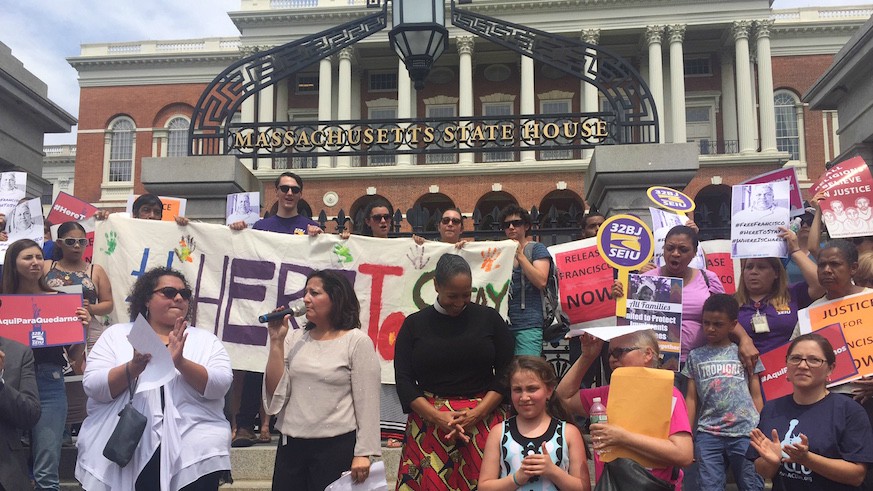 Francisco's daughter Mellanie (bottom right) spoke out at the rally asking for Gov. Baker to bring her father home. Photo: Kristin Toussaint / Metro
"I want to stand up today for my dad because he's so important to me that I would give anything just for him," she said. "I want to tell Gov. Baker to stop my dad's deportation to El Salvador because there's a lot of criminals there, and they kill people, they rob, they do bad things."
She added that if her father were forced to leave the country, she would have to go with him, "because as his child, I'm supposed to be with him all the time."
Members of SEIU, Rodriguez's co-workers and other officials including Jay Gonzales and Bob Massie, two Democratic candidates for governor, called on Baker to use his influence to bring Rodriguez home today.
Students and faculty at MIT have also publicly stood behind Rodriguez. More than a thousand members of the MIT community signed a petition to request that Rodriguez be allowed to stay in the U.S., and officials at the institute arranged for a law firm to help with the cause.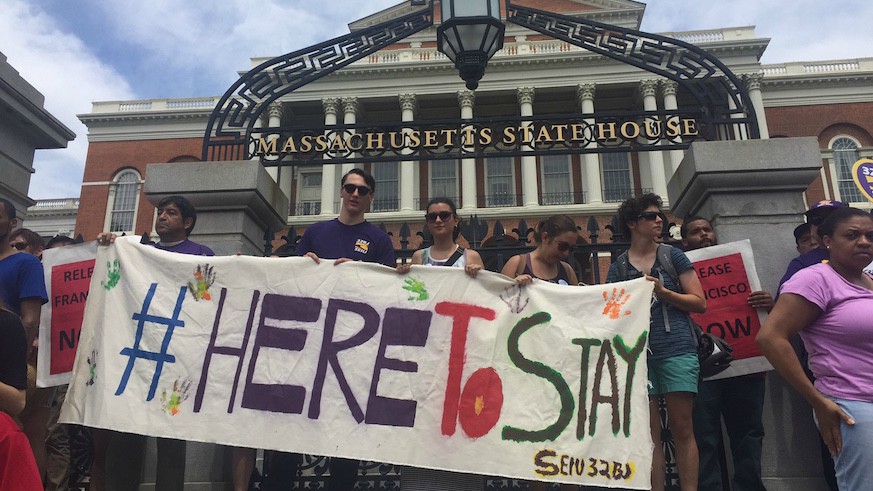 Members of Jobs with Justice, another local labor union, started a GoFundMe for Rodriguez and his family. Supporters have donated more than $9,000 in under a week, which organizer Lily Huang said was surprising and heartening. 
That money will help the Rodriguez family pay their rent and utilities while Francisco, the sole breadwinner, is in jail, and will also go toward phone calls with Francisco and toward his commisary account while detained, Huang said. 
Rivera said that the sudden move to deport Rodriguez is indicative of a general attack on immigrants from the Trump administration. Rivera praised Rodriguez's character, noting how he takes care of his mother, how he owns his own carpet-cleaning business and how active he was at his daughters' school in Chelsea.
"This is not a criminal, this is just an example of the extreme position of the Trump administration to make numbers, to say how many people they deported," she said.
"But they're deporting the wrong people," she added. "These are not the people that have committed any crimes – this is someone that has been given legal permission to be here for years, that did everything the government asked him to do, and now he's sitting in jail."