When Amazon announced it would build its second headquarters in Long Island City, activists immediately spoke out against the deal. Now, the New York City Teamsters union has joined an effort to oppose Amazon HQ2 in Queens.
Teamsters joined a coalition created by the Retail, Wholesale and Department Store Union (RWDSU) against HQ2 this week. Both unions sent joint letters to city and state officials announcing their partnership against Amazon HQ2 and requesting the tech giant change "the way it operates in New York."
Amazon has historically been anti-union, though it's workers, especially those at Amazon warehouses, have repeatedly attempted to organize. Labor issues plague the company, with employees voicing concerns about safety, inadequate pay, unreasonable forced overtime and more. Multiple workers have died at Amazon facilities.
"Jeff Bezos needs to come to the Staten Island fulfillment center to speak with his associates and to see how we are being treated first hand," said Rashad Long, a worker there, in a statement. "We are not robots. We are human beings. We cannot come into work after only 4 hours of sleep and be expected to be fully energized and ready to work. … I feel like all the company cares about is getting their products out to the customers as quickly as possible, no matter what that means for us workers in the end."
With Amazon HQ2 in Queens expected to bring 25,000 more Amazon jobs to New York City, these unions say the company needs to change its practices.
"We applaud your commitment to bring jobs to New York, but also believe that New York workers deserve better than they are getting from Amazon," the unions wrote in their letters to Gov. Andrew Cuomo and Mayor Bill de Blasio. "We urge you to work with us to ensure that Amazon changes the way it operates in New York, and that Amazon commits to allowing its workers to assert their right to form a union without interference."
If the company won't change, it shouldn't expect the promised $3 billion of subsidies from taxpayers, said George Miranda, president of Teamsters Joint Council 16, in a statement.
Stuart Applebaum, president of RWDSU, added that it's "irrational" for New York to give such large taxpayer subsidies — already critiqued by many who say that money could have funded desperately needed MTA repairs — to "one of the most anti-worker, anti-union corporations in the world."
"No public official can call themselves progressive or  pro-worker or pro-union if they accept or ignore Amazon's labor record," he added in a statement.
Amazon disputed that it has safety issues and said it already offers the benefits that these unions are requesting for New York workers.  
"We are excited to work with New Yorkers over the coming months and years to bring a new Amazon headquarters to Long Island City and help support the community," the company said in a statement. "We expect our new headquarters to generate more than $27 billion in new tax revenues for community improvements and the people of New York."
Amazon HQ2 in Queens: #HQ2Scam rally scheduled ahead City Council Hearing
The New York City Council will hold its second oversight hearing on Amazon HQ2 on Wednesday, Jan. 30 at 10 a.m.
Before that meeting — held by the Committee on Finance with the aim to ask "Does the Amazon deal deliver for New York City residents?" — union members and community groups will rally against HQ2 in Queens.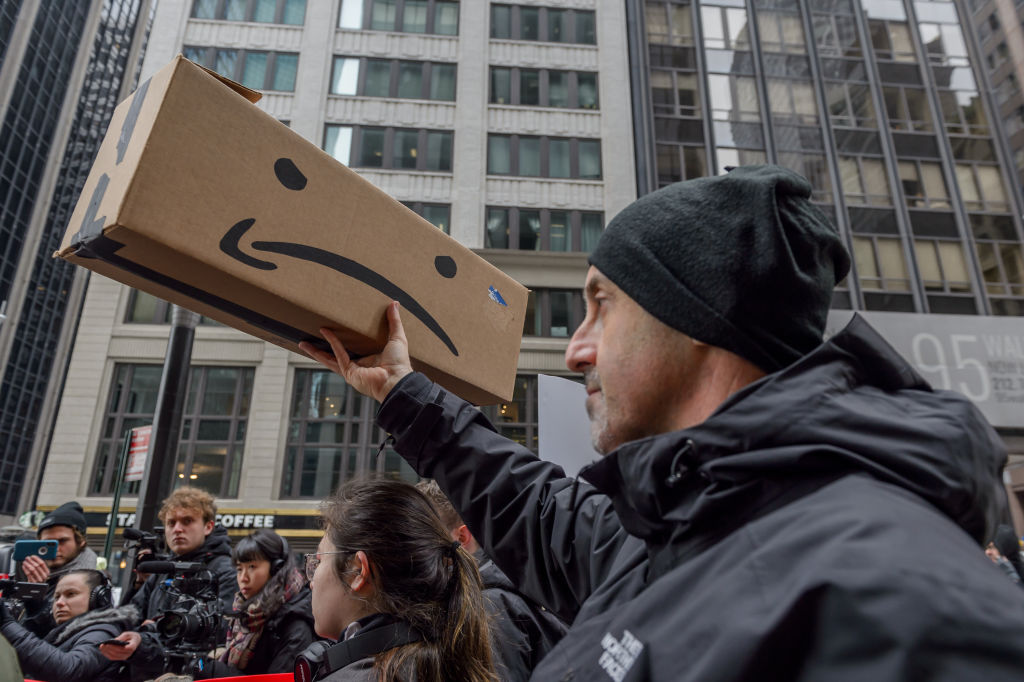 Council Member Jimmy Van Bramer, who represents Long Island City, will attend the "Rally to Stop the Amazon HQ2Scam" as well. At the first Amazon HQ2 oversight hearing, Van Bramer said that he was wrong to sign the letter support New York City's HQ2 bid.
Anti-Amazon activists will meet at the steps of City Hall at 9 a.m. Wednesday.
Other unions, however, are in support of Amazon HQ2. Members of Building and Construction Trades Council of Greater New York and Building Trades Unions, SEIU 32BJ along with the Long Island City Partnership, Urban Upbound and Queens Chamber of Commerce will rally Wednesday at 9:45 a.m. on the steps of City Hall to show support for the tech giant in New York City.