Terence Davies is an opinionated man. Cranky, stubborn and prone to the word "awful!", the acclaimed English filmmaker doesn't like many things, but what he likes he loves. He loves old movies. He loves classic literature. He loves making movies — like "The Long Day Closes," "The Deep Blue Sea" and last year's "Sunset Song" — that seem removed from our own age. They're deep dives into the past, stubborn in both their formality and their tragic melancholy.
"A Quiet Passion" starts off as a very different Davies film. For one thing, it's funny — doubly shocking, since it's about Emily Dickinson. Cynthia Nixon plays the poet, who never knew success in her time, and who never wandered much from her home estate in 19th century Amherst, Massachusetts. Of course, her happy early life was upended by loss: friends who went off and got married, the death of family members. By the hour mark, it's turned into classic Terence Davies — which is to say it's a beautiful downer.
We spoke to Davies, 71, about making a film that, for a time, is as funny as he is in person, and about telling his star he does not approve of "Sex and the City."
Your films are not known as being humorous, but the first half of "A Quiet Passion" is a laugh riot.
As John Waters told me, "You're really good at misery and death." And I am! But I wanted this to be funny. I didn't want it to be solemn. They were very learned people. They were like the Brontes — they had read everything. She not only wrote 1,808 poems; she wrote three volumes of letters, for god's sake. It was an enormous output. And she loved gardening, and she loved to improvise on the piano. She may have not gone too many places, but she had a rich inner life.
The thing is in the second half it becomes one of the saddest films you've ever made, which is saying something.
I think I would achieve the pinnacle with my next film: It's the audience that dies. [Laughs]
When it's funny, it's funny in the manner of Oscar Wilde. Everyone's very quick with a bon mot.
People have said, "They're very theatrical." No, they're not! They're formal. In America in the 19th century, people spoke with great formality. They were imitating Britain, because Britain was the dominant power. If you look at the Gettysburg Address, that's not a political speech. That's poetry. It's sheer poetry. Read their letters — it's very formal. That makes it all the more interesting, because formality's not expected now. Now speech is very informal. God knows what texting's going to do to language. Because that really is terrifying.
I'm not sure how much further language can get worse at this point.
It's a bit sinister. On the other side of the coin, people use this management-speak. Don't you ever say what you think? It's just unbearable. If I hear the word "nuanced" again, I'll strangle somebody. "Robust" is another. People use "robust" a lot in England.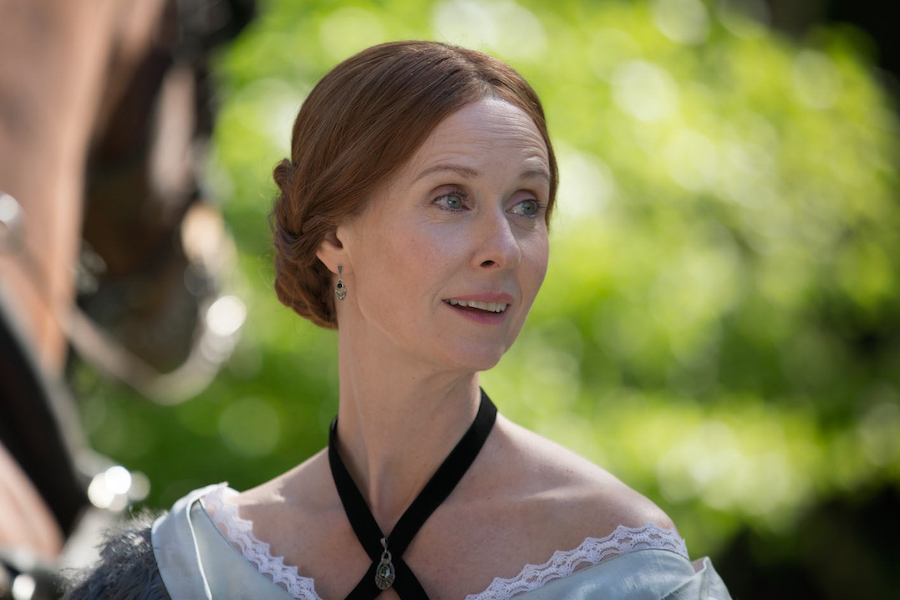 In a lot of your films, a major character dies or disappears, and the rest of the movie is haunted by that absence. That happened a lot to Emily Dickinson.
She wanted the family never to change. I wanted that when I was a child. I couldn't understand why they wanted to go and marry these other people. Why can't we just stay together? Everyone wants the Smith family from "Meet Me in St. Louis." Unfortunately, you can't have it. [Dickinson] invests everything in her family, and she doesn't accept that they're going to die. That's when she becomes terrified, when she realizes she can't hold onto anything. None of us can. All this nonsense they say now about controlling your life, it's such idiocy. It's arbitrary. You could walk out of here and some madmen walks by and stabs you.
I know you don't watch a lot of new movies, and you certainly don't watch new television. Had you known of Cynthia Nixon before this?
We had met for a film that didn't come off. I said, "Look, I have to be honest: I did watch 'Sex and the City,' but with the sound down." And she wasn't cross about that. What was revealing was her reaction shots were always the truest. But I did have to say, "I think the subtext of that series is really rather pernicious. You have sex all the time and you go out and you eat and you buy things. If that's all there is to life, that's really bleak. It's really bleak."
What did she say?
She said, "Well, that's just your opinion." She was very, very sanguine about it. But I had to say it, because it would have been dishonest otherwise. She could have turned around and said, "Get lost, fatso." But she didn't.
Follow Matt Prigge on Twitter @mattprigge